COVID-19 News: British Health Analytics Company, Airfinity Says More Than 5,000 People Dying Daily In China From COVID-19! No Data On UK Deaths Though!
COVID-19 News
: Reuters, the news agency with close ties with Pfizer has released a news coverage that a UK based Life Sciences Information And Analytics Company, Airfinity has claimed that based on their modelling platforms and analysis, more than 5,000 people are dying daily from COVID-19 in China at the moment.
https://www.reuters.com/world/china/china-covid-deaths-probably-running-above-5000-per-day-uk-research-firm-2022-12-22/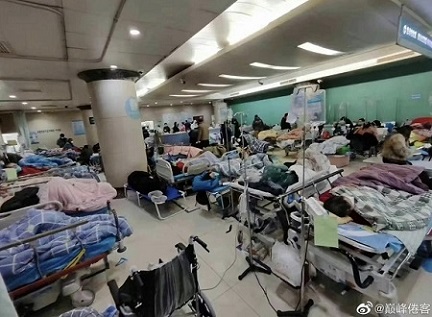 As usual the news was picked up and covered by various Western mainstream media and also Indian media and although the figures contradict whatever COVID-19 statistics that is being disseminated by the Chinese authorities, there is a large element of credibility and truth as various social media post by Chinese citizens along with coverage by foreign journalists in China are showing scenes of hospitals literally 'overflowing' with sick patients and most crematoriums in various cities across China are now overstretched with long queues of mourning families trying to get their loved ones who succumbed to COVID-19 cremated.
https://www.bbc.com/news/world-asia-china-64056549
https://www.taipeitimes.com/News/front/archives/2022/12/21/2003791094
https://www.youtube.com/watch?v=lgzgBdHPEWQ
However, what is interesting was the same British firm could not project how many people are currently dying from COVID-19 on a daily basis in their own home country or in other Western countries like the United States or Canada or elsewhere in Europe and neither was Reuters interested in doing such coverages!
The Zoe app in UK is showed more than 262,675 new daily symptomatic COVID-19 infections for the 21
st
of December and for the previous 14 days, the average daily symptomatic COVID-19 infections hovered above the 200,000 mark! While hospitalizations are also up, there is literally no accurate data on daily COVID-19 deaths in the UK. The death rates released by British authorities seems to not correlate with what doctors and ordinary citizens are witnessing and seems to be no different from what the Chinese are doing!
https://health-study.joinzoe.com/data
https://www.ons.gov.uk/peoplepopulationandcommunity/healthandsocialcare/conditionsanddiseases/articles/coronaviruscovid19latestinsights/hospitals
The same can be said of the United States, where more than 40 percent of the States are not reporting COVID-19 statistics!
However, it seems that here could be some incentives for some of these Western
COVID-19 News
outlets, agencies and als o Western mainstream media to keep on covering about the catastrophic COVID-19 situation unfolding in China but not their own home countries.
There seems to be an agenda to get the stupid Chinese masses to yearn for the Western made RNA COVID-19 shots and booster by Pfizer or Moderna and for them to pressure their government to order such COVID-19 shots.
https://www.scmp.com/news/china/science/article/3204204/china-must-import-mrna-vaccines-stop-covid-19-disaster-us-health-experts-say
China has a population of about 1.412 billion people and if we were to follow the West where more than 4 to 5 doses will be required for one year, then it's a huge market for these COVID-19 shots and boosters! It could even help balance the trade deficits!
The Western media and news agencies managed to successfully brainwash the stupid Chinese masses into rebelling against Zero COVID measures in the country and forcing the Chinese government led by President Xi to cave in to these pressures.
But none of these news agencies for Western media are not doing a proper job of covering about the true COVID-19 situation in their own home countries or even doing proper investigative studies to show how truly effective are the COVID-19 shots and boosters in preventing disease severity and also deaths!
Already some individual citizen journalists are beginning to report about similar situations of crematoriums being overwhelmed in their own home countries in Europe.
https://petersweden.substack.com/p/funeral-homes-alarm
While the West and India are rejoicing about what is unfolding in China, they are totally clueless about what is unfolding in their own home countries and also the effects of what could happen if new variants that are more virulent or lethal pops up in China as a result of the kinetics of the COVID-19 crisis there.
While most people are celebrating their Christmas and New Year holidays, they are unaware that 2023 will mark the true beginning of the COVID-19 pandemic as the last three years were only the 'trial runs'! Alongside that, the long-term effects of exposures to previous SARS-CoV-2 infections and reinfections will more apparent in 2023 and the years to follow. As we at Thailand Medical news have hypothesized, most exposed to the SARS-CoV-2 virus will have reduced life-spans!
https://www.thailandmedical.news/news/breaking-hypothesis-that-majority-exposed-to-sars-cov-2-will-have-shortened-lifespans-validated-by-study-showing-nsp2-impairs-human-4ehp-gigyf2-comple
https://www.thailandmedical.news/news/most-who-have-been-exposed-to-the-proteins-of-the-sars-cov-2-virus-will-have-shortened-lifespans-stop-using-fluvoxamine-for-ba-2-infections
https://www.thailandmedical.news/news/breaking-covid-19-news-sars-cov-2-infections-lead-to-cellular-m6a-rna-methylation-loss-in-host-cells-possible-implications-for-cancer-and-other-issues
For the latest
COVID-19 News
, keep on logging to Thailand Medical News.