BREAKING COVID-19 News! Two Genomic Sequences Of BA.2.86 Detected In South Africa. Total Number Of BA.2.86 Cases Stands At 9 Across 5 Countries
BA.2.86 News
: According to latest updates, two genomic sequences of the BA.2.86 variant has been detected in South Africa with one originating from a hospitalized patient from Mpumalanga Province as early as 28th of July 2023.
https://twitter.com/RajlabN/status/1694068962131091757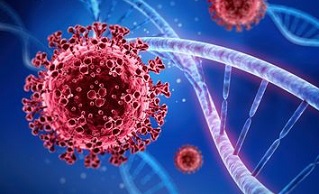 The discovery of the BA.2.86 variant in South Africa brings the total number of BA.2.86 sequences discovered so far to 9 across 5 countries ie 3 in Denmark, 2 in the United States, 2 in South Africa, 1 in Israel and 1 in the United Kingdom.
Thailand Medical News was the first to report about the emergence of this new variant on the morning of the 15
th
of August 2023, before it was assigned a name and later it was covered extensively by mainstream news media from the UK and US that frequently copies or take stories from our sites!
https://www.thailandmedical.news/news/breaking-news-researchers-worried-about-new-sars-cov-2-variant-first-identified-in-israel-and-now-in-denmark-that-could-be-called-the-ba-x-variant
Current low genomic sequencing practices by many countries is making it very difficult for researchers, virologists and variant hunters to properly monitor the evolutionary behavior of the SARS-CoV-2 virus and also to be able to detect in a timely manner the emergence of worrisome new sub-lineages or variants that could be a threat.
Latest
BA.2.86 News
updates show that while the highly mutated BA.2.86 has a huge number of mutations on it, it is likely to be a major threat as it does not seem to have the relevant fitness to become predominant in circulation. However, a threat comes from the spawns that it might to be able to produce that could have the relevant mutations to make it more transmissible and also a recombinant event with another more transmissible sub-lineages could produce something that is indeed a threat.
According to preliminary data from the Bloom lab, the BA. 2.86 is highly immune evasive.
https://twitter.com/jbloom_lab/status/1691826212103205038
However, in terms of the BA.2.86 having a growth advantage over other existing SARS-CoV-2 sub-lineages of strains and of being more transmissible compared to current strains, there seems to be no data at the moment to support such capabilities.
Researchers are still monitoring the BA.2.86 variant but as a whole, the general public should not be alarmed by the emergence of this new variant as in reality there are hundreds of new SARS-CoV-2 variants turning up every week!
There are some with just a few but more worrisome mutations on them that are not getting the relevant media attention let alone attention from concerned health authorities at the WHO or even the affected countries.
For instance, a new sub-lineage that is concerning in terms of the mutations found on it that seems to have emerged in Argentina and spreading in South America has not been caught eyes of the relevant health authorities there!
https://github.com/cov-lineages/pango-designation/issues/2192
Emerging data suggest that this new sublineages could be driving disease severity and also hospitalizations certain South America countries but this is going undetected as very little testing and genomic sequencing is being conducted in many countries in South America including in Argentina and there is also a concerted effort to conceal COVID-19 data along with stopping mainstream media there to cover on the actual COVID-19 situation unfolding there.
For the time being, irrespective of whatever others might say, its is best for readers to start masking, practice all COVID-19 preventive measures and ensure that proper air-filtration systems are in place in your homes, offices and schools of your children.
For the latest
BA.2.86 News
, keep on logging to Thailand Medical News.