Shocking Revelation For Transgenders: Study Confirms Transgender 'Women' Are Also At Risk for Prostate Cancer - They Are Not Really Women After All!
In a ground-breaking study that will send shockwaves through the transgender community, researchers have discovered that transgender 'women' are still at risk for prostate cancer even after gender-affirming surgery. In a first-of-its-kind research, scientists from University of California-San Francisco have estimated the risk to be around 14 cases per 10,000 transgenders, highlighting a crucial aspect of transgender health that has been largely overlooked.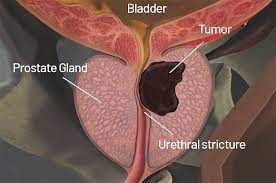 Published on Saturday, April 29, 2023, in the Journal of the American Medical Association (JAMA), the study draws upon a staggering 22 years of data from the Veterans Affairs Health System.
https://jamanetwork.com/journals/jama/fullarticle/2804566
Despite the small sample size, this is the largest study of its kind, offering invaluable insights into the health risks faced by the transgender community. The study's lead author, Dr Farnoosh Nik-Ahd, MD, a urology resident at University of California-San Francisco (UCSF), notes that this is an "important first step in reshaping how clinicians think about prostate cancer in transgender women."
Transgender individuals have long faced discrimination and disparities in healthcare, and this study emphasizes the urgent need to address the complexities involved in their health care.
The study identified 155 confirmed transgender women with prostate cancer and stratified them according to their estrogen use: 116 had never used estrogen, 17 had once used estrogen but stopped before being diagnosed with prostate cancer, and 22 were actively on estrogen.
The median age of diagnosis was 61 years, with 88% of the patients being white.
Interestingly, only 8% were Black, indicating possible disparities affecting this group. This is particularly concerning since Black cisgender men are at a heightened risk of being diagnosed with and dying from prostate cancer.
The study team found that prostate cancer in transgender women is more frequent than published accounts suggest, with approximately 14 cases per 10,000 transgender women. The data also implies that transgender women taking estrogen may have had delayed diagnoses. The study points to potential reasons for the lower rates of prostate cancer, including less PSA screening, misinterpretation of PSA levels in patients on gender-affirming hormone therapies, stigma, lack of awareness of prostate cancer risk, and the effects of estrogen.
Co-senior author Dr Matthew R. Cooperberg, MD, MPH, of the UCSF Department of Urology, states that "we still have a lot of work to do to determine optimal prostate cancer screening for transgender women on estrogen and related treatments." He emphasizes that this study should serve as a reminder to clinicians and patients alike that everyone with a prostate is at risk for prostate cancer, regardless of gender.
While many
Woke News
outlets are fighting for transgenders to be considered as real women…the whole concept is ridiculous and also insulting to real biological women. While the rights of transgenders should be without doubt be respected, preserved and upheld, they should be classified and treated as gender classification by themselves and be left to compete in sporting events among themselves and also be granted special rest rooms only for transgenders and not be allowed into rest rooms for other sexes and vice versa.
This new sensational revelation underscores the urgent need for awareness and education in the transgender community and the medical community at large. It is a wake-up call for the woke culture in the United States to recognize the unique health challenges faced by transgender individuals and for them to understand that transgenders are not women but a 'gender' by themselves.
In the face of this alarming data, it is crucial that the woke community rally together to ensure that transgender women are not left behind in the battle against prostate cancer but neither should they be lumped alongside men and deprive real men of any services. Transgenders who are facing prostate cancer issues should rather set up their own support groups and ask from the Biden administration who are fans and supporters of transgenders to finance the setting up of specific health centers and clinics that cater to their specific 'gender' type. As we continue to push for equality and justice, let us not forget that health is a fundamental human right, and everyone deserves access to the best possible care, regardless of their gender identity. There should be more initiatives by the transgender activist to fight for their own health services that caters to their specific type of 'gender'!
In should be also noted that transgenders have their own unique type of medical problems that are different from normal males or females. For instance, their high usage of feminizing hormones including estrogen makes them at a higher risk for clots, strokes and heart failures.
https://www.nbcnews.com/health/health-news/study-finds-health-risks-transgender-women-hormone-therapy-n890031
For more
Woke News
, refer to other American mainstream news media… not us!