Medical Authorities Report That Monkeypox Or Mpox Infections Gradually Rising In Thailand. 189 Infections Identified So Far And One Death!
Thailand Medical
News: Thai authorities yesterday reported the death of a local Thai man from Monkeypox infection, marking the first fatality from Mpox in the country so far.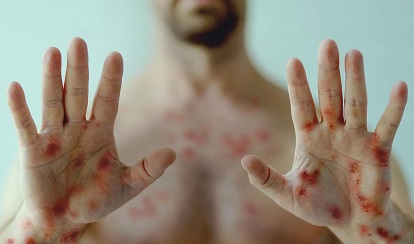 According to Thai health authorities the 34-year male who also had HIV and syphilis, died from Mpox infection last week.
The director-general of the Department of Disease Control at Thailand's Ministry of Public Health, told media yesterday that that the male patient had suffered a fever, headache, itching and a rash on his body on July 3.
It was reported that the male patient had sought treatment at a private hospital in Chonburi province on July 11. Diagnostic tests on samples taken from the patient confirmed he had monkeypox along with HIV and syphilis.
According to reports from the health authorities, the patient had later suffered a sore throat due to a fungal infection which is typically an opportunistic infection in HIV patients, and he also had a rash all over his body caused by the Mpox infection.
The patient was discharged from the private hospital in Chonburi province after weeks of getting treated there.
However, on the 9th of August, his relatives said that he had suffered breathing difficulties and also chronic fatigue and was simply too weak to even move or eat.
He was subsequently admitted to the Bamrasnaradura Infectious Diseases Institute in Nonthaburi province.
However, his conditioned by then had worsened and his Mpox induced rash had not only spread to every part of his body but was also causing large areas of skin tissues al over his body to die and the infections had also spread to his lungs and brains and his lymph nodes were swollen and inflamed while he was also suffering severe immunodeficiency.
He was administered relevant Mpox medications and antibiotics and also HIV antivirals but his condition simply deteriorated and he died on the night of August 11th.
Thai health authorities warned that monkeypox was an emerging infectious disease in Thailand.
It was reported that as of Aug 8, there had been 189 cases, consisting of 161 Thais and 28 foreigners.
Authorities warned that the disease was still spreading. Most cases were among men who had sex with other men, and 43% of all cases also had HIV!
It was reported that most who contracted the disease got it via having sex with a stranger who was already infected with monkeypox.
Other health experts are warning that the number of reported cases could be the tip of an iceberg and there could be far more unreported cases in the country.
Already, some Chinese media as covered in a recent
Thailand Medical
News coverage, had claimed that some Chinese gay tourists who came to Thailand possibly contracted the Mpox disease after using the services of gay prostitutes working in the various gay clubs and bars in Thailand.
volving-a-south-east-asian-country-famous-for-gay-prostitutes-blamed">https://www.thailandmedical.news/news/mysterious-mpox-outbreak-in-china-raises-concerns-gay-tourism-involving-a-south-east-asian-country-famous-for-gay-prostitutes-blamed
Health authorities in Thailand warned that many gay men are still indulging in risky behavior and are not adopting safe sex practices.
Shockingly, almost half of the new monkeypox cases discovered in Thailand also had HIV, and the individuals had put their lives at risk because as a result of their immune system already weakened, they were susceptible to a variety of opportunistic infections.
It is also believed that HIV infections in the country are also silently rising due to risky behaviors in the local gay communities.
It was noted that globally so far, there had been 152 fatalities related to monkeypox worldwide since the outbreak was first reported in May last year.
Thailand is now emerging as a possible hub for the Mpox disease and Gay Tourism is helping to fuel the spread and increases. It is believed that British, German, Australian, Belgium and Singaporean gay tourists were largely responsible for bringing the disease to Thailand initially and infecting local gays and gay sex workers.
For the latest on Mpox , keep on logging to
Thailand Medical
News.