BREAKING! UK Health Authorities Confirms First Case Of Monkey Pox Imported From Nigeria With More Individuals Under Investigation!
Health authorities in UK have confirmed that an individual in England has been diagnosed with the rare viral infection monkeypox.
https://www.gov.uk/government/news/monkeypox-case-confirmed-in-england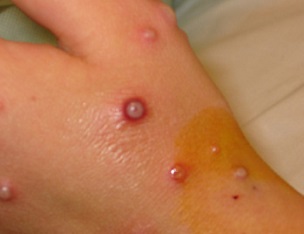 It was reported that the infected individual had recently travelled from Nigeria, which is where they are believed to have contracted the infection, before travelling to the UK.
The infected patient is being treated at an expert respiratory infectious disease unit at Guy's and St Thomas' NHS Foundation Trust in London.
The viral infection usually causes mild illness and most people recover within a few weeks and is similar to human smallpox.
Monkeypox is an infectious disease caused by the monkeypox virus that can occur in certain animals and humans.
Typically, symptoms begin with fever, headache, muscle pains, swollen lymph nodes, and feeling tired. This is usually followed by a rash that forms blisters and crusts over. The time from exposure to onset of symptoms is around 10 days. The duration of symptoms is typically 2 to 5 weeks.
Normally, monkeypox may be spread from handling bushmeat, an animal bite or scratch, body fluids, contaminated objects, or close contact with an infected person.
The virus is believed to normally circulate among certain rodents in Africa. Diagnosis can be confirmed by testing a lesion for the virus's DNA. The disease can appear similar to chickenpox.
To date, the smallpox vaccine is believed to prevent infection.
Also, there is no known cure. The antivirals Cidofovir or Brincidofovir may be useful. The risk of death in those infected is up to 12%.
It was reported that the disease mostly occurs in Central and West Africa. It was first identified in 1958 among laboratory monkeys. The first cases in humans were found in 1970 in the Democratic Republic of the Congo. An outbreak that occurred in the United States in 2003 was traced to a pet store where rodents imported from Ghana were sold.
Although is a rare viral infection that does not spread easily between people, it is not known if the virus has undergone evolution that changes its mode of transmission.
Typically, it is usually a mild self-limiting illness and most individuals recover within a few weeks. However, severe illness can occur in some individuals.
The infection can be spread when someone is in close contact with an infected person; however, there is a very low risk of transmission to the general population.
To date about seven other individuals with one experiencing symptoms are being investigated.
UKHSA experts are working closely with NHS colleagues and will be contacting other individuals who might have been in close contact with the individual to provide information and health advice as a precautionary measure.
Other measures include contacting a number of passengers who travelled in close proximity to the patient on the same flight to the UK. People without symptoms are not considered infectious but, as a precaution, those who have been in close proximity are being contacted to ensure that if they do become unwell, they can be treated quickly. If passengers are not contacted then there is no action they should take.
Director of Clinical and Emerging Infections, UKHSA, Dr Colin Brown told
Thailand Medical
News, "It is important to emphasize that monkeypox does not spread easily between individuals and the overall risk to the general public is very low at the moment. We are still conducting further investigations on the identified virus strain."
Director NHSE High Consequence Infection Diseases (airborne) Network and Consultant in Infectious Diseases at Guy's and St Thomas', Dr Nicholas Price, added, "The infected individual is being treated in our specialist isolation unit at St Thomas' Hospital by expert clinical staff with strict infection prevention procedures. This is a good example of the way that the High Consequence Infectious Diseases national network and UKHSA work closely together in responding swiftly and effectively to these sporadic cases."
Health authorities are asking individuals who might have come across the infected individual and are experiencing initial symptoms such as fever, headache, muscle aches, backache and exhaustion to contact them immediately.
Infected individuals with these symptoms can progress into severe illness for some.
Of late, it should be noted that many diseases and pathogenic infections emerging in Africa are being exported to countries in Europe including the United Kingdom and also the United States, due to lax travel and health screenings. It was alleged that the Omicron variant emerged in the African continent and spread to Europe and elsewhere across the globe.
More urgent measures are needed for stringent health screenings for travelers originating form disease prone countries in the African continent, India, China and other third world countries.
For more on Monkey Pox and the primates in UK, keep on logging to
Thailand Medical
News.