Pharma News: Lawsuit Alleges Ozempic and Mounjaro Diabetes/Weigh Loss Drugs Cause Severe Stomach Problems Including Gastroparesis Or Stomach Paralysis!
Pharma News
: A lawsuit has been filed against pharmaceutical giants Novo Nordisk and Eli Lilly, makers of the widely used type 2 diabetes drugs Ozempic and Mounjaro. The lawsuit claims that these medications, which are also prescribed off-label for weight loss, have caused severe stomach problems in patients, including a condition known as gastroparesis, or stomach paralysis.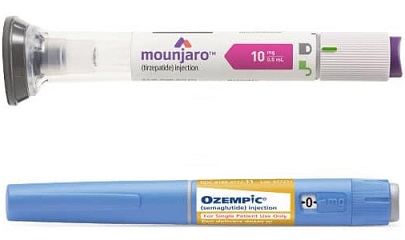 The Lawsuit and Allegations
The legal action was initiated by attorney Paul Pennock from the firm Morgan & Morgan on behalf of Jaclyn Bjorklund, a 44-year-old woman from Louisiana. The lawsuit alleges that Bjorklund experienced significant harm after taking Ozempic and Mounjaro. The claim centers around the manufacturers' alleged failure to adequately warn patients about the potential risks of severe stomach problems associated with these drugs. While the lawsuit is still in its early stages, it has already gained attention for raising concerns about the safety of these widely prescribed medications.
Ozempic and Mounjaro: Dual Role in Diabetes Management and Weight Loss
According to
Pharma News
reports, Ozempic and Mounjaro belong to a new class of medications known as GLP-1 agonists. Originally designed to help individuals with type 2 diabetes manage their blood sugar levels, these drugs have garnered attention for their potential off-label use in weight loss. GLP-1 agonists function by slowing down the movement of food through the stomach, leading to a sensation of fullness and reduced food intake. However, this mechanism can also lead to gastrointestinal issues, including abdominal pain, nausea, and vomiting, which are listed as potential side effects on the drugs' labels.
The Alleged Side Effect: Gastroparesis
The crux of the lawsuit revolves around the alleged connection between Ozempic, Mounjaro, and gastroparesis, also known as stomach paralysis. Gastroparesis is a disorder that hinders or halts the movement of food from the stomach to the small intestine. While it can be caused by various underlying medical conditions, including diabetes, the lawsuit claims that the GLP-1 agonists exacerbate this condition. Although the term "gastroparesis" is not explicitly mentioned in the drugs' prescribing information, both Ozempic and Mounjaro include the phrase "delays gastric emptying" on their labels.
Legal and Regulatory Responses
The U.S. Food and Drug Administration (FDA) has not yet provided a conclusive statement regarding the alleged connection between GLP-1 medications and gastroparesis. A spokesperson for the FDA mentioned that the agency is uncertain whether the GLP-1 agonists contribute to the occurrence of gastroparesis. They emphasized that any new safety signals would prompt a thorough review of the evidence to determine appropriate actions.
Responses from the Pharmaceutical Companies
Novo Nordisk and Eli Lilly, the manufacturers of Ozempic and Mounjaro, respectively, responded to the lawsuit with statements emphasizing their commitment to patient safety. A spokesperson for Novo Nordisk sta ted that they prioritize patient safety and recommend the medications for their approved indications under the supervision of a healthcare professional. Eli Lilly echoed similar sentiments, highlighting their dedication to monitoring and reporting safety information for all their medicines.
Patient Experiences and Concerns
The lawsuit has shed light on the experiences of individuals who claim to have suffered severe side effects while taking Ozempic and Mounjaro. Brea Hand, a patient not involved in the lawsuit, shared her story of repeated hospitalizations and intensive care admissions due to stomach pain and vomiting while on Ozempic. Such accounts raise concerns about the potential risks associated with these medications and the need for thorough investigation and regulation.
Conclusion
The lawsuit against Novo Nordisk and Eli Lilly alleging that Ozempic and Mounjaro cause severe stomach problems, including gastroparesis, has drawn attention to the potential risks associated with these widely prescribed type 2 diabetes drugs. While the legal proceedings are ongoing, the case underscores the importance of comprehensive warnings, rigorous testing, and transparent communication of potential side effects for pharmaceuticals. As medical professionals, regulatory agencies, and pharmaceutical companies continue to address these concerns, the ultimate goal remains ensuring patient safety and informed decision-making in medication usage.
For the latest
Pharma News
, keep on logging to Thailand Medical News.