WARNING! SARS-CoV-2 Infections Causes Intestinal Ischemia That Increases Disease Severity And Risk Of Mortality!
SARS-CoV-2 Intestinal Ischemia
: Unknown to many, SARS-CoV-2 infections also causes intestinal ischemia in many and very often it is a sign of disease severity and also increases the risk of mortality.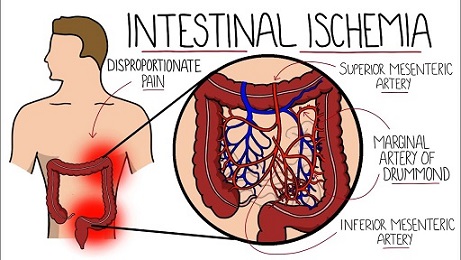 Intestinal ischemia describes a variety of conditions that occur when blood flow to the intestines decreases. Ischemia can be due to a fully or partially blocked blood vessel, usually an artery, or low blood pressure leading to an overall reduced blood flow.
In the case of SARS-CoV-2 it is often due to blocked vessels caused by blood clots as a result of the increased thrombotic state or hyper-coagulability state of the body caused by the SARS-CoV-2 virus.
https://www.mdpi.com/2227-9059/10/5/1010
SARS-CoV-2 Intestinal Ischemia
is an indirect result of endotheliitis, probably linked to thrombotic microangiopathies.
Acute mesenteric or intestinal ischemia is most commonly caused by a blood clot in the main mesenteric artery. The blood clot often originates in the heart but it has been found that in most SARS-CoV-2 infected patients, the clots are originating in the blood vessels itself.
Intestinal ischemia in SARS-CoV-2 infections often lead to hemorrhage, intestinal necrosis, multiple small bowel ruptures, peritonitis, septicemia, shock and death.
Many COVID-19 patients typically report gastrointestinal issues as well but with the recent emerging Omicron sub-lineages, the incidence of gastrointestinal symptoms and conditions are rising along with intestinal ischemia.
The gastrointestinal pathologies associated with SARS-CoV-2 infection are believed to be triggered by multiple factors. The presence of gastrointestinal symptoms has been observed in about 40% of COVID-19 patients. Regarding mode of action, studies have suggested that SARS-CoV-2 uses transmembrane serine protease TMPRSS2 to enter and replicate inside the gastrointestinal (GI) tract. In addition, the virus could translocate from the respiratory tract to the GI tract through blood circulation.
The intestinal tract, with high expression of angiotensin-converting enzyme 2 (ACE2), is a major site of extrapulmonary infection in COVID-19. During pulmonary infection, the virus enters the bloodstream forming viremia, which infects and damages extrapulmonary organs. Uncontrolled viral infection induces cytokine storm and promotes a hypercoagulable state, leading to systemic microthrombi. Both viral infection and microthrombi can damage the gut–blood barrier, resulting in malabsorption, malnutrition, and intestinal flora entering the blood, ultimately increasing disease severity and mortality.
https://www.frontiersin.org/articles/10.3389/fmicb.2022.860931/full
Early prophylactic antithrombotic therapy can prevent these damages, thereby reducing mortality.
There are numerous published case studies detailing intestinal ischemia in SARS-CoV-2 infections.
https ://www.frontiersin.org/articles/10.3389/fmed.2022.879996/full
https://www.wjgnet.com/1007-9327/full/v27/i32/5448.htm
https://www.mdpi.com/2227-9059/10/5/1010
https://www.revistagastroenterologiamexico.org/en-severe-bowel-complications-in-sars-cov-2-articulo-S2255534X2100089X
https://academic.oup.com/jscr/article/2021/1/rjaa537/6118493
https://www.researchgate.net/publication/347727326_215_A_Case_of_Mesenteric_Ischemia_Secondary_to_SARS-CoV-2
https://onlinelibrary.wiley.com/doi/10.1111/ijcp.14930
https://www.ajtmh.org/view/journals/tpmd/104/5/article-p1655.xml
It should be noted that that sometimes, intestinal ischemia can materialize even weeks after infection with the SARS-CoV-2 virus.
https://www.scielo.br/j/jvb/a/fVw7bcQhjHsqqqnqt5yBxkk/
With many of the new Omicron sub-lineages presenting a change in pathogenesis including increased hyper-coagulability and a tropism of the gastrointestinal tract, many should be aware of this and physicians should also take note when they are presented with COVID-19 patients with gastrointestinal issues as the condition can be fatal.
https://www.thailandmedical.news/news/breaking-early-data-shows-that-new-sars-cov-2-sub-lineages-bq-1-1-and-bm-1-1-attacks-the-endothelial-cells-of-the-gut-ferociously-and-causes-disease-s
For more on Intestinal
SARS-CoV-2 Intestinal Ischemia
, keep on logging to Thailand
Medical News
.
Read Also:
https://link.springer.com/article/10.1007/s00261-022-03518-0