Menopause News: American Study Finds That Low Fat Vegan Diet With Soy Decreases Hot Flashes By 95 Percent!
Menopause News
: In the realm of women's health, an exciting breakthrough has emerged from the recent research conducted by the Physicians Committee for Responsible Medicine-Washington, USA. This groundbreaking study covered in this
Menopause News
report, delves into the profound impact of a low-fat vegan diet, specifically incorporating soy, on alleviating postmenopausal vasomotor symptoms, commonly known as hot flashes.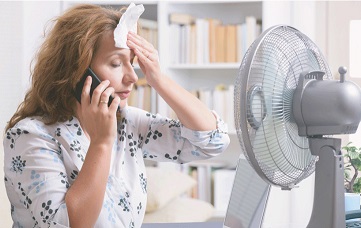 This comprehensive analysis, a secondary exploration of the Women's Study for the Alleviation of Vasomotor Symptoms (WAVS trial), not only connects dietary choices with menopausal discomfort but also unravels the intricate relationship between gut microbiome alterations and the substantial reduction of hot flashes.
The WAVS Trial and Dietary Intervention
The WAVS trial, a meticulously designed 12-week randomized clinical trial, enlisted 84 postmenopausal women grappling with two or more moderate-to-severe hot flashes daily. The participants were strategically divided into two groups: the intervention group, tasked with adhering to a low-fat vegan diet supplemented with half a cup of cooked soybeans daily, and the control group, maintaining their habitual diets.
The outcomes of this trial were nothing short of extraordinary, with a staggering 95% decrease in total hot flashes observed in the vegan diet group. Additionally, there was a remarkable 96% reduction in moderate-to-severe episodes, and both daytime and nighttime hot flashes saw decreases of 96% and 94%, respectively. The intervention group also experienced an average weight loss of 6.4 pounds.
Gut Microbiome Analysis
The secondary analysis of the WAVS trial focused on a subset of 11 participants, employing stool samples for a detailed gut microbiome analysis at baseline and after 12 weeks on the vegan diet. The results of this analysis unveiled significant changes in the abundance of several bacteria families, genera, and species.
Particularly noteworthy was the decrease in the abundance of Porphyromonas and Prevotella corporis, which correlated with a reduction in severe daytime hot flashes. Furthermore, the reduction in Clostridium asparagiforme was associated with a decrease in both total severe and severe nighttime hot flashes.
Understanding the Gut Microbiome-Hot Flash Connection
This study marks a pioneering effort in establishing a direct correlation between alterations in the gut microbiome and the prevalence of vasomotor symptoms.
The decrease in Porphyromonas and Prevotella corporis presents a potential avenue for addressing severe daytime hot flashes. Additionally, the reduction in Clostridium asparagiforme not only correlates with a decline in hot flashes but also aligns with a positive impact on cardiovascular health, providing a potential link between hot flashes and incident cardiovascular disease.
Exploring Microbial Associations
Beyond the specific correlation with hot flashes, the exploratory analysis shed light on various bacterial shifts that may contribute to alleviating postmenopausal symptoms. The increased abundance of Erysipelatoclostridium, Fusicatenibacter, and Holdemanella, known for their association with hormonal stability and anti-inflammatory properties, suggests a possible multifaceted mechanism for the observed reduction in postmenopausal symptoms. Fusicatenibacter, in particular, has been linked to gut health and neurological triggers, offering a promising avenue for comprehensive symptom relief.
Implications for Women's Health
The positive outcomes of the dietary intervention extend beyond the reduction of hot flashes. The vegan diet, rich in fruits, vegetables, grains, and beans, not only contributes to weight loss but also offers protection against heart disease and type 2 diabetes. Dr Hana Kahleova, co-author of the study, emphasizes the importance of nourishing gut bacteria with a vegan diet for women seeking effective management of hot flashes. The holistic benefits of this dietary approach provide a well-rounded strategy for improving overall well-being during the crucial phase of menopause.
Conclusion
In conclusion, this groundbreaking study not only highlights the transformative potential of a low-fat vegan diet enriched with soy in alleviating postmenopausal vasomotor symptoms but also underscores the intricate interplay between dietary choices, gut microbiome composition, and the reduction of hot flashes. As women increasingly seek effective and holistic approaches to manage menopausal symptoms, this research offers a promising avenue for enhancing overall well-being and challenges conventional methods of symptom relief. The connection between diet, gut health, and menopausal symptoms provides a rich field for future exploration and emphasizes the need for larger clinical trials to validate and expand upon these promising findings. As we move forward, the potential for dietary interventions to revolutionize menopausal health remains a beacon of hope for women navigating the complex landscape of hormonal changes and aging.
The study findings were published in the peer reviewed journal: Complementary Therapies in Medicine.
https://www.sciencedirect.com/science/article/pii/S0965229923000894
For the latest
Menopause News
, keep on logging to Thailand Medical News.