COVID-19 News: COVID-19 Infections, Hospitalizations and Deaths Increasing Wonderfully In The United States And United Kingdom As Stupids Insist COVID-19 Is Over!
COVID-19 News
: Despite the sadness in seeing fellow humans suffer and die, we cannot help it and laugh and feel that they deserve it especially when some of these lower-life forms from the West keep on insisting stupidly that COVID-19 is over or that it is now mild or that that it is now endemic and we must learn to live with it or that there is no need for masking or taking safety precautions etc.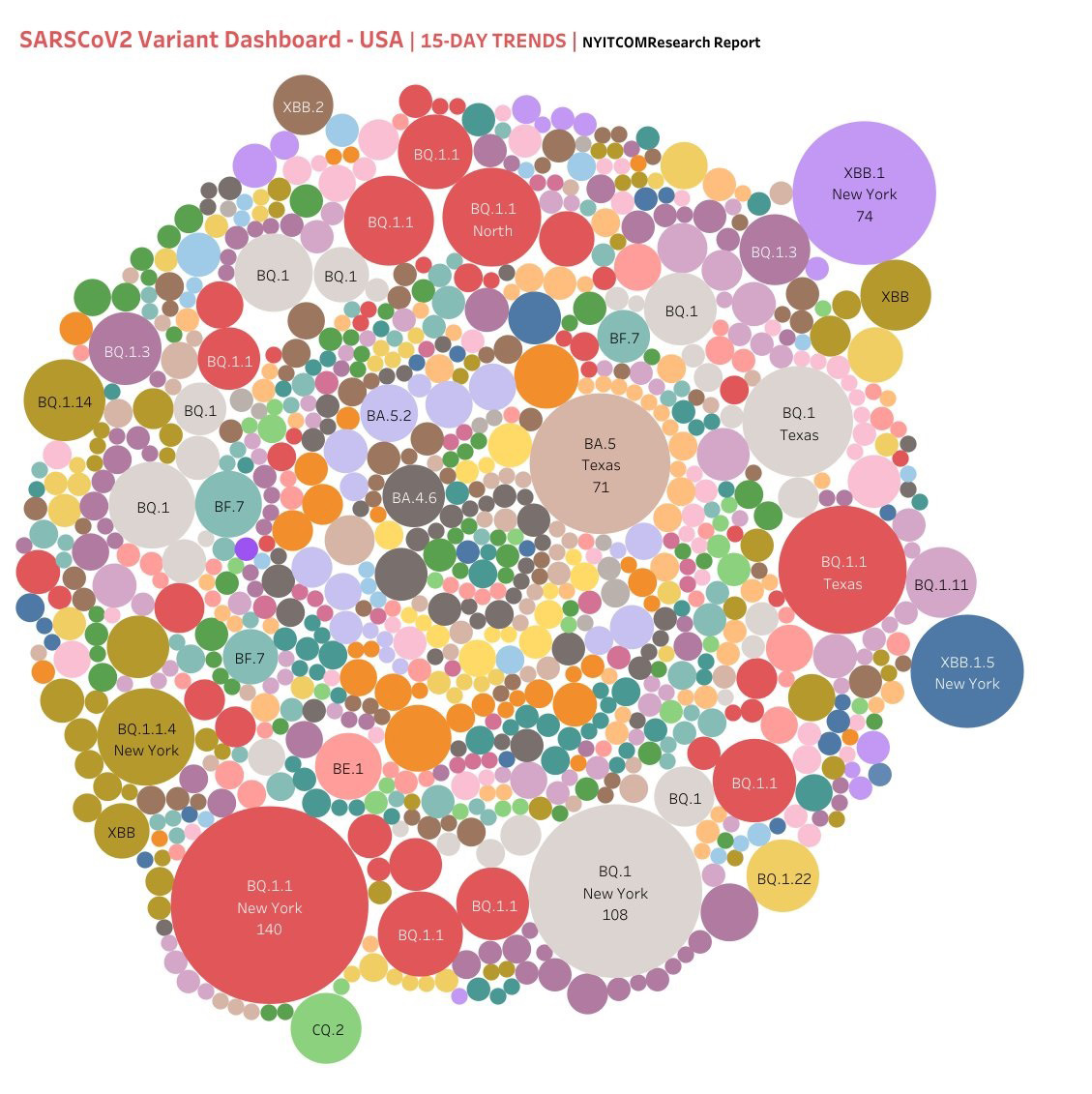 Pic Credit: https://public.tableau.com/app/profile/raj.rajnarayanan/viz/USAVariantDB/VariantDashboard
United States

COVID-19 News

:
In the last 24 hours, based on data from 31 out of 50 states, there were more than 156,377 new COVID-19 infections and about 385 COVID-19 deaths in the United States. (Note that as a result of 19 states not submitting any COVID-19 data, we can safely assume that the actual figures are far much higher.)
In terms of hospitalizations, there were 1,538 new COVID-19 hospitalizations in the last 24 hours in these 31 states bring the total number hospitalized at the moment to 38,227.
There were 169 new ICU admissions due to COVID-19 in the last 24 hours bring the total number of individuals in ICU due to COVID-19 to 4,306.
https://news.google.com/covid19/map?hl=en-US&mid=%2Fm%2F09c7w0&gl=US&ceid=US%3Aen
https://twitter.com/BNOFeed/status/1600692606874230785
https://www.nytimes.com/interactive/2021/us/covid-cases.html
https://covid.cdc.gov/covid-data-tracker/#datatracker-home
While the COVID-19 statistics are pale compared to that of the current infections and hospitalizations, and even deaths among pediatric patients due to the current RSV wave in the United States and also the influenza figures for the general American population, it should not be forgotten that exposure to the SARS-CoV-2 virus ultimately leads to immune dysfunction and COVID-19 induced immunodeficiency that leads to secondary opportunistic infections and more severe cases of RSV or influenza infections.
It should also be noted that the reported COVID-19 death rates might not the least be accurate as the Biden administration over the last few months been messing around with the protocols of reporting and also implementing strategies to conceal real data reporting so as to project to the stupid Americans that they are managing the crisis well and that everything is in control and fine.
The BQ.1.1 and BQ.1.1 are the main SARS-CoV-2 variants that are currently in circulation in the United States. But it should also be noted that worryingly, there are more than 196 SARS-CoV-2 variants, sub-lineages and recombinant variants circulating in the United States alone at the moment!
viz/USAVariantDB/VariantDashboard">https://public.tableau.com/app/profile/raj.rajnarayanan/viz/USAVariantDB/VariantDashboard
We envisage that in not more than 8 weeks, we will the see the debut of more new emerging SARS-CoV-2 variants and sub-lineages possessing the pathogenic forms the spike 681 mutations as a result of natural evolution alongside other interesting N and E mutations that will lead to increased disease severity and increased rates of mortality and also newer recombinant and reassortant variants.
While many stupids are still insisting that the new emerging variants are mild, very little studies have focused on the enhanced capabilities of viral persistence that these more immune evasive variants and sub-lineages possess and the kind of damage they can do to the human hosts in the short, moderate and long-term. Rest assured that excess death rates will increase exponentially but will not revealed openly nor covered in daily
COVID-19 News
coverages.
Some of the stupids also claim that we have the tools to deal with these the current situation…I beg to differ..what tools???? Literally all the monoclonal therapeutics are no longer effective against the new variants and sub-lineages and many of the so-called US FDA approved antivirals are literally useless and are instead causing more problems.
https://www.thailandmedical.news/news/covid-19-news-u-s-fda-halts-usage-of-bebtelovimab-to-treat-covid-19-as-drug-is-not-able-to-neutralize-new-sars-cov-2-variants-and-sub-lineages
https://www.thailandmedical.news/news/breaking-covid-19-news-researchers-warn-that-molnupiravir-is-driving-rapid-evolution-of-sars-cov-2-variants-and-causing-mutations
It is only a matter of time before so called 'health experts' will no longer able to make claims that the current COVID-19 shots are helping to prevent disease severity and risk of mortality as the emerging variants and sub-lineages that are more immune evasive and are causing breakthrough infections will soon also display the effects of immune imprinting and also ADE in the masses!
United Kingdom

COVID-19 News

:
In the United Kingdom, according to data from the Zoe app, there were more than 173,889 new symptomatic COVID-19 infections in the last 24 hours, a trend of more than 120,000 new daily cases for the last 14 days!
https://health-study.joinzoe.com/data
We cannot get even a rough number of COVID-19 deaths or accurate COVID-19 hospitalization data in the United Kingdom as the conservative controlled government has made sure that such data is not easily accessible.
Data supplied by the ONS or HHS are both unreliable and do not project a true projection of what is really happening in the country.
Online, on various social media platforms, people are complaining that they are not able to get access to hospital beds or access to treatment and some are also reporting deaths of their loved ones or friends.
Meanwhile, besides COVID-19, Influenza, RSV Infections and also a rise in measles, the Brits are also facing an increase in a more severe Strep A infection with more than 15 children already dying from the disease as of publication time.
https://www.thailandmedical.news/news/breaking-uk-health-authorities-issue-warnings-about-rare-invasive-strep-a-infection-outbreak-after-six-children-died-and-more-than-851-infected
https://www.independent.co.uk/life-style/health-and-families/health-news/strep-a-symptoms-scarlet-fever-signs-infections-uk-b2241490.html
Elsewhere in Europe, countries like Germany France, Denmark and Austria are all witnessing new rise in COVID-19 infections alongside countries like Canada, Australia and New Zealand.
With many having a abandoning COVID-19 measures including masking etc, there is no need to be sympathetic about the plights they are in and will be in, especially in coming weeks.
China that has recently also joined the stupids to remove all COVID-19 measures will hopefully spawn some more virulent or lethal variants that will eventually reach the West that has been instrumental behind the protests against Zero COVID policies.
For the latest
COVID-19 News
, keep on logging to Thailand Medical News.