BREAKING! SARS-CoV-2 Infections Can Cause Downregulation Of Fumarate Hydratase, Leading To Chronic Inflammation And Renal Carcinoma!
COVID-19 News
: An study review by Thailand Medical News has found that SARS-CoV-2 infections can lead to chronic inflammation and also renal carcinoma!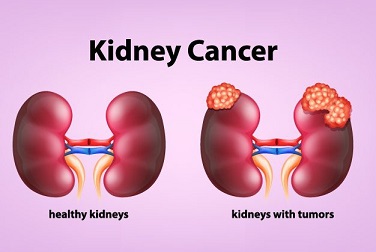 Fumarate hydratase (FH; also known as fumarase) is an enzyme found in both the cytoplasm and mitochondria of all eukaryotes. In mitochondria, FH is involved in generating energy for the cell through a metabolic pathway called the Krebs cycle. Fumarase is also an enzyme that catalyzes the reversible hydration/dehydration of fumarate to malate. Fumarase comes in two forms: mitochondrial and cytosolic. The mitochondrial isoenzyme is involved in the Krebs cycle and the cytosolic isoenzyme is involved in the metabolism of amino acids and fumarate.
Numerous studies have already ascertained that SARS-CoV-2 infections can lead to the downregulation of the protease fumarate hydratase.
In one study by researchers from the University of Plymouth-UK, the study team discovered that a particular protein group that was suppressed both six and forty-eight hours after SARS-CoV-2 infection included trifunctional enzyme subunit alpha (HADHA), isoform 2 of long-chain specific acyl-CoA dehydrogenase, cytochrome c oxidase subunit 2 and isoform cytoplasmic of fumarate hydratase
All of these proteins that play an important role in mitochondrial function and beta-oxidation were considerable downregulated.
https://www.researchsquare.com/article/rs-2557548/v1
Many more other studies have also mentioned the downregulating or suppression of fumarate hydratase by SARS-CoV-2 infections.
https://www.biorxiv.org/content/10.1101/2022.02.19.481089v1
In fact, one recent study this year by researchers from Trinity Colleges Dublin suggested that fumarate hydratase could be used to treat COVID-19 besides lupus, arthritis and even sepsis.
No one had previously linked fumarate hydratase and immune proteins called cytokines that play a role in inflammatory diseases. It was revealed that when fumarate hydratase is suppressed, RNA is released from mitochondria, which can bind to crucial proteins 'MDA5' and 'TLR7', leading to the release of cytokines and exacerbating inflammation. This process could potentially be targeted therapeutically.
https://www.thailandmedical.news/news/breaking-fumarate-hydratase-discovered-as-an-enzyme-that-holds-the-key-to-treating-inflammatory-diseases-such-as-lupus,-arthritis,-sepsis-and-covid-19
This
COVID-19 News
article however deals with the issue about the possible adverse effects that millions of individuals who have been infected with the SARS-CoV-2 virus could have.
A recent study by scientists at the University of Cambridge has uncovered a link between fumarate hydratase a mitochondrial metabolite and the triggering of an inflammatory response. As essential components of our cells, mitochondria play a crucial role in performing various tasks such as chemical reactions that are necessary for cell functioning.
It is already long known that one of these functions is the production of energy, which is vital for cell growth and replication. However, any alterations in the chemical reactions within the mitochondria can result in the development of diseases.
As an example, a shortage of fumarate hydratase in the Krebs cycle, a key metabolic pathway in the mitochondria, leads to a severe form of kidney cancer in humans. The absence of fumarate hydratase results in a buildup of the molecule fumarate, which is a contributing factor to cancer development. Hence, fumarate is referred to as an oncogenic metabolite or simply an "oncometabolite."
https://pubmed.ncbi.nlm.nih.gov/31085323/
The research team led by Professor Dr Christian Frezza, formerly at the University of Cambridge (United Kingdom) and now at the CECAD Cluster of Excellence for Aging Research at the University of Cologne, had now developed a new mouse and cell model together with the research group led by Professor Prudent of the University of Cambridge to deepen the understanding of aggressive kidney cancer.
In the models, the silencing of the fumarate hydratase gene can be temporally controlled by the scientists. Using a combination of high-resolution imaging techniques and precise biochemical experiments, the scientists had found that fumarate causes mitochondrial damage. This in turn releases the genetic material of the mitochondria in small vesicles called mitochondrial-derived vesicles.
These vesicles filled with mitochondrial DNA (mtDNA) and RNA (mtRNA) trigger an immune reaction that eventually leads to inflammation.
The study was recently published in the journal Nature.
https://www.nature.com/articles/s41586-023-05770-w
Professor Frezza told Thailand Medical News, "Our study shows for the first time a correlation between a mitochondrial metabolite and the onset of inflammation, which could be the trigger for cancer and autoimmune diseases.
These latest findings and development while needing further detailed studies, raises alarms that many exposed to the SARS-CoV-2 virus or are still having viral persistence, could ultimately end up with kidney cancer and even other types of tumors!
It is very critical that Post COVID-19 individuals go for regular cancer screenings especially that for kidney cancer and that healthcare staff also recognize that post-COVID individuals are at an added risk for renal carcinoma and even other types of cancer.
It should ne noted that many other studies also show a link between fumarate hydratase downregulation and the emergence of cancer.
https://www.ncbi.nlm.nih.gov/pmc/articles/PMC6974395/
https://www.ncbi.nlm.nih.gov/pmc/articles/PMC2715796/
https://e-century.us/files/ijcem/13/6/ijcem0110608.pdf
https://febs.onlinelibrary.wiley.com/doi/abs/10.1111/febs.16768
For the latest
COVID-19 News
, keep on logging to Thailand Medical News.