WARNING! Measles News: Numerous Measles Outbreaks Expected To Return In 2023 With A Vengeance! South Africa Already Witnessing Many New Outbreaks!
Measles News
: Measles the disease caused by the enveloped RNA virus of the genus Morbillivirus within the family Paramyxoviridae is expected to cause numerous outbreaks globally in 2023 due to a few factors:
1)The SARS-CoV-2 virus that has infected almost two thirds of the global population and is still reinfecting many in constant onslaughts has not caused immune dysfunctions in many but has also caused many to also develop COVID-19 induced immunodeficiency that makes the more susceptible to the measles virus even if they had the MMR vaccines before!
2)The changed global human immune landscape is also causing other pathogens to evolve and mosts importantly, there has been very little genomic surveillance of the measles virus. There is a very high probability that we will be dealing with a new clade of measles strains in 2023!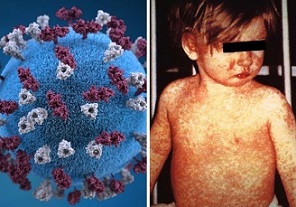 Measles is an acute viral respiratory illness. It is characterized by a prodrome of fever (as high as 105°F) and malaise, cough, coryza, and conjunctivitis -the three "C"s -, a pathognomonic enanthema (Koplik spots) followed by a maculopapular rash. The rash usually appears about 14 days after a person is exposed.
At presence, in terms of mortality rates, in high income regions of the world such as Western Europe, measles causes death in about 1 in 5000 cases, but as many as 1 in 100 will die in the poorest regions of the world. Worldwide, measles is still a major cause of death, especially among children in resource-poor countries. However, it is believed that with many now having immune dysfunction issues as a result of SARS-CoV-2 exposure coupled with the fact that we might be dealing with a more virulent strain of measles, the mortality rates are expected to be higher especially for children and also the aged.
Also, depite the fallacy that measles only affects children, there is more case reports of adults also getting infected now and often with more severity!
South Africa that has been through a number of SARS-CoV-2 onslaughts has began witnessing a rise in measles cases since the start of 2023 and in some cases, the weekly caseloads are breaking previous years recorded highs.
https://www.nicd.ac.za/south-african-measles-outbreak-2023-12-january/
https://www.nicd.ac.za/south-african-measles-outbreak-update-2023-26-january/
https://www.dailymaverick.co.za/article/2023-01-09-measles-outbreaks-confirmed-in-five-provinces-with-test-positivity-rate-skyrocketing/
Thailand Medical News has been covering about the measles situation in South Africa since mid-December 2022.
https://www.thailandmedical.news/news/breaking-measles-news-after-mild-sars-cov-2-waves,-immune-dysfunctional-south-africans-facing-new-measles-outbreak-new-morbilli virus-variant
According to local
Measles News
reports, 24 new laboratory-confirmed measles cases have been detected across South Africa according to data up until 21 January (mid-week-03, 2023). This brings the number of measles cases in South Africa since epidemiological week 40 of 2022 to 421!
What is most worrying is that a large percentage of cases are exhibiting disease severity along with new complications which typically has never been seen before!
South Africa is not the only country witnessing a measles outbreak, Sudan is witnessing more newer and severe infections in 2023 since the outbreak started in January 2022!
https://www.who.int/emergencies/disease-outbreak-news/item/2023-DON440
In fact, a U.S. CDC report shows that since July 2022 till now, many countries are witnessing measles outbreaks that are still ongoing with India being the most badly affected!
https://www.cdc.gov/globalhealth/measles/data/global-measles-outbreaks.html
Strangely there is not much coverage about these in the mainstream media let alone in Indian media. (Note that most mainstream Indian media are members of the BBC's Trusted News Initiative that is also funded by Google News!)
https://finance.yahoo.com/news/alternative-healthcare-activists-file-antitrust-162100012.html
What is concerning in India is that almost daily, reports are emerging of children dying from measles and also many are being hospitalized due to disease severity!
https://www.theweek.in/wire-updates/national/2023/02/16/bom23-mp-measles-boy-death.html
Philippines is also witnessing a rise in measles infections since the start of 2023.
https://www.philstar.com/headlines/2023/02/20/2246225/measles-cases-nationwide-doh
https://www.philstar.com/opinion/2023/02/20/2246171/editorial-measles-rise
Measles cases are also being reported in the United Kingdom, United States and also Australia.
https://globalnews.ca/news/9497067/mlhu-measles-london-woodstock/
https://publichealthinsider.com/2023/01/21/new-case-of-measles-in-king-county-2/
https://english.news.cn/asiapacific/20230220/1cf28c97df904929bebc1f945fb0ae18/c.html
https://www.health.nsw.gov.au/news/Pages/20230217_02.aspx
Unknown to many, breakthrough infections in those who have already received the MMR vaccines can occur!
https://www.ncbi.nlm.nih.gov/pmc/articles/PMC9413104/
https://pubmed.ncbi.nlm.nih.gov/35632809/
https://www.sciencedirect.com/science/article/pii/S1201971221007116
What is more interesting is that since late 2021, it is emerging that more breakthrough mumps infections are occurring despite the MMR vaccines and now we are seeing the same with measles as well!
https://www.nbcnews.com/health/health-news/majority-mumps-cases-are-vaccinated-cdc-finds-rcna6482
It will be interesting to see how measles infections play out in 2023 as we at Thailand Medical News predict that it will be among the 17 major virus-based outbreaks that will wreak havoc globally in 2023!
For the latest
Measles News
, keep on logging to Thailand Medical News.