COVID-19 News: Impact of SARS-CoV-2 On Cardiac Health - Czech Republic Study Reveals Alarming Findings On Ventricular And Atrial Strain!
COVID-19 News
: The coronavirus disease 2019 caused by the severe acute respiratory syndrome coronavirus 2 (SARS-CoV-2) has proven to be a multi-systemic illness with significant impacts on the cardiovascular system. Myocardial injury, a common complication of COVID-19, has been associated with worsened prognosis and altered heart contractility. This
COVID-19 News
report covers a study conducted by St. Anne's University Hospital, Masaryk University, and Brno University of Technology in the Czech Republic that aimed to shed light on the lasting effects of COVID-19 on cardiac health by characterizing the ventricular and atrial strain in individuals who have recovered from the virus.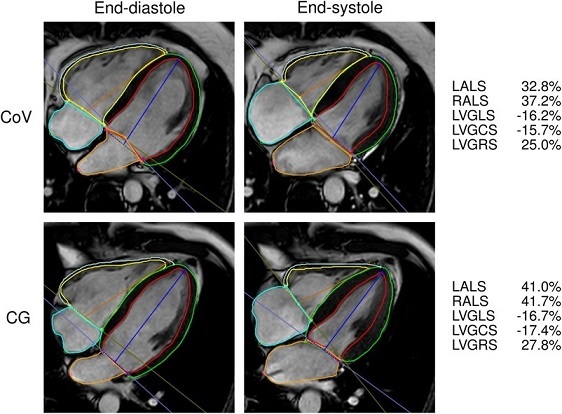 Contouring for the ventricular and atrial strain calculation in one patient who recovered from COVID-19 (CoV) and one control (CG). GCS, global circumferential strain; GLS, global longitudinal strain; GRS, global radial strain; LA, left atrium; LS, longitudinal strain; LV, left ventricle; RA, right atrium; RV, right ventricle
Methods
The study, a single-center investigation, employed cardiovascular magnetic resonance feature-tracking (CMR-FT) to assess the left ventricle (LV) and right ventricle (RV) global circumferential strain (GCS), global longitudinal strain (GLS), global radial strain (GRS), left atrial (LA) and right atrial (RA) longitudinal strain (LS) parameters. The researchers compared seventy-two post-COVID-19 patients to fifty-four controls, utilizing the student's t-test and Wilcoxon rank-sum test for statistical analysis.
Results
Patients who recovered from COVID-19 exhibited significantly lower strain in the left ventricle (LVGCS, LVGLS, LVGRS), right ventricle (RVGLS, RVGRS), left atrium (LALS), and right atrium (RALS) compared to the control group. Despite normal LV systolic function in both groups, the strain parameters revealed a substantial impact on cardiac health in post-COVID-19 individuals.
Discussion
The myocardial injury associated with COVID-19 is often attributed to various factors, including excessive inflammatory responses, viral myocarditis, pericarditis, stress-induced cardiomyopathy, and microvascular thrombosis. Regardless of the cause, these complications can significantly alter the heart's contractility. The study underscores the importance of investigating these alterations to enhance post-COVID-19 care and improve our understanding of the virus's long-term effects on cardiovascular health.
Cardiovascular magnetic resonance (CMR) has emerged as a crucial tool for diagnosing cardiovascular pathologies and characterizing myocardial tissue and damage. CMR-FT, specifically, allows for the assessment of regional deformation of the heart by evaluating myocardial strain. In the context of COVID-19 survivors, understanding cardiac strain becomes pivotal for detecting subtle dysfunction and guiding effective post-recovery care.
The study's findings revealed not only significantly lower ventricular strain but also, notably, lower atrial longit udinal strain values in post-COVID-19 patients.
This emphasizes the broad impact of the virus on various aspects of cardiac function that may have lasting consequences.
Reproducibility of the results was confirmed through good or excellent intraobserver and interobserver reproducibility for most strain parameters, further strengthening the validity of the study's outcomes.
Conclusion
In conclusion, this study from the Czech Republic provides compelling evidence that individuals who have recovered from COVID-19 exhibit significantly lower strain in both ventricular and atrial regions compared to a control group. These findings highlight the necessity for ongoing monitoring and specialized care for post-COVID-19 patients, particularly in the realm of cardiovascular health.
The time-dependent nature of cardiac function improvement in these patients raises questions about the long-term effects of COVID-19 on the heart. Understanding the severity of COVID-19 symptoms during the active phase and their connection to cardiac outcomes is crucial for predicting and managing post-recovery complications.
Moreover, the study's identification of lower global LV strains in the cohort, in contrast to some previous research, underscores the complexity of the virus's impact on cardiac health. The presence of late gadolinium enhancement (LGE) in 28% of post-COVID-19 patients aligns with other studies, but the specific patterns observed, mainly subepicardial involvement, adds nuance to our understanding of COVID-19-related cardiac pathology.
As the world continues to grapple with the consequences of the COVID-19 pandemic, this study contributes valuable insights into the long-term cardiovascular effects of the virus, urging a comprehensive and nuanced approach to the care of post-COVID-19 individuals.
The study findings were published in the peer reviewed journal: Frontiers in Cardiovascular Medicine.
https://www.frontiersin.org/articles/10.3389/fcvm.2023.1293105/full
For the latest
COVID-19 News
, keep on logging to Thailand Medical News.