BREAKING! U.S. Medical News: Three Deaths, Eight Cases Of Blindness, Hundreds Of Americans Infected Due To Contaminated Eyedrops From India!
U.S. Medical News

: EzriCare Artificial Tears Made By Global Pharma Healthcare-India Was Contaminated With A New Drug Resistant Strain of Pseudomonas Aeruginosa Bacteria That Was Never Found In America Before And Its Spread In The U.S Could Be Catastrophic!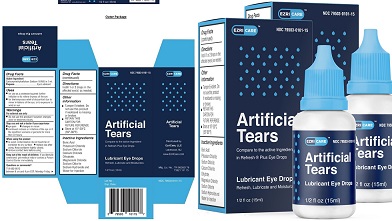 U.S. Medical News
: Despite announcements from the U.S. FDA in late February 2023 about a contaminated eye drop product from India that was carrying worrisome strains of the drug-resistant
Pseudomonas aeruginosa
bacteria that was never found in the United States before, there was not much done by the medical community, ophthalmologists associations and organizations in the country, pharmacists and even the mainstream media to warn Americans about the products and to help the U.S. FDA disseminate the news.
https://www.fda.gov/drugs/drug-safety-and-availability/fda-warns-consumers-not-purchase-or-use-ezricare-artificial-tears-due-potential-contamination
While the news agency, Reuters did do a new release which was a noble community health announcement on its part, many American mainstream media and also social media platforms did not support such public health initiatives and carry the announcement.
https://www.reuters.com/business/healthcare-pharmaceuticals/us-fda-says-india-made-eye-drop-linked-some-infections-blindness-one-death-2023-02-03/
At the time of the Reuters announcement, 55 cases of infections across 12 states including one death and two cases of blindness had been logged.
Fast forward in the beginning of April 2023, we now have 3 Americans who have died for these infections, 8 Americans who have developed permanent blindness of which four had to have their eyeballs removed and a few hundred who have been infected with the bacteria due to the contaminated eye drops across 42 states now with many likely to develop blindness or even die. The numbers are still rising!
The U.S. FDA and U.S.CDC are now concerned that highly drug-resistant bacteria tied to the products could gain a foothold in the U.S.
The initial cases of the infections were reported at a Connecticut long-term care. And were traced to EzriCare artificial tears that was made in in an Indian factory in Chennai by the company called Global Pharma Healthcare.
Despite a product recall and the U.S. FDA stopping all further imports from the company concerned, in the last few weeks, reports of deaths and infections rose as the product was still being dispensed in numerous clinics, hospitals, homes and pharmacies as many were not aware of the recall and worse. many individuals had stocks of the products in their home and were still using it oblivious of the dangers. Hence many Americans were getting infected by the bacteria from India!
Infectious disease specialists warn the strain had not been previously detected in the United States, and that it was particularly difficult to treat with existing antibiotics.
These continuing infections highlight regulatory gaps in controlling imports of overseas medications and the distribution in the country.
The U.S. FDA also admitted that they had not inspected the Indian factory where the eye drops were produced before the infections were reported. However, officials from the agency have since visited the facility, operated by Global Pharma Healthcare.
The FDA has faced ongoing criticism for its oversight of overseas manufacturing in China and India, both major sources of drugs and raw materials for pharmaceuticals.
Previous incidents of tainted products from abroad include blood pressure medications thought to contain potential carcinogens and hazardous heparin batches, which led to widespread recalls and had been covered in previous
U.S. Medical News
reports.
The agency continues to collaborate with the US CDC and has urged retailers to ensure the products are removed from store shelves.
Recent reports suggest the bacteria is spreading within the Connecticut center among asymptomatic patients who have the bacteria colonized in their bodies. Such transmission typically occurs when patients touch shared items or when healthcare workers inadvertently spread the germs.
Alarmingly, the bacterium associated with the EzriCare artificial tears drops, drug-resistant Pseudomonas aeruginosa, is a known concern for healthcare providers. This is particularly true for those with weakened immune systems, nursing home residents, and patients with invasive medical devices like catheters and breathing tubes.
Resistant pseudomonas is notoriously hard to eliminate from healthcare facilities, where it tenaciously clings to sink drains, water faucets, and damp environments, as well as from patients who develop bloodstream infections.
The U.S. CDC is requesting doctors to collaborate with public health labs to identify the genetic fingerprint of difficult-to-treat Pseudomonas infections in the eye and elsewhere in the body.
Experts caution that the effects of the newly imported Indian bacteria will unfold over months or even years.
Records from Panjiva, the supply chain research unit of S&P Global Market Intelligence, reveal that Global Pharma sent four shipments to US distributors in 2021 and 2022, totaling tens of thousands of half-ounce bottles of EzriCare artificial tears.
While the U.S. FDA requires pre-approval inspections for plants manufacturing prescription drugs, no such mandate exists for over-the-counter medicines like artificial tears. The issue is further exacerbated by a significant decline in the number of inspections conducted by the agency since the pandemic began.
Connecticut Democrat Representative Rosa DeLauro expressed concern about the FDA's ability to oversee "substandard safety practices" at domestic and foreign facilities, calling for increased funding and broader authority to recall products. "Lives are at stake," she said.
The U.S. FDA carried out an unannounced inspection at the Indian plant between February 20 and March 2 and found numerous issues with the facility's sterility practices, as detailed in an inspection report.
The report noted that clean-room operators were unqualified and wore discolored, worn-out foot covers. An inspector observed a "black, brown-colored greasy deposit" on machinery in a room where eye drop bottles were filled. One worker admitted to the inspector that there was no cleaning procedure for one of the filling machines.
Global Pharma did not respond to inquiries in March. However, on February 1, the company stated that it had "not determined whether our manufacturing facility is the source of the contamination." EzriCare claimed on its website that it marketed the drops but was not involved in the "actual manufacturing of this product." Wal-Mart and Amazon, among the larger retailers that sold the drops, did not respond to requests for comment.
U.S.CDC investigators examined an outbreak of around two dozen cases at a long-term care center in Connecticut, where they observed evidence of bacterial transmission among residents. The investigation indicated that eye drops were the cause, but the center's records made it difficult to identify the specific type used.
The CDC tested 23 opened bottles of eye drops. Of these, 11 EzriCare artificial tear bottles contained bacteria, and seven of those matched the outbreak strain.
The outbreak has reignited longstanding concerns about the quality and frequency of the U.S.FDA's inspections of overseas facilities.
But at the same time, doctors, healthcare professionals, clinics, hospitals, pharmacies, the mainstream media and social medial platforms need to also be more vigilant and help out in such public health issues.
Interestingly, EzriCare eye drops do not contain preservatives, which many experts found disconcerting. Some stated they had never encountered another reusable eye product without preservatives or other safety measures to limit bacterial growth. Typically, preservative-free drops come in single-use bottles due to the associated risks.
For the latest
U.S. Medical News
, keep on logging to Thailand Medical News.