South Korean Study Shows That Spicy Foods Tied To Cognitive Decline in Less Active Elderly Individuals
Spicy foods are known to deliver an adrenaline rush that exhilarates some and intimidates others. But beyond the thrill, recent study by researchers from South Korea suggests a worrying connection between hot food and cognitive function. The study links spicy food consumption to cognitive decline among older adults, particularly those with a less active lifestyle.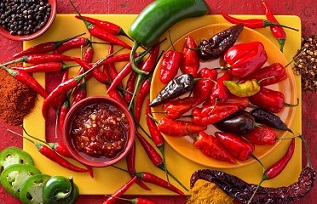 Pic Credit: Foodio/Shutterstock
The heat sensation from spicy food results from pain receptors on the tongue being stimulated. While the culinary world is continuously intrigued by this fiery sensation, the link between certain tastes, cognitive decline, and Alzheimer's disease (AD) has been a subject of extensive research. For instance, a 15-year population-based cohort study found a negative correlation between spicy food consumption and cognitive scores.
What's more, several preclinical studies have shown that high capsaicin intake can lead to the denervation of sensory nerves. However, the mystery around whether the consumption of spicy food directly impacts cognitive decline or AD remained unresolved. Until now.
In this study, the study team included 196 older adults between 65 to 90 years of age, none of whom had dementia. With a comprehensive clinical assessment involving spicy food intake evaluation and cognitive functioning, researchers measured the spiciness potency using internationally recognized scales. Cognitive domain connected to AD was assessed, focusing on episodic memory - the earliest cognitive change noticeable in AD.
From the study group, 93 participants belonged to the 'not spicy' group, 58 to 'low spiciness,' and 45 to 'high spiciness.'
The study findings revealed a significant difference in memory scores between these groups. Despite controlling for various factors like age, sex, apolipoprotein E ε4 allele-positivity, education, and more, high spiciness levels showed a distinct correlation with lower memory scores.
Interestingly, the study found physical activity as a significant moderator of this relationship. A high spiciness level was associated with lower memory scores in individuals with low physical activity, while this was not the case in those with high physical activity.
The study findings imply that consuming spicy food could lead to cognitive decline related to AD, especially concerning episodic memory. More critically, this relationship appears to be influenced by an individual's level of physical activity.
Corresponding author, Dr Jee Wook Kim from the Department of Neuropsychiatry, Hallym University Dongtan Sacred Heart Hospital told
Thailand Medical
News, "Consuming spicy food was linked to cognitive decline related to Alzheimer's Disease, specifically episodic memory, with this association influenced by the impact of physical activity. Thus, clinicians should monitor the intake of spicy foods and physical activity in older adults to prevent cognitive decline or Alzheimer's Disease".
In a world where spicy food is often associated with good health and metabolism boost, this study opens a different perspective, connecting the dots between capsaicin-induced neurotoxic effects and the brain's glutamate excitotoxic effect in neurons. A high intake of capsaicin could lead to cell death by increasing intracellular calcium ion concentrations.
On the other hand, it was noted that physical activity could counteract these effects to some extent. Previous research has shown that physical activity decreases excessive brain glutamate, reducing its toxicity by increasing mitochondrial glutamate oxidation. Hence, a high level of physical activity could potentially protect the brain from the neurotoxic stimuli induced by consuming highly spicy food.
In conclusion, the study findings point towards a link between high spicy food intake and AD-related cognitive decline, which appears to worsen in a physically inactive lifestyle. Consequently, healthcare providers may need to keep an eye on both spicy food consumption and physical activity levels in older adults to prevent cognitive decline or AD.
The study findings were published in the peer reviewed journal: Scientific Reports.
https://www.nature.com/articles/s41598-023-35234-0
For the latest on cognitive decline in the elderly, keep on logging to
Thailand Medical
News.