BREAKING! 20 Percent Of Those Who Had Suffered Critical COVID-19 Illness Will Die Within 6 Months While 40 Percent Will Have A New Disability!
A new study by researchers from Monash University has alarmingly found that six months after recovering from COVID-19 critical illness, one in five people had died, and almost 40% of survivors had a new disability.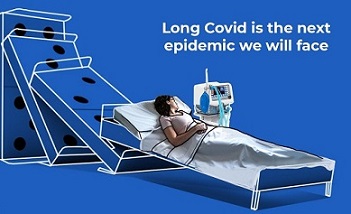 The study team looked at COVID-19 critical illness across Australia between March 6 and October 4, 2020, measuring mortality, new disability and return to work in individuals who had been admitted to intensive care units.
The study findings showed that at six months, 43 of the 212 (20.3%) eligible patients had died, and 42 of the 108 (38.9%) surviving patients who responded to the study reported a new disability.
The study findings were published in the peer reviewed journal: Critical Care.
https://ccforum.biomedcentral.com/articles/10.1186/s13054-021-03794-0
The study findings showed that 71.3% of surviving patients reported persistent symptoms such as shortness of breath, loss of strength, fatigue, headaches and loss of sense of smell and taste after recovering from the critical illness.
Sadly, there was also a big decrease in health-related quality of life across all domains, but particular participants reported new problems with mobility (33.9%), usual activities (43.2%) and pain (34.2%), as well as cognitive impairment (33.3%).
The study also found that one fifth (20%) reporting anxiety (20.2%), depression (20%) and/or PTSD (18.4%). More than one in 10 survivors were unemployed due to poor health.
The participants in the study had a median age of 61, 58 percent of them were male with comorbidity of diabetes or obesity. Fifty-seven percent received mechanical ventilation.
The study team says because COVID-19 is a new disease, the impact on long-term outcomes in survivors is still emerging.
The study team also highlighted the recently COMEBAC study which reported the 4-month outcomes of 478 hospitalized patients with COVID-19 in a single center in France.
https://jamanetwork.com/journals/jama/article-abstract/2777787
Importantly of this cohort, 142 had been critically ill and approximately 50% had been mechanically ventilated, similar to the present study. New onset dyspnea was one of the most common symptoms, and lung CT scan in survivors showed persistent abnormalities in 75% who had received invasive ventilation.
Yet in another recent single-center cohort study in China, nearly one third of the 122 critically ill patients with COVID-19 had a mean 6-min walking distance less than the lower limit of the normal range at 6 months after hospitalization.
https://www.sciencedirect.com/science/article/pii/S0140673620326568
Furthermore, it was found that 56% had diffusion impairment on pulmonary function tests. The results of both these studies are aligned with the high prevalence of shortness of breath in survivors of our cohort. Pulmonary rehabilitation in patients with ongoing shortness of breath may improve outcomes and reduce symptoms.
https://onlinelibrary.wiley.com/doi/full/10.1111/resp.13025
< br />
The study team also suggested that further pulmonary rehabilitation may be delivered by telehealth, improving the access to care during a pandemic.
Corresponding author Dr Carol L. Hodgson from the Australian and New Zealand Intensive Care Research Centre, School of Public Health and Preventive Medicine, Monash University told Thailand
Medical News
, "The study findings however suggest that patients should be screened at hospital discharge for new functional impairments, as the burden of new disability after critical illness with COVID-19 represents an urgent public health problem."
She added, "In this national cohort of patients with COVID-19 critical illness, death and new disability was common. Over a third of survivors had new disability, which was widespread across all areas of functioning. In survivors who reported new disability, most reported three or more ongoing symptoms at 6 months. These observations suggest that the burden of new disability after COVID-19 represents an urgent public health problem."
For more on
Post-COVID
or
Long COVID
research, keep on logging to Thailand Medical News.