COVID-19 Infections Spiraling Out Of Control Globally, France Reports 298,598 New Infections In Last 24 Hours. Perfect Setting For Emergence Of New Variants!
Thanks to the so many medical 'experts' and 'researchers' especially the ones that can be seen often on twitter seeking fame along with the greedy pharma and corrupted Western politicians, the world has entered a new phase in which on one hand we have not only the SARS-CoV-2 coronavirus Omicron variant spreading around exponentially but also various newer Delta subvariants still emerging in the scenes and on the other hand we have many countries barely reaching their vaccination goals.(Note we are not saying here that we endorse any of this vaccination programs neither are we opposing these programs!) Coupled with the fact that the world is still using vaccines that are meant for the original SARS-CoV-2 Wildtype strains and the fact that despite lessons showing that monoclonal treatments and convalescent plasma are driving mutations and causing the emergence of newer variants, many countries are still using these, the world is really going to be extremely sorry soon. Off course we must not also miss out the fact that humans are now also causing domestic and also wild animals to be infected with the SARS-CoV-2 virus as we are not even treating our sewage, waste water and garbage in the proper manner. This will also help to propel the possibility of newer recombinant zoonotic variants to emerge. Just looking at the current kinetics of the COVID-19 pandemic, there is no way that the COVID-19 pandemic is going to end anytime this soon and neither will it end up as an endemic. It is only a matter of time before a more lethal but transmissible variant emerges.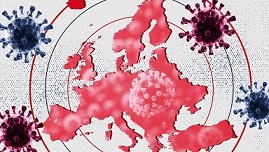 For those that assumed the Omicron was mild because of data from South Africa, well we have news emerging that hospitalization and death data during the Omicron surge in South Africa is now being corrected as the morons there are now claiming that they were not able to collate accurate data during the surge! Also, it should be noted that there are actually many different sub-lineages of the Omicron variant spreading around and not all are the same!
With the world now registering more than 305 million SARS-CoV-2 infections so far and almost 5.5 million COVID-19 deaths, and daily new infections of more than 2 million cases per day (As seen from data the last five days), the future public health burden from Long COVID and also the excess deaths that will arise from Long COVID related fatalities such as strokes, heart failures, kidney failure, liver disease etc will be astronomical!
COVID-19 Updates
: In the last 24 hours, France reported 298,598 new infections and 135 COVID-19 deaths in last 24 hours.
In the United Kingdom, 140,566 new COVID-19 infections were reported along with 313 COVID-19 deaths for Saturday the 8
th
for January.
In the United States, 443,684 new and 676 COVID-19 related deaths were reported in the last 24 hours.
Germany had 32,128 new COVID-19 cases and 77 COVID-19 deaths while India reported 159,632 new cases and 327 deaths in the last 24 hours.
Globally, the world saw 2.02 million news COVID-19 cases and 4980 deaths in the last 24 hours.
But it should be noted that typically figures are low over weekends coupled with the fact that many countries are now reporting a shortage of testing kits and many people are unable to even access government testing facilities in countries lik e the United States and the United Kingdom.
For the latest
COVID-19 Updates
, keep on logging to Thailand Medical News.