BREAKING COVID-19 News! Latest Robert Koch Institute Report Shows That About 7.1 Million Germans Are Sick Due To A Variety Of Respiratory Infections!
COVID-19 News
: In a year that feels characterized by constant sniffles, coughs, and sneezes, the latest report from the Robert Koch Institute (RKI) has brought forth some startling figures regarding respiratory infections in Germany.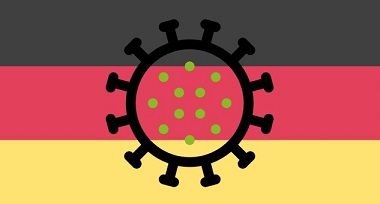 With over 7.1 million Germans currently battling a variety of respiratory illnesses, the nation is facing one of the worst waves of infections in the last five years. This
COVID-19 News
report delves into the key findings of the RKI report, examines the reasons behind this resurgence, and offers insights into how individuals can protect themselves from these infections.
The Ongoing Battle:
It seems as though almost everyone knows someone who is sick or is battling a respiratory infection themselves. The feeling of constantly being surrounded by the sounds of sniffles and coughs has become a norm in many workplaces and households across Germany. The Robert Koch Institute's latest data reveals that this is not merely a subjective experience - it's a stark reality. In the last week of October (week 43), a staggering 7.1 million people in Germany displayed symptoms typically associated with colds, such as cough, runny nose, fever, bronchitis, and COVID-19. This equates to 8,502 respiratory infections per 100,000 inhabitants.
https://edoc.rki.de/bitstream/handle/176904/11327/ARE_Wochenbericht_KW43_2023.pdf
Comparing to the Peak:
While these numbers are alarming, it's important to note that they are still below the peak values observed in the previous year. For example, in mid-December 2022, the incidence was over 11,000. What distinguishes this year's surge is the early onset of colds and other respiratory illnesses, which might have contributed to the higher numbers.
The Rise of COVID-19:
One noteworthy shift this year is the prevalence of COVID-19 among the respiratory infections. The RKI report shows that for the first time, more patients (23 percent) are diagnosed with COVID-19 than other respiratory illnesses. Previously, rhinoviruses, which cause common colds, were the most common culprits. They have now been identified in 22 percent of patients with respiratory diseases. Parainfluenza viruses, responsible for flu-like symptoms, are also on the rise. Fortunately, most cases of colds and COVID-19 are relatively mild, but the impact can be more severe for certain age groups.
Age Disparities:
The respiratory infection wave has affected various age groups differently. People aged 15 to 34 and those over 60 are particularly vulnerable to respiratory infections. Surprisingly, children under the age of four seem to be less prone to these infections. However, across all other age groups, the prevalence of these illnesses remains relatively constant compared to the previous week.
Doctor Visits Soar
:
As the number of sick individuals rises, so does the number of doctor visits. According to the RKI, there were approximately 1,700 doctor visits p er 100,000 inhabitants in the last week, totaling around 1.4 million doctor visits. Markus Beier, Federal Chairman of the General Practitioners Association, remarks on the strain faced by healthcare providers due to the surge in patient visits. Although the numbers haven't reached an all-time high, they represent a significant increase compared to pre-pandemic years when such incidences were far less common.
https://edoc.rki.de/bitstream/handle/176904/11327/ARE_Wochenbericht_KW43_2023.pdf
https://amp.focus.de/gesundheit/news/enorme-belastung-fuer-arztpraxen-7-1-millionen-deutsche-sind-derzeit-erkaeltet-das-sind-die-gruende_id_237623032.html
Reasons Behind the Surge:
Why has Germany witnessed such a dramatic increase in respiratory infections? Several factors contribute to this resurgence. The foremost factor is undoubtedly the presence of COVID-19. Since the emergence of the virus, the total number of doctor visits has notably increased, and people have become more cautious about venturing out when they are unwell.
Additionally, the removal of mask mandates in public spaces has played a significant role. While masks provided protection against not only COVID-19 but also other respiratory pathogens during the pandemic, the absence of such protective measures has left individuals susceptible to various viruses.
Virologist Martin Streiter underscores that the viruses causing these infections are not inherently different or more aggressive. Instead, the return to normalcy, without legally mandated protective measures, has exposed individuals to classic cold viruses alongside SARS-CoV-2, causing the current surge in respiratory infections.
Looking Ahead:
With the increase in respiratory infections, Ulf Dittmer, director of the Institute of Virology at the University Medical Center Essen, anticipates a robust infection season. He emphasizes the importance of monitoring all colds, not just focusing on COVID-19, as the return to pre-pandemic conditions leads to a resurgence of multiple respiratory illnesses.
Preventing Respiratory Infections:
In this challenging environment, it's crucial for individuals to take measures to protect themselves from respiratory infections. Wearing masks can be a simple yet effective step, as it helps guard against a range of respiratory viruses. Those over 60 should consider getting vaccinated against the flu to bolster their immunity.
Basic practices like regular handwashing, avoiding crowded spaces, and ensuring proper ventilation at home and in the office can also help reduce the risk of infection. Additionally, maintaining a healthy lifestyle through adequate sleep, regular exercise, and a balanced diet contributes to a strong immune system.
Conclusion:
The resurgence of respiratory infections in Germany, driven by the combination of common cold viruses and COVID-19, poses a significant health challenge. As the nation navigates through this wave, it's crucial for individuals to take proactive steps to protect themselves and others. While the removal of mask mandates and the return to normalcy play a part in this surge, responsible personal practices can help mitigate the risk and ensure a healthier winter season for all.
For the latest
COVID-19 News
, keep on logging to Thailand Medical News.