COVID-19 News: Scientists Warn That Next SARS-CoV-2 Variants To Emerge Are Likely To Be More Lethal After Identifying Such A Variant In A HIV Patient!
COVID-19 News
: International researchers led by the Sigal lab in Durban-South Africa are warning that contrary to the fallacy that is being disseminated by many so called 'experts', mainstream media,
COVID-19 News
outlets and health authorities that the SARS-CoV-2 coronavirus is evolving to be more milder, the next variants to emerge are likely to be more lethal and worrisome based on their recent study that identified such a variant in a HIV immunocompromised individual!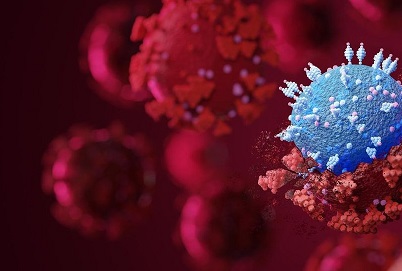 Many are making claims that based on the milder clinical manifestations of Omicron infection relative to pre-Omicron SARSCoV-2 raises the possibility that extensive evolution results in reduced pathogenicity.
In order to test this hypothesis, the study team quantified induction of cell fusion and cell death in SARSCoV-2 evolved from ancestral virus during long-term infection. Both cell fusion and death were reduced in Omicron BA.1 infection relative to ancestral virus.
Evolved virus was isolated at different times during a 6-month infection in an immunosuppressed individual with advanced HIV disease. The virus isolated 16 days post-reported symptom onset induced fusogenicity and cell death at levels similar to BA.1.
Alarmingly however, fusogenicity was increased in virus isolated at 6 months post-symptoms to levels intermediate between BA.1 and ancestral SARS-CoV-2. Similarly, infected cell death showed a graded increase from earlier to later isolates.
The study findings indicate that, at least by the cellular measures used here, evolution in long-term infection does not necessarily attenuate the virus.
The study findings were published on a preprint server and are currently being peer reviewed.
https://www.medrxiv.org/content/10.1101/2022.11.23.22282673v1
The study was led by Dr Alex Sigal at his labs at the Africa Health Research Institute in the South African city of Durban, indicated that the COVID-19 pathogen could continue to mutate and a new variant may cause more severe illness and death than the relatively mild omicron strain.
The Sigal lab using COVID-19 samples from an immunosuppressed individual has showed that the virus evolved to become more pathogenic with enhanced capabilities to cause more cell fusion and cell death.
The evolution of the virus over six months in an HIV immunocompromised patient showed that the newly emerged variant could cause more illness than the current predominant omicron strain.
The Sigal lab last year was to first test the omicron strain against vaccines and in this new study also studied the virus samples taken after six months from a HIV immunocomprised patient who was infected with the SARS-CoV-2 virus.
The study found that in the past 6 months, the virus initially caused the same level of cell fusion and death as the omicron BA.1 strain, but as it evolved those levels rose to become similar to the first version of SARS-CoV-2 identified in Wuhan in China.
The study findings hopefully will make health authorit ies and 'experts; rethink the current complacency over COVID-19 measures based on fallacies that the SARS-CoV-2 virus is becoming milder.
It should be noted that there are millions of individuals around the world who are immunocompromised and are potential reservoirs for the evolution of the current SARS-CoV-2 variants in circulation.
2023 is indeed going to be a fun year with the way that the whole COVID-19 pandemic is being mismanaged and the over emphasis on the COVID-19 shots.
The study team also comprised of scientists from:
-The Centre for the AIDS Programme of Research in South Africa, Durban, South Africa.
-Africa Health Research Institute, Durban, South Africa.
-Division of Infection and Immunity, University College London,UK.
-KwaZulu-Natal Research Innovation and Sequencing Platform, Durban, South
Africa.
-School of Laboratory Medicine and Medical Sciences, University of KwaZulu-Natal, Durban, South Africa.
-Centre for Epidemic Response and Innovation (CERI), School of Data Science and Computational Thinking, Stellenbosch University, Stellenbosch,
South Africa.
-Department of Global Health, University of Washington, Seattle - USA.
-Department of Epidemiology, Mailman School of Public Health, Columbia University, New York - USA.
For the latest
COVID-19 News
, keep on logging to Thailand Medical News.
Also follow:
https://twitter.com/sigallab