Strep A News: Scarlet Fever Infections Rising Exponentially In UK. 94 Dead Including 24 Children, More Than 17,695 Infected And 614 In ICU!
Strep A News
: The UKHSA has admitted that the current outbreak of invasive Group A strep (iGAS) infections seems to be spiraling out of control after it found that there has been massive underreporting of actual strep A infections due to a variety of reasons including lack of proper testing capacities and facilities.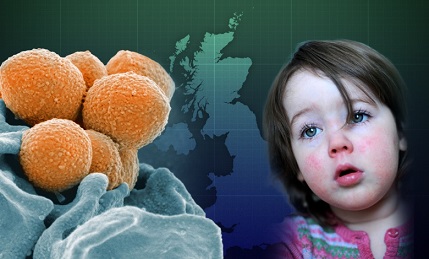 The UKHSA has admitted that since 12 September to December 11 2022, the total number of infections is actually around 17,695.
https://inews.co.uk/news/health/strep-a-cases-scarlet-fever-four-times-higher-officials-reveal-2040629
To date, about 94 individuals in the UK have died from strep A infections including 24 children.
https://www.independent.co.uk/news/uk/home-news/strep-deaths-infections-scarlet-fever-b2250019.html
Data from the ONS indicates that about 614 individuals are currently in ICU due to strep A infections alone but some local
Strep A News
outlets claim that the figure could be much higher.
Local physicians and doctors believe that since December 11 to now, strep A infections have risen even more exponentially and to make things more complicated, many new cases involve co-infections of individuals with COVID-19 or RSV or Flu alongside strep A infections.
All the other respiratory diseases are also increasing exponentially in the UK especially in the last two weeks.
Data form the Zoe app shows that there were about 262,675 new symptomatic COVID-19 infections just for the 21
st
of December. The average number of daily new COVID-19 infections over the last 7 days were around more than 200,000 cases per day.
https://health-study.joinzoe.com/data
The same can be said about RSV and Flu cases that are also increasing on a daily basis and causing a severe strain on the public healthcare infrastructure. Hospitalizations are going up while there are also reports of a severe shortage of healthcare professionals as many are getting infected themselves.
https://www.england.nhs.uk/2022/12/two-thirds-increase-in-hospital-flu-cases-amid-rising-staff-absences-and-pressure-on-nhs-111/
https://www.theguardian.com/science/2022/dec/09/rsv-tripledemic-us-europe-covid-flu-respiratory-syncytial-virus
As with many other European countries and even elsewhere around the world, the UK is facing a shortage of various drugs including basic antibiotics like amoxicillin, NSAIDs like paracetamol, flu drugs like Tamiflu (Oseltam ivir) etc.
https://www.euronews.com/next/2022/12/06/europe-medicine-shortages-where-why-low-drug-supplies-from-amoxicillin-to-paracetamol
https://www.theguardian.com/society/2022/dec/07/strep-a-uk-pharmacists-report-antibiotics-shortages
https://www.theguardian.com/society/2022/dec/08/gps-and-pharmacies-struggling-to-obtain-antibiotics-to-treat-strep-a
As with other countries in Europe including Sweden, Norway and elsewhere around the world like China etc crematoriums, funeral parlors and undertakers in UK are extremely busy with long queues forming for their services but strangely the Western mainstream media has not covered on these except about the situation in China.
https://www.ons.gov.uk/peoplepopulationandcommunity/healthandsocialcare/conditionsanddiseases/articles/coronaviruscovid19latestinsights/deaths
https://petersweden.substack.com/p/funeral-homes-alarm
Death rates in UK are rising and it is expected to be rise more in coming weeks and months.
Despite the dire situation that the United Kingdom is in with regards to the onslaught of strep A infections alongside the rising COVID-19 cases and also RSV and Flu infections, with the near collapse of the healthcare system in the country, the British government lead by the Conservatives have not come up to make any announcements about the crisis or as to what solutions or strategies they are embarking to help alleviate the ongoing health crisis.
Strep A infections are also rising elsewhere in Europe, Canada and The United States.
https://www.who.int/europe/news/item/12-12-2022-increase-in-invasive-group-a-streptococcal-infections-among-children-in-europe--including-fatalities
https://www.cidrap.umn.edu/antimicrobial-stewardship/group-strep-infections-climbing-europe
https://www.ecdc.europa.eu/en/news-events/increase-invasive-group-streptococcal-infections-among-children-europe-including
https://thehill.com/homenews/3785953-cdc-issues-warning-about-rise-of-invasive-strep-a-infections-in-children/
https://www.thailandmedical.news/news/strep-a-news-invasive-group-a-strep-igas-infections-increasing-globally-19-pediatric-deaths-in-uk,-2-in-us-and-2-in-canada-with-thousands-infected
It is expected that the UK will also see a new outbreak of measles, pneumocystis pneumonia caused by the fungus
pneumocystis jirovecii
and hepatitis in a couple of weeks, all caused by newly evolved strains of pathogens.
For the latest
Strep A News
, keep on logging to Thailand Medical News.