Romanian Researchers Warn Of The Risk Of Acute Disseminated Encephalomyelitis (ADEM) Linked To COVID-19 Infections And Vaccines
Often Presenting With Symptoms Of Headaches, General Weakness, Muscular Pain, Etc…The Condition Is Often Misdiagnosed Despite The Risk Of Fatality!
COVID-19 News
: In the midst of the COVID-19 pandemic, scientists have been tirelessly working to understand the various aspects of the novel coronavirus, SARS-CoV-2, and its effects on the human body. Among the many concerns surrounding the virus are its potential neurological complications from infections and the side effects associated with the vaccines developed to combat it. Recent research from the George Emil Palade University of Medicine in Romania and Mures County Emergency Hospital has shed light on a condition called acute disseminated encephalomyelitis (ADEM), which can arise as a result of SARS-CoV-2 infection or vaccination. The study serves as a systematic review of existing literature on the subject, as well as a presentation of the researchers' own clinical experience in diagnosing and treating ADEM.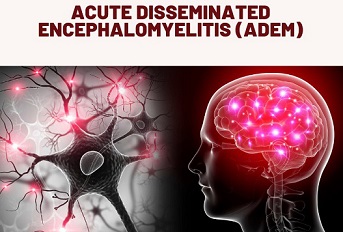 Acute disseminated encephalomyelitis is an acute-onset demyelinating disease that affects the central nervous system (CNS) and is characterized by rapidly evolving neurological deficits. It typically occurs following a viral or bacterial infection, with respiratory tract infections being a common trigger, or less frequently, after vaccination. A more severe variant of ADEM, known as acute hemorrhagic leukoencephalitis (AHLE), can lead to coma and even death. The researchers aimed to evaluate the diagnosis, clinical characteristics, imaging and laboratory features, progression, and treatment of ADEM and AHLE in individuals who had contracted COVID-19 or received the SARS-CoV-2 vaccine.
The systematic review included ADEM cases reported between January 2020 and November 2022, with a total of 74 patients diagnosed with ADEM. Out of these cases, 45 were linked to COVID-19 infection, while 29 were associated with SARS-CoV-2 vaccination. Among the patients, 13 individuals (17.33%) developed AHLE. Interestingly, a positive correlation was found between the moderate form of COVID-19 and AHLE. Additionally, the presence of coma and AHLE was associated with poorer outcomes. The stud team also investigated the impact of different immunomodulatory therapies on patient outcomes and found that therapies such as therapeutic plasma exchange (TPE) and combined therapy with corticosteroids and TPE were correlated with poor outcomes, including major sequelae and death.
The research provides valuable insights into the occurrence and management of ADEM in the context of SARS-CoV-2 infection and vaccination.
Coronaviruses, including SARS-CoV-2, have been known to affect the respiratory system. However, the neurological complications associated with COVID-19 have increasingly come to light as covered in various studies and
COVID-19 News
reports. These complications range from immune-mediated diseases of the CNS to encephalopathy, stroke, and neuromuscular disorders. ADEM is a notable manifestation of neurological complications following viral infections or vaccinations.
The incidence of ADEM is relatively low, affecting around 0.5 per 100,000 patients in childhood. However, cases have been reported in adults as well. The disease is typically triggered by viral exposure or, in rare cases, vaccination. Various pathogens have been linked to ADEM, including coronaviruses, influenza, Epstein–Barr virus, and measles. Vaccines have also been associated with ADEM, with reports emerging over the years for vaccines against influenza, varicella, measles, mumps, and other diseases.
The study team also shared their clinical experience with ADEM in a 33-year-old male patient who developed symptoms after receiving the Johnson & Johnson COVID-19 vaccine. The patient experienced fever, headache, muscle weakness, paresthesia, and urinary difficulties. The diagnosis was confirmed based on neurological examination, laboratory tests, and brain and spine magnetic resonance imaging (MRI). Treatment with intravenous methylprednisolone resulted in marked improvement, and a follow-up MRI showed a significant reduction in lesion size.
The study also examined other reported cases of ADEM following SARS-CoV-2 infection or vaccination. Out of the 74 patients analyzed, 45 developed ADEM after COVID-19 infection, and 29 developed it after receiving a SARS-CoV-2 vaccine. Thirteen patients experienced the more severe AHLE variant.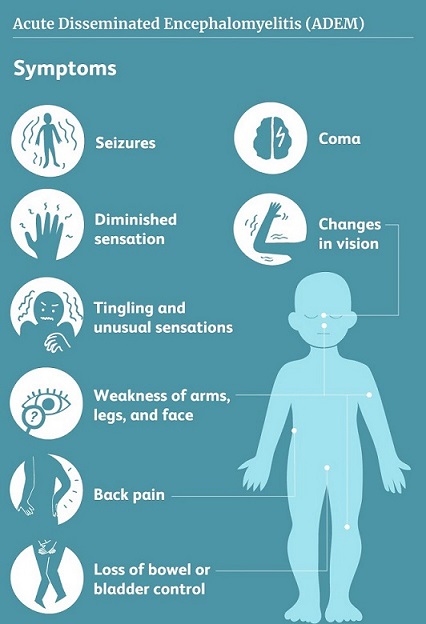 Interestingly, a positive correlation was observed between the moderate form of COVID-19 and AHLE. The researchers explored various treatment options, with corticosteroid therapy being the most common, followed by intravenous immunoglobulin, plasmapheresis, and rituximab. Although no significant differences were found between the therapies, the combined use of corticosteroids and plasmapheresis appeared to be more prevalent in the post-vaccination group.
The pathophysiology of ADEM is not yet fully understood, but it is believed to involve autoimmune reactions triggered by viral or vaccine antigens. Molecular mimicry, in which viral proteins resemble self-antigens, is one proposed mechanism. In the case of SARS-CoV-2, the virus's ability to infiltrate the CNS, cause neuroinflammation, and disrupt the blood-brain barrier contributes to the development of ADEM. Vaccines, on the other hand, can lead to aberrant immune responses and autoimmune reactions through similar mechanisms.
The study team highlight the importance and the need for clinicians to remain vigilant and promptly diagnose and treat potential cases of ADEM.
The study findings were published in the peer reviewed journal: Vaccines
https://www.mdpi.com/2076-393X/11/7/1225
For the latest
COVID-19 News
, keep on logging to Thailand Medical News.