BREAKING! Expert From London Medical Laboratory Warns That Standard COVID-19 PCR Test Does Not Pick Up New SARS-CoV-2 Strains And Variants!
COVID-19 Diagnostics
: One of the UK's leading experts in COVID-19 testing, Dr Quinton Fivelman PhD from London Medical Laboratory has issued a warning that current standard COVID-19 PCR test is not able to pick up many of the newly emerging SARS-CoV-2 variants and sub-variants. He made the alert publicly and also warned various health agencies and also testing sites across the UK and the rest of the world along with sending an official report to the WHO (World Health Organization.)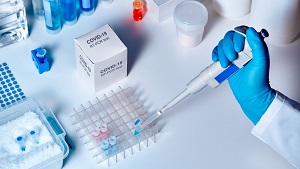 Dr Fivelman warned that with many new unique mutations appearing on various emerging SARS-CoV-2 variants and sub-variants, many of these are not being picked up by the standard, widely-used, single gene tests.
This could have catastrophic consequences as many individuals carrying worrisome SARS-CoV-2 variants and sub-variant could unknowingly be spreading it around to many others as a result of 'false negatives.' To make matters worse, many countries using the current standard test to allow tourist into their countries could actually be making errors that could endanger the lives of their own citizens with the spread of new imported variants.
The standard PCR (polymerase chain reaction) blood test is considered the 'gold standard' in detecting Covid-19 infections. However, a leading expert in
COVID-19 Diagnostics
, Dr Fivelman, claims some strains of the virus have now evolved in a way that evades detection by many standard PCR tests.
Dr Quinton Fivelman, the Chief Scientific Officer at London Medical Laboratory, told Thailand Medical News, 'Scientists have noted some variants of the COVID-19 virus are not being detected by the traditional PCR test, which is considered superior to the quicker and less sensitive lateral flow test. Changes to the SARS-CoV-2 genomes including some of those found in currently circulating variants mean that key virus genes have altered so significantly that they can muddle PCR tests and give the wrong result."
He further added, "Scientists in France and Finland first noted that some COVID-19 mutations were evading detection earlier this year, and now new strains have been found in the UK that are not being picked up using the traditional tests. Standard PCR tests that just target one specific gene may not detect these variants if the gene has even slightly altered."
He stressed that a better COVID-19 diagnostic with the advent of so many emerging variants and sub-variants is the diagnostic platform deployed at London Medical Laboratory which uses 's two Covid-19 genes as PCR test targets ie the nucleocapsid (N2) and envelope (E).
He added, "Last month alone, we had three patient samples that tested negative for the N gene but positive for the E gene. Had the test just been focused on the N gene, the cases would have gone undiscovered and these people would have returned to work, potentially infecting others with undetectable COVID-19."
He warned, "There is growing concern that traditional single gene PCR tests used by many hospitals to diagnose COVID-19, and to ascertain if people are 'fit to fly', could be missing cases, leading to the increased spread of the virus and cases going untreated for too long!"
Dr Fivelman and London Medical Laboratory is calling on all testing facilities to adopt tests targeting at least two genes immediately, to ensure the UK and the rest of the world can continue to treat patients effectively and retain an accurate picture of the number of cases there are in the community. If too many cases go undetected, the entire plan to contain the virus this winter will the thrown into jeopardy and we could see the return of lockdowns.'
He added, "Should anyone in the UK be concerned about the accuracy of their recent PCR test, they can take London Medical Laboratory's two-gene PCR test. This is available from our drop-in clinics, at home via the post, or through a home visit from one of our qualified phlebotomists."
He also welcomed diagnostic professionals from around the world to contact London Medical Laboratory to find out as to how to upgrade their current standard COVID-19 PCR testing platforms to that of the two gene platform.
https://www.londonmedicallaboratory.co.uk/
For the latest on
COVID-19 Diagnostics
, keep on logging to Thailand Medical News.