COVID-19 News: Louisiana Study Shows That SARS-CoV-2 Infections Can lead To Complications In The Airway And Swallowing Function!
COVID-19 News
: The emergence of the COVID-19 pandemic in late 2019 transformed our understanding of infectious diseases. Caused by the severe acute respiratory syndrome coronavirus 2 (SARS-CoV-2), COVID-19 initially presented as a common upper respiratory infection but quickly revealed itself as a potentially life-threatening multisystem illness. As the pandemic unfolded, researchers and healthcare professionals raced to comprehend the acute treatment and complications associated with the virus. Among the myriad of challenges posed by COVID-19, one intriguing aspect that has garnered increasing attention is its impact on airway and swallowing function.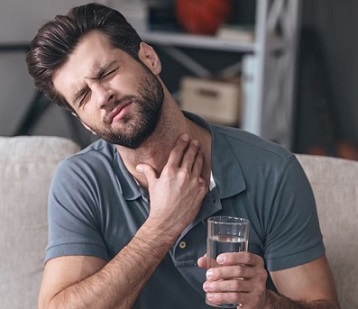 A new comprehensive study conducted at the LSU-Health Sciences Center in Louisiana, USA, sheds light on how SARS-CoV-2 infections can lead to complications in the airway and swallowing function. This retrospective analysis aims to provide valuable insights into the implications of COVID-19, particularly for patients requiring intensive care unit (ICU)-level care.
The Evolving Landscape of COVID-19
COVID-19 has proven to be a dynamic disease, continually evolving in its presentation and impact. While approximately 80% of infected individuals experience mild symptoms such as fever, dry cough, and fatigue, about 15% develop severe disease, marked by lung abnormalities on imaging. Past studies and
COVID-19 News
reports have shown that approximately 5% of cases become critically ill, necessitating ICU admission. The severity of COVID-19 is particularly pronounced in individuals aged 49 to 56, with higher mortality rates observed in those over 80 and those with comorbidities.
As a significant proportion of COVID-19 patients end up in the ICU, the need for a well-defined protocol for airway management has become paramount. The study discussed here addresses the challenges associated with managing the airways of COVID-19 patients and explores the consequences of invasive procedures, such as intubation and tracheostomy, on swallowing function.
The Impact of Prolonged Intubation
Severe COVID-19 infections often manifest as a complex interplay between respiratory and swallowing issues. Studies have revealed that up to 50% of COVID-19 patients admitted to the ICU experience swallowing difficulties. This challenge is compounded by the extended use of invasive airway management techniques, including intubation and tracheostomy.
During the early stages of the pandemic, when guidelines were not yet firmly established, COVID-19 patients required considerably longer periods of intubation compared to traditional viral pneumonia cases. Intubation durations of 21 to 35 days were not uncommon, in stark contrast to the 7 to 10 days typically seen before the pandemic. The emergence of tracheostomy procedures was driven by the need to wean patients off sedation, remove translaryngeal tubes, and minimize the risk of resedation and reintubation.
However, the fear of viral particle aerosolization during tracheostomy further extended intubation times, exacerbating the range of postintubation complications experienced by COVID-19 patients. Reports indicate that as many as 41% of patients face dysphagia after extubation, prim arily resulting from laryngeal injuries caused by intubation, which can lead to vocal cord paralysis, granuloma formation, and stenosis. Moreover, neurological symptoms associated with SARS-CoV-2 infection can exacerbate dysarthria, dysphonia, and dysphagia, with muscle atrophy induced by chronic disuse.
The Primary Objective: Assessing Airway and Swallowing Outcomes
The principal objective of the Louisiana study was to conduct a retrospective assessment of airway and swallowing outcomes in patients who had contracted COVID-19 and required ICU-level care. Specifically, the researchers sought to understand the changes in patients' diets following hospitalization, serving as a marker for swallowing function.
The study involved a meticulous chart review spanning from March 2020 to May 2022, with a focus on patients who received a primary diagnosis of COVID-19. The variables analyzed included age, gender, duration of intubation, length of ventilation, airway interventions, the use of extracorporeal membrane oxygenation (ECMO), and dietary changes prior to, during, and after hospitalization for COVID-19 infection.
Key Findings and Implications
The study identified 207 patients who met the inclusion criteria. A noteworthy discovery was a significant difference in discharge diets between patients who were intubated and those who were not, emphasizing the profound impact of intubation on swallowing function. Approximately 30% of patients were discharged with a diet that differed from their baseline, with those on a non-regular diet being significantly more likely to require discharge to a healthcare facility.
The study's findings underscore the importance of early tracheostomy in reducing the risks associated with prolonged intubation and emphasize the need for vigilant monitoring of patients in the ICU, particularly those who are intubated and older, as they are at a higher risk of dysphagia and malnutrition. These insights hold significance not only for patient care but also for optimizing speech and swallow outcomes in the context of COVID-19.
The Long-Term Impact of COVID-19
Beyond the immediate challenges posed by COVID-19, the study indirectly highlights the enduring effects of the virus on patients. A recent article by Martillo et al. reported that a staggering 91% of COVID-19 ICU survivors experienced symptoms of post-intensive care syndrome (PICS), including physical impairments and mental health sequelae such as depression, post-traumatic stress disorder, and insomnia. These long-lasting consequences can significantly impact the quality of life for COVID-19 survivors, particularly those who endured ICU admission.
In Conclusion
The ongoing COVID-19 pandemic has continued to unveil new challenges and outcomes, even into its third year. This study from Louisiana provides critical insights into the relationship between SARS-CoV-2 infections, airway management, and swallowing function. It underscores the importance of early tracheostomy to mitigate the adverse effects of prolonged intubation.
As we navigate the evolving landscape of COVID-19, further research remains imperative to develop effective treatment approaches that optimize speech and swallow outcomes for affected individuals. The lessons learned from this study will contribute to the ongoing efforts to combat the pandemic and improve the care and quality of life for COVID-19 patients.
The study findings were published in the peer reviewed journal: OTO Open.
https://aao-hnsfjournals.onlinelibrary.wiley.com/doi/10.1002/oto2.74
For the latest
COVID-19 News
, keep on logging to Thailand Medical News.