Proteomics Study Reveals That SARS-CoV-2 Dysregulates The Innate Immune Responses By Downregulating Fetuin-A, Tetranectin And Paraoxonase-1.
COVID-19 News
: A new quantitative proteomics study by researchers from Saudi Arabia have uncovered how SARS-CoV-2 dysregulates the Innate immune responses that can lead to disease severity.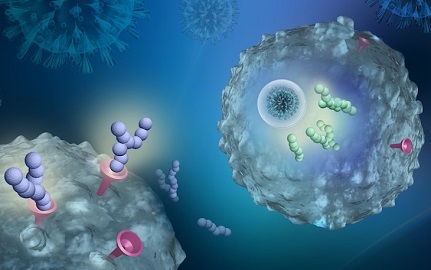 The coronavirus disease 2019 (COVID-19) caused by the severe acute respiratory syndrome coronavirus 2 (SARS-CoV-2) has presented varying levels of severity in patients, from mild to severe cases. Although vaccines have been distributed worldwide, the disease still poses a threat as the newer XBB sub-lineages, BA.5 sub-lineages and even other sub-lineages such as XBC and XCC are rapidly evolving and spawning newer mutations to evade all forms of immunity as covered in our recent
COVID-19 News
coverages. Understanding the mechanisms behind COVID-19 progression is crucial for effective treatment.
This study explores the role of innate immune responses in COVID-19 and highlights the potential of fetuin-A and tetranectin as targets for diagnosis and treatment.
Innate Immune Responses in COVID-19
Innate immune responses are essential in determining the course of COVID-19 disease progression. Neutrophils and monocyte/macrophages are key elements in these responses during infection. Plasma-based proteomics is a useful approach to analyze protein profiles and identify changes associated with disease progression. This study focuses on the protein expression patterns in healthy individuals and COVID-19 patients and their potential interactions with innate immune responses.
Protein Changes in COVID-19 Patients
Proteomic analyses of COVID-19 patients' plasma samples reveal down-regulation of fetuin-A, tetranectin, and paraoxonase-1 (PON1), which correlate with disease severity. These proteins play crucial roles in modulating inflammation, vascular function, and immune responses.
Fetuin-A and COVID-19
Fetuin-A is an acute-phase protein that supports anti-inflammatory processes during inflammation. The down-regulation of fetuin-A in moderate and severe COVID-19 cases may contribute to the progression of the disease. Fetuin-A inhibits early and late mediators released by innate immune cells, such as macrophages, and may play a role in regulating intracellular calcium levels, which are affected by the SARS-CoV-2 spike protein. Decreased levels of fetuin-A may be associated with increased inflammation, vascular abnormalities, and thrombosis in severe COVID-19 cases.
Tetranectin and COVID-19
Tetranectin, a high-mobility group box 1 (HMGB1)-binding protein, may modulate the inflammatory process during infection. The down-regulation of tetranectin in severe COVID-19 cases suggests it could be a potential marker for innate immune dysregulation. Tetranectin is also involved in fibrinolysis, which helps control abnormal coagulation. The decline of tetranectin levels may contribute to vascular dysfunction in severe COVID-19 cases.
Reduced levels of tetranectin have been associated with cardiovascular diseases such as coronary artery disease. Decreased levels of tetranectin may contribute to immune dysregulation and increased disease severity in COVID-19 patients.
/>
Paraoxonase-1 (PON1) and COVID-19
PON1 is an enzyme that plays a role in inflammation and oxidative stress in cardiovascular diseases. The down-regulation of PON1 in severe COVID-19 cases could indicate disease progression and exacerbate proinflammatory reactions to the virus. PON1 may suppress macrophage overreaction and sustain inflammation in atherosclerosis.
APOE and severe COVID-19
The proteomic analysis also revealed upregulation of APOE in severe COVID-19 cases compared to healthy controls. APOE is involved in modulating lipoprotein function and is known to play a role in inflammation by influencing macrophage polarization. Increased levels of APOE have been associated with COVID-19 severity.
Complement and Coagulation Cascades in COVID-19
Proteomic analysis also shows dysregulation of complement and coagulation cascades in COVID-19 patients compared to healthy controls. Complement components interact with macrophage receptors, driving inflammation and cytokine production. Activation of the complement system intensifies T cell cytotoxicity in severe cases. The study finds a significant link between complement components and coagulation cascades, which may modulate innate immune reactions.
Conclusion
The study used iTRAQ (isobaric tags for relative and absolute quantitation) proteomics analysis to examine the plasma protein profiles of COVID-19 patients with different disease severities. The iTRAQ approach allows researchers to identify and quantify proteins in various biological samples, including plasma, which can provide insights into the mechanisms behind disease progression and severity.
The study findings suggest that downregulation of tetranectin, fetuin-A, and PON1 are associated with an increased severity of COVID-19. These proteins play essential roles in regulating the innate immune response, particularly in macrophage function. Macrophages are immune cells that play a critical role in the body's defense against infections and are involved in inflammation and tissue repair processes.
The study findings suggest that tetranectin, fetuin-A, and PON1 may serve as potential markers for COVID-19 severity and could be potential targets for treatment. By better understanding the mechanisms underlying the dysregulation of the innate immune system and macrophage dysfunction in COVID-19, scientists may be able to develop more effective therapies for severe cases of the disease.
The study findings were published in the peer reviewed journal: Heliyon.
https://www.cell.com/heliyon/fulltext/S2405-8440(23)02431-3
For the latest
COVID-19 News
, keep on logging to Thailand Medical News.