GREAT NEWS! Almost 75 new Omicron Cases Emerged In United Kingdom In Last 24 Hours! Omicron On Course To Displace Delta In England
Omicron Updates
: According to the UK Health Security Agency (UKHSA) a further 75 cases of the Omicron variant have been identified in England. It brings the total number of confirmed cases to 104.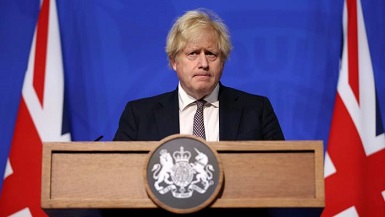 PS: Can Someone Do Something About His Hair?
Cases have been identified in the east Midlands, east of England, London, north-east, north-west, south-east, south-west and West Midlands.
Interestingly according to the UK Health Security Agency (UKHSA), more than 70 percent those infected with Omicron in England were double jabbed.
Although about 80 percent of the cases seems to display mild symptoms, the rest exhibited moderate to severe symptoms and required hospitalizations.
For those who had mild symptoms, fatigue, body pains and fever seem to be the key symptoms while a smaller proportion had coughs and also gastrointestinal issues. Strangely unlike as with the Delta variant, very few infected with the Omicron variant reported loss of smell or taste.
About 40 percent of these new cases were linked to local community transmissions.
UKHSA chief executive,
Dr Jenny Harries told Thailand
Medical News
, "Increased case detection through focused contact tracing has led to more cases of the Omicron variant being identified and confirmed, as we have seen in other countries globally. We are continuing to monitor the data closely. Teams nationally and locally are working at pace to identify and trace all close contacts of every Omicron case. It is critical that anyone with COVID-19 symptoms isolates and gets a PCR test immediately."
She added, "Worryingly we have started to see cases where there are no links to travel, suggesting that we have now community transmission occurring."
The sharp rise in cases came as a new risk assessment from the UK Health Security Agency (UKHSA) said the new variant is "transmitting rapidly and successfully". A separate analysis by the agency of the first 22 Omicron cases in England also found that more than 65% of those infected had been double jabbed.
Modelling platforms are predicting that Omicron could replace the Delta variant in the United Kingdom as early as six to eight weeks' time.
More concerning is that experts suspect that the Omicron is likely to cause more long-term health issues due to its capability to dismantle the human host immune system effectively and replicate in high amounts at rapid speed. Studies are underway to validate this and to gather more possible pathogenesis scenarios.
Despite all the preliminary data emerging about the threat of the Omicron variant, UK prime minister Boris Johnson said that Christmas should go ahead "as normally as possible" this year, despite concerns about the Omicron variant. Hilariously the moron said people did not need to cancel parties or nativity plays.
Prime Minister Johnson told media, "I&rsquo ;ve noticed there's been quite a lot of to-ing and fro-ing about it, people concerned that they need to cancel their Christmas parties. That's not right, we're not saying that and we're not saying that nativity plays have to be cancelled. I believe very strongly that kids should be in school and I also think that Christmas should go ahead as normally as possible. But the key point, the key point is that whatever the risk Omicron may pose, or may not pose, the booster is everywhere and always, vaccination is going to be your best protection, so everybody should get it."
We advise readers to read this article:
https://www.thailandmedical.news/news/breaking-omicron-causes-severe-condition-in-man-who-was-fully-vaccinated-and-had-received-booster-shot-in-iceland-finland-finds-omicron
COVID-19 cases in South Africa have risen above 3 million after a surge of infections driven by the new Omicron variant
.
It was reported that another 16,055 new cases were reported on Friday, taking the total confirmed infections to 3,004,203.
"This increase represents a 24.3% positivity rate," the government-run National Institute for Communicable Diseases said in a daily update.
The majority of new cases on Friday, 72%, were detected in the Gauteng province which has emerged as the epicentre of the new variant. It includes the country's capital Pretoria and economic hub Johannesburg.
Thailand
Medical News
will be providing more updates on the spiraling situation in South Africa.
WHO Lies?
Also note that WHO made a public comment to the media that no one has died from the Omicron variant so far
https://www.timesofisrael.com/who-says-no-omicron-deaths-reported-yet-as-variant-spreads-worldwide/
https://www.marketwatch.com/story/who-has-not-seen-any-reports-of-deaths-caused-by-omicron-variant-urges-people-not-to-panic-as-delta-still-dominant-11638546502
This is not only a blatant lie and fake news but also reflects how despicable the UN agency is for spreading fake news.
We have evidence to show a number of people have died from the Omicron variant in South Africa and also in another 5 countries and will be doing a separate article on that.
Please help to sustain this site and also all our research and community initiatives by making a donation. Your help means a lot and helps saves lives directly and indirectly and we desperately also need financial help now.
https://www.thailandmedical.news/p/sponsorship
For the latest
Omicron Updates
, keep on logging to Thailand Medical News.