Dengue News: Dengue Outbreak in Taiwan Surpasses 10,000 Cases, Prompting Urgent Measures. 15 Dengue Deaths So Far.
Dengue News
: Dengue fever has taken a firm grip on Taiwan, with the country reporting over 10,000 cases and 15 fatalities due to the outbreak.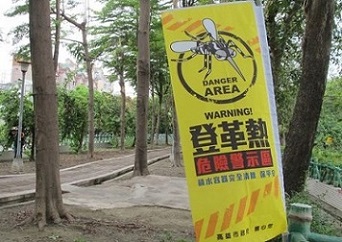 The Taiwan Centers for Disease Control and Prevention (CDC) recently revealed that there were 2,017 new local cases of dengue fever reported in just one week, from September 19 to September 25 this year.
The majority of these cases were concentrated in Tainan City, with a staggering 1,855 cases. Other affected areas included Kaohsiung City (82 cases), Yunlin County (27 cases), Pingtung County (20 cases), Chiayi County (8 cases), Nantou County (6 cases), Taichung City (5 cases), Taoyuan City, and Hsinchu City (4 cases each). Even smaller regions like Chiayi City, Keelung City, New Taipei City, Taipei City, and Hsinchu County reported at least one case each.
The total number of dengue cases in Taiwan has now reached 10,496 local cases, with Tainan City accounting for a staggering 90 percent of the total cases, making it the epicenter of the outbreak.
Tragically, the outbreak has claimed 15 lives so far, with three new dengue-related deaths reported within the same week. This alarming situation has prompted urgent measures and a call for public awareness.
The CDC in Taiwan has been working tirelessly to combat the outbreak and has issued guidelines to help citizens protect themselves from the virus. They recommend wearing light-colored, long-sleeved clothing and applying government-certified insect repellent to prevent mosquito bites. Furthermore, citizens are advised to reduce the number of containers left outdoors and clean them after rainfall to eliminate mosquito breeding grounds.
Recognizing the severity of the situation, a joint CDC-central government task force was established in Tainan on September 18. Their mission is to curb the worsening dengue fever outbreak and reduce new weekly cases to below 1,000 within a month. Deputy Director General Lo Yi-chun emphasized the urgency of these efforts to protect public health.
Local
Dengue News
coverages indicate that many hospitals in Tainan City are under stress due to not only increasing dengue cases but also a gradual rise of COVID-19 infections and also other respiratory diseases including influenza.
The dengue outbreak in Taiwan is not an isolated incident. The Taiwan CDC has identified 165 imported cases this year, most of which have come from Southeast Asian nations. Among these, Thailand has the highest number of cases at 43, followed by Vietnam with 31 and Indonesia with 25. This highlights the importance of international cooperation and awareness in tackling the spread of the disease.
Furthermore, Latin America has been identified as another hotspot for dengue fever, with over 3.47 million cases reported in countries like Brazil, Argentina, Peru, and Bolivia. Dengue fever knows no borders, and its impact can be devastating.
More than half of Taiwan's administrative regions have reported dengue cases this year, making it the second-highest number in a decade, trailing only behind 2015 when over 43,000 cases were documented. This alarming resurgence underscores the need for robust public health me asures, community engagement, and international collaboration to control the spread of dengue fever.
In conclusion, Taiwan is currently grappling with a significant dengue fever outbreak, with over 10,000 local cases and 15 deaths reported. Tainan City is the hardest-hit region, accounting for 90 percent of the cases. Urgent measures, including the establishment of a task force and public health guidelines, have been put in place to control the outbreak. International cases and the presence of dengue fever in South East Asia, South Asia and Latin America further emphasize the need for a global effort to combat this mosquito-borne disease. Dengue fever is a reminder that infectious diseases can pose a serious threat, even in regions with advanced healthcare systems, and the importance of proactive prevention and response measures cannot be underestimated.
For the latest
Dengue News
, keep on logging to Thailand Medical News.