BREAKING NEWS! Italy Discloses 28.5 Percent Increase In COVID-19 Infections And A Staggering 48 Percent Rise In Deaths In Just One Week!
COVID-19 News
: As Italy faces a harrowing surge in COVID-19 cases and fatalities, the nation is gripped by fear and uncertainty. New data released by the Italian Ministry of Health reveals a shocking 28.5% increase in cases and a staggering 48% rise in deaths in just one week. This dramatic development has set alarm bells ringing as Italy struggles to contain the SARS-CoV-2 virus's relentless spread.
https://www.ansa.it/canale_saluteebenessere/notizie/medicina/2023/04/21/covid-iss-lrt-scende-a-093-ma-aumenta-lincidenza-dei-casi_3ac8ba11-0620-4484-ad13-8b62349f4e50.html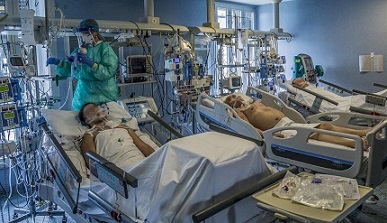 Pic Credit:picture alliance/abaca/lpa/C.Carlo

Between April 14th and April 20th, 2023, the country recorded 27,982 new cases - a substantial increase from the previous week's 21,779. The death toll has also skyrocketed, with 191 fatalities reported, marking a 48.1% increase from the previous week's 129. Amidst the chaos, the number of tests administered has also grown - 398,788 tests conducted, representing a 26.0% increase from the week prior (316,436).
The positivity rate, a crucial indicator of the virus's prevalence, has seen a slight uptick as well. Currently standing at 7.0%, it has inched up by 0.1% compared to the preceding week (6.9%). With each passing day, the situation grows increasingly dire.
The Italian National Institute of Health's latest report highlights the alarming rise in the weekly incidence of COVID-19 cases in Italy. As of April 20th, the rate has surged to 48 per 100,000 residents, up from 37 in the previous report. However, there is a small glimmer of hope - the average Rt value, calculated based on symptomatic cases, has dipped slightly to 0.93 (range 0.87-1.19) in the period between March 29th and April 11th, 2023. This drop indicates a minor decline in transmission rates.
Unfortunately, the transmission index based on hospitalization rates tells a different story, revealing an increase above the epidemic threshold. As of April 11th, the Rt value has climbed to 1.07 (1.02-1.13), a significant jump from April 4th's value of 0.91 (0.86-0.97).
The healthcare system is beginning to feel the strain as well. The occupancy rate in intensive care units has risen slightly to 1.0% (as of April 20th) compared to 0.8% (as of April 13th). The occupancy rate in medical areas at the national level has also experienced a marginal increase, standing at 4.5% (as of April 20th) versus 4.2% (as of April 13th).
According to local Italian
COVID-19 News
coverages, the situation in Italy's regions is far from uniform. Ten regions are classified as high risk, primarily due to multiple resilience alerts. Eleven regions are considered moderately at risk, while none have been categorized as low risk. Each region has reported at least one resilience alert, with ten regions issuing multiple alerts.
This explosive new data has plunged Italy into a state of crisis. With the virus s preading like wildfire and the healthcare system stretched to its limits, the Italian population finds itself in a state of trepidation, desperately hoping for a turnaround.
'Garbage' politicians and 'ignorant and stupid' health authorities and 'paid' medical experts around the world with the constant narratives claiming that SARS-CoV-2 infections are now mild, or that the boosters are offering protection or that the virus is now endemic and that we have to learn to live with should be dealt with… both form a legal perspective and also by vigilantes and citizens ousting them out of power, office or medical practice.
Variety Of XBB Sub-Lineages Driving New Onslaught In Italy.
A variety of more transmissible and immune evasive XX sub-lineages are driving the new COVID-19 onslaught In Italy similarly to what is occurring in many geolocations around the world.
Among these sub-lineages are XBB.1.16, XBB.1.9.1, XBB.1.9.2, XBB.1.6, XBB.2.3, XBB.2.6 etc.
https://cov-spectrum.org/explore/Italy/AllSamples/Past6M/variants?nextcladePangoLineage=xbb*&
Attention should also be paid to the newer sub-lineages being spawned by the XBB.2.3 and XBB.2.6 variants as there is some unverified and unconfirmed speculations that they are more destructive towards the various T Cells!
It is coming to light that most of the infections are breakthrough infections and that so-called herd immunity or combined immunity or immunity from simply previous infections alone or vaccine-induced immunity alone is no longer providing any protection from these new strains. The narratives that the boosters provide protection from disease severity and from risk of mortality does not seem to be holding true anymore especially for those in the vulnerable groups ie the aged, the obese, the young, those with existing comorbidities, the immunocompromised and also those with certain genetic makeups.
Furthermore, preliminary data is indicating that while these new emerging XBB sub-lineages are very good at disarming human host immune responses and hence producing less symptoms initially during infections, they have evolved for better viral persistence and there is indications that we can expect more serious health and medical complications and also increase fatal outcomes in the mid and long term "Post COVID" phases including increased organ failures including heart failures, strokes, sepsis etc.
there is an urgent and dire need to bring back NPIs including masking, social distancing, improving indoor air quality via filtration and disinfection in schools, offices, malls, public transport etc
As predicted by Thailand Medical News at the beginning of the year, the second half of 2023 will see an extremely catastrophic global health crisis as not only will SARS-CoV-2 strike back with a vengeance but we will also be simultaneously be dealing a few viral pandemics including newer SARS-CoV-2 sub-lineages, the emergence of SARS-CoV-3,
emergence of
reassortant coronavirus strains, H5N1, Marburg virus, a new measles strain, a new dengue strain, new adenovirus strains and also new strep A strains!
For the latest
COVID-19 News
, keep on logging to Thailand Medical News.