Excess Deaths News: Australia Continues To Witness High Excess Deaths! What Is Really Happening In Australia?
Excess Deaths News
: Australia has been grappling with a disturbing and persistent surge in excess deaths, with South Australia being one of the hardest-hit regions. This troubling phenomenon has been revealed by official data from the Australian Bureau of Statistics (ABS), shedding light on the various factors contributing to this alarming rise in mortality rates.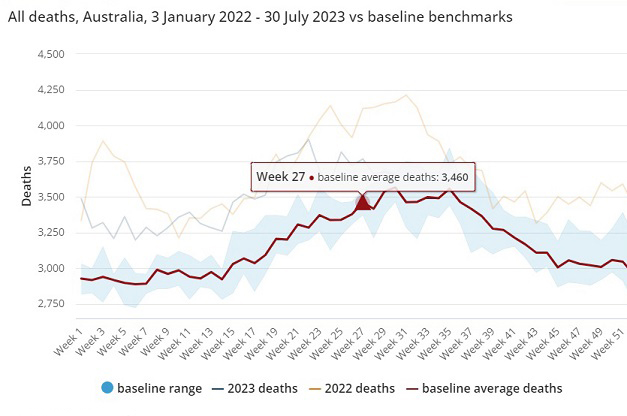 While COVID-19 has played a significant role in the excess deaths, the issue is far more complex, involving an aging population and unhealthy lifestyles. In this
Excess Deaths News
report, we will delve into the details of this crisis, analyzing the data and discussing the potential causes behind this surge in deaths.
Rising Mortality Rates Across Australia
The official figures from the Australian Bureau of Statistics indicate that more Australians are dying than usual. This rising mortality rate is a nationwide concern, but it is particularly pronounced in some areas. Regional towns and rural areas have witnessed the worst mortality rates, highlighting the challenges associated with an aging population and unhealthy living habits. It's important to note that not all of these excess deaths can be attributed to the COVID-19 pandemic.
https://www.abs.gov.au/statistics/health/causes-death/provisional-mortality-statistics/latest-release
An analysis of the death data reveals that the highest mortality rates over the past decade were recorded in various regions across the country. These regions include Derby-West Kimberley in Western Australia, Coonamble in New South Wales, Katherine in the Northern Territory, Port Hedland in Western Australia, and Mount Isa in Queensland. The significant increase in deaths, often doubling or more over the past decade, has far outpaced population growth.
For Australia as a whole, deaths surged by 29.8 percent, while the population increased by 14.4 percent during the same period. In individual states, the disparity was even more striking. In New South Wales, the difference was 27.7 percent versus 11.9 percent, and in Western Australia, it was 29.7 percent against 14.8 percent. Victoria saw a 34.2 percent increase in deaths compared to a 17.3 percent population growth, and Queensland had similar statistics with a 34.8 percent rise in deaths versus a 16.4 percent increase in population. Tasmania had the smallest gap, with a 15.3 percent increase in deaths compared to an 11.8 percent population rise, followed by South Australia, where deaths increased by 17.3 percent, and the population grew by 9.6 percent.
More than 44,000 extra people in 2022 died across the country than 10 years earlier, according to an ABS table.
Australian Bureau of Statistics head of mortality statistics, Lauren Moran, said there were almost 20,000 more deaths nationally recorded last year than in 2021 - half of which were blamed on Covid.
COVID-19 as a Contributing Factor
According to ABS officials, COVID-19 was the third-highest cause of death in Australia in 2022, marking the first time in over 50 years that an infectious disease was among the top five causes of death. The pandemic undoubtedly played a significant role in the surge of deaths across the country. However, experts have pointed out that COVID-19 is not the sole factor driving this trend.
Root Causes of Excess Deaths
To understand the complexity of the excess deaths issue, experts have identified several key factors contributing to the surge in mortality:
-Aging Population:
The Baby Boomer generation, born between 1946 and 1964, is now reaching the end of life. This demographic shift has led to an increase in age-related illnesses and mortality rates. As people live longer, they become more susceptible to chronic conditions that typically emerge in their later years.
-Lack of Disease Checks:
A lack of regular health check-ups and early disease detection has allowed various health conditions to go undiagnosed and untreated. This, in turn, contributes to a higher mortality rate, especially for conditions such as heart disease and cancer.
-Unhealthy Lifestyles:
Unhealthy living habits, including poor diet, lack of exercise, and high levels of smoking, have fueled obesity and various cardiovascular health issues. Obesity is strongly linked to chronic conditions and can lead to premature death.
-Smoking and Lung Cancer:
High levels of smoking in the past have contributed to an increase in lung cancer cases. Additionally, the rising popularity of vaping and e-cigarette use may impact lung cancer death rates in the future.
-COVID-19 Impact:
While COVID-19 itself has been a direct cause of death, the indirect consequences of the pandemic, such as delayed medical treatments, have contributed to the rise in excess deaths.
The data indicates that ischaemic heart disease, dementia (including Alzheimer's disease), COVID-19, cerebrovascular diseases (strokes), and lung cancer together accounted for more than a third of all deaths in Australia. Ischaemic heart disease remained the leading cause of death, responsible for more than 18,500 deaths, with a majority of those affected being male.
It should be noted that in the ABS reports, no mentioned was made about COVID-19 vaccine induced deaths!
South Australia's Excess Deaths
South Australia, in particular, has experienced a significant increase in mortality rates. The official figures indicate that more South Australians are dying than usual. Regional areas and country towns have been the hardest hit. Some of the highest mortality rates over the past decade were recorded in areas such as Ceduna, Port Pirie, and Port Augusta. Shockingly, 14 regional areas in South Australia ranked among the top 20 locations with the highest mortality rates.
In Ceduna, for instance, the mortality rate was ranked 15th in the country. The excessive deaths recorded in South Australia have been a cause for concern, as nearly 2300 additional deaths occurred in the state last year compared to a decade ago, representing an increase of almost a fifth. This is a significant contrast to the state's population growth, which only reached 10 percent over the same period.
In 2022, 15,455 South Australians died, compared with 13,178 a decade ago.
The leading causes of death in South Australia have also shifted, with more people succumbing to heart disease, dementia, diabetes, cancer, and alcohol-induced illnesses. COVID-19 played a role, but the complex interplay of factors mentioned earlier contributed to the troubling increase in deaths.
Conclusion
Australia's experience with excess deaths is a multifaceted issue that extends beyond the immediate impact of the COVID-19 pandemic. While the virus has played a significant role, an aging population, unhealthy lifestyles, lack of disease checks, and other factors have combined to create a substantial surge in mortality rates. Understanding these underlying causes is crucial for developing strategies to address and mitigate the excess deaths crisis. Public health initiatives, disease prevention, and healthcare access will all be essential components in managing this alarming trend and ensuring the well-being of the Australian population.
For the latest
Excess Deaths News
reports, keep on logging to Thailand Medical News.