Thailand Medical: Experts And Researchers Around The World Baffled As To How There Are No COVID-19 Cases In Thailand Despite Cases Elsewhere!
Thailand Medical
: Experts and researchers globally are baffled as to how Thailand, a major tourism hub…. to date has no recorded cases of COVID-19 infections or deaths despite many other countries seeing a rise of new COVID-19 infections.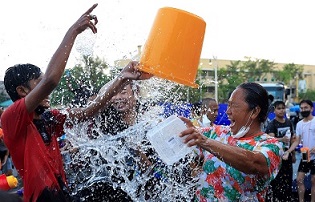 The Songkran Holidays Hopefully Will Help Spread The Virus!
Countries like Singapore, Australia, India, Germany, Iran, Nepal, France, Kuwait are all seeing new COVID-19 surges and infection levels are still high in the United Kingdom, China, Taiwan, Japan etc.
https://www.who.int/publications/m/item/weekly-epidemiological-update-on-covid-19---30-march-2023
The various more transmissible sub-lineages of the XBB recombinant variant that are also more immune evasive and able to cause breakthrough infections irrespective if one had been previously infected or had received multiple COVID-19 jabs and boosters are starting to cause onslaughts in various geolocations across the world.
The XBB.1.5, XBB.1.9.1, XBB.1.9.2, XBB.1.1.6, XBB.1.16.1 and various other XBB sub-lineages are the current predominant strains globally.
https://twitter.com/RajlabN/status/1644902608115580929
The XBB1.16 sub-lineage is currently a concern as novel mutations on its ORF9 proteins and also it growth advantage over other XBB sub-lineages indicates that it has a potential to cause problems.
https://www.thailandmedical.news/news/covid-19-news-xbb-1-16-variant-is-india-on-the-brink-of-a-new-covid-19-wave
https://www.thailandmedical.news/news/covid-19-news-singapore-s-recent-surge-in-covid-19-cases-not-straining-healthcare-system-no-xbb-1-16-in-singapore
https://www.thailandmedical.news/news/covid-19-news-is-sars-cov-2-evolving-to-evade-t-cell-immunity-and-also-destroy-t-cells-with-the-debut-of-xbb-1-16,-eg-1,-eu-1-1-and-fd-1-1-variants
While there are no indications that the XBB.1.16 is driving disease severity or increasing risk of mortality, hospitalizations are starting to increase in countries where it is predominant.
It should be noted however that all those in the vulnerable groups such as the aged, the immunocompromised, the obese and those with existing comorbidities are more susceptible to disease severity and also have increased mortality risk when exposed to any of these new XBB sub-lineages including XBB.1.16.
The WHO is however more concerned as the XBB.1.16 is rapid evolving and spawning even mutations and creating newer sub-lineages as it strives to evade all kinds of immunity .
https://www.thailandmedical.news/news/who-sounds-alarm-about-xbb-1-16-that-seems-to-be-mutating-rapidly-and-spawning-newer-sub-lineages-as-its-starts-its-global-ravage
A latest study released by Indian researchers warn about new novel mutations appearing on some of the newer XBB sub-lineages in India.
https://www.thailandmedical.news/news/breaking-indian-researchers-warn-that-emerging-mutations-on-xbb-sublineages-in-india-could-totally-undermine-all-immunity-protections
While Thai authorities have been boasting that tourism levels in the country are rising and with the Easter and Songkran holidays, Thailand is witnessing a further rise in tourist arrival, it is amazing that to date, there are no media reports are has been any COVID-9 infections among locals or any import cases.
Thailand has been receiving lots of visitors from countries that are most affected by the new COVID-19 onslaughts including India, Australia, United Kingdom, Japan, Taiwan, Iran, Germany, France etc. It is extremely suspicious that there are no cases of COVID-19 in days!
According to some
Thailand Medical
News sources, some of the private hospitals in Bangkok have reported increases in hospitalizations and also outpatient caseloads but again many stopped short of saying whether COVID-19 was involved. Many simply said that there was a rise in respiratory infections!
Also, there has been no recent reports about what SARS-CoV-2 variants and sub-lineages are in the country but some local 'experts' claim that the XBB.1.16 is 'definitely not here in Thailand!'
The aftermaths of the coming Songkran holiday season would be an indicator of what was really brewing in Thailand the last few weeks.
It is not only that Thai authorities and local mainstream media have not revealed the true COVID-19 situation in the country, but in terms of adverse effects from the mRNA jabs, the incidence of Long COVID, reports about excess death rates in the last few months and also reports about increase of strokes, heart failures and sudden death syndromes have all not been transparently revealed even if they are low or negligible for anyone to worry about.
Those in charge prefers to sweep problems under the carpet and pretend that everything is ok. Sadly, the ignorant local masses also prefer things that way and rather not acknowledge dangers, problems and any issues.
For the latest
Thailand Medical
updates, keep on logging to Thailand Medical News.