Hilarious! COVID-19 Over? COVID-19 Now Endemic? We Must learn To Live With the Virus! Lol! COVID-19 Cases Rising Globally!
COVID-19 News
: I still cannot phantom how in this modern and technologically advanced age we can let entities like the WHO, the U.S. CDC, US.NIH, various elected politicians and government leaders around the world (many with no medical backgrounds!) and also the so-called medical experts whose daily advice is to simply get vaccinated or get a booster,….simply control all the COVID-19 narratives with the help of garbage mainstream media and also the social media giants.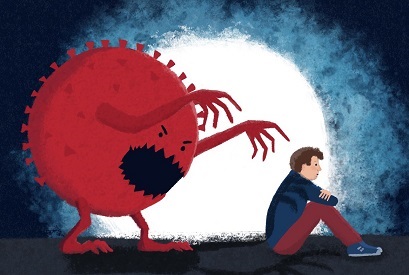 A majority of the masses are simply ignorant and are assuming that COVID-19 is over or that it is now mild…. oblivious of the fact that COVID-19 cases are now rising globally and despite the narratives that the new XBB or XBC sub-lineages are not driving disease severity or increased deaths, we still have lots of people being hospitalized in many countries while healthcare staff are beginning to get worried again. The same goes for deaths. These days people are getting desensitized or 'immunized' to the fact that if there are about 400 plus people dying a day from COVID-19 in their country ..its seems ok as long as it does not happen to them or their loved ones!
The so-called COVID-19 mRNA shots that many medical experts are advocating are beginning to raise serious debates as to whether or not they are truly effective to deal the hundreds of new SARS-CoV-2 sub-lineages that have emerged in the last eight weeks. (We do not even want to touch on their adverse effects or dangers!). Many of these new sub-lineages are not only evolving to evade previous infection or vaccine induced immunity, but are evolving to evade all last remaining immunity protection conferred by the innate immune system and also by the T Cells!
Below are simply some details on the new daily COVID cases in some countries in the last 24 hours. Generally, due to lack of testing and also due to many countries trying to downplay the real COVID-19 situation, the real numbers are typically much higher. It is interesting that with 'COVID-19 now over and it now being 'endemic'…we are actually in a far worse situation than in the first six months of when the pandemic first broke out! Looking at the figures and kinetics of the current onslaughts, rest assured we are in for worse times!
India Logs In 10,158 New COVID-19 Cases In The Last 24 hours
.
India has reported 10,158 new cases in 24 hours, highest in nearly 8 months, the Union health ministry data updated on Thursday stated. The active caseload stands at 44,998. The daily positivity rate was recorded at 4.42 per cent while the weekly positivity rate was 4.02 per cent. The nationwide COVID-19 recovery rate now stands at 98.71 per cent, according to the ministry. Deaths rates were not released yet as they are still being compiled but a spokesman at the Ministry said that it was much higher than the previous day with most deaths being reported in Kerala.
Japan Reports 9,162 New COVID-19 Cases And 19 Deaths With Tokyo Reporting 1,181 New Cases In 13th Day Of Uptrend
Japan health authorities reported 9,162 new COVID-19 cases and 19 deaths in the last 24 hours.
Local Japanese
COVID-19 News
outlets reported that Tokyo alone confirmed 1,181 n ew cases of COVID-19 on Thursday, up by about 70 from a week before.
Thursday's daily count in the capital marked the 13th straight day of week-on-week increases, with the nationwide figure also having been on an uptrend.
The seven-day average of new cases in Tokyo came to 1,116.1, compared to 960.6 a week before.
The number of severe cases under Tokyo Metropolitan Government criteria fell by one from Wednesday to six, while two deaths linked to the virus were reported on Thursday.
On Wednesday, 10,068 new cases were confirmed across the country, in an increase of about 550 from a week before.
Sixteen new deaths linked to COVID-19 were reported nationwide, while the number of severe cases rose by one from Tuesday to 63.
Australia COVID-19 Cases And Hospitalizations Rising
.
Reports have emerged that COVID-19 cases, hospitalizations and deaths have been rising for the week especially since after the easter break but consolidated figures have not been released yet.
In the week ending 7th of April, there was a total of 27,469 New COVID-19 infections and 77 deaths and 1,715 new hospitalizations with 48 new ICU admissions in that week for COVID-19.
COVID-19 Cases Rising In South Korea.
South Korea's new COVID-19 caseload stayed above 10,000 for the second straight day Wednesday, as public gatherings rise amid warmer weather.
The country reported 13,926 cases, including nine cases from overseas, bringing the total caseload to 30,944,430, the Korea Disease Control and Prevention Agency (KDCA) said.
Wednesday's tally is a slight increase from 12,444 a day earlier but around 500 lower than the same day a week ago.
The country added 14 COVID-19 deaths, raising the death toll to 34,356. The number of critically ill patients came to 129, up from 128 a day earlier.
The weekly average number of infections rose 6.2 percent from the previous week, the KDCA said.
Health authorities have been closely monitoring the daily tally after the government lifted most COVID-19 restrictions, including the mask mandate on public transportation. The mask mandate remains in place for medical facilities, pharmacies and other infection-prone places.
COVID-19 Cases Rising In the United States While Trans Issues Are More Important!
In the United States, COVID-19 data obtained from 25 out of 50 states showed about 16,023 new COVID-19 cases in the last 24 hours and 497 COVID-19 deaths with 1027 new COVID-19 hospitalizations and 138 new ICU admissions for COVID-19 in the last 24 hours. The real figures countrywide could be massive but Americans are being denied that data due to policies by the Biden administration which is more focused on Trans issues at the moment!
COVID-19 Cases Rising Elsewhere
COVID-19 cases are also rising in Singapore, Indonesia and in Europe, France is seeing a new rise in COVID-19 cases and in the Middle east, Iran and Kuwait are see new rise in COVID-19 cases and also hospitalizations.
We will be providing more detailed updates in coming hours.
For the latest
COVID-19 News
, keep on logging to Thailand Medical News.