Medical News
: Japan is once again starting to witness a worrisome gradual surge in COVID-19 cases, with a 1.25-fold increase reported in the past week alone. Alongside this trend, the country is also experiencing a rise in other infectious diseases. As health officials scramble to address these challenges, concerns about a potential measles outbreak and an unseasonal flu epidemic add to the growing list of public health concerns.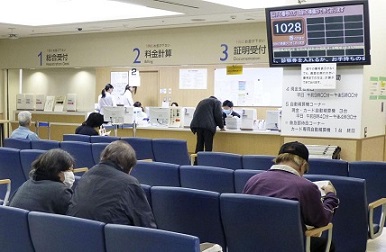 The combine threat form COVID-19, measles and influenza have the potential to once again cause negative implications for Japan's healthcare system and population.
COVID-19 Cases on the Rise
The Japanese Health Ministry has noted a gradual increase in COVID-19 cases since the disease was downgraded to the same category as seasonal flu. Weekly reports from approximately 5,000 medical institutions across the country revealed a steady rise in the average number of cases reported between May 14 and June 10th. Despite concerns of a rapid spread following the downgrade, experts attribute the slower increase to a proportion of the population gaining immunity through previous infections. However, health officials warn that with the upcoming summer season, there is a risk of a surge in cases due to increased travel and gatherings.
According to the Japanese health authorities, 22,432 new cases of COVID-19 were reported in the week to Sunday. (11th June).
Government officials are also calling for caution particularly over the infection situation in Okinawa Prefecture, as the number of new cases there was close to that during the previous COVID-19 wave.
Measles Outbreak Concerns
Japanese health authorities are also urging people to get vaccinated against measles due to the potential for an outbreak. As travel between Japan and other countries resumes after COVID-19 restrictions were lifted, there have been a number of reported cases of measles so far this year. Although Japan does not have an indigenous measles virus, experts highlight the possibility of infections from abroad.
It was reported that a recent case of measles in Japan involved a man in Ibaraki Prefecture who had developed measles symptoms after returning from India. In a subsequent case, a man and a woman in Tokyo who were in the same Shinkansen bullet train with infected individual from Ibaraki prefecture, also later tested positive for the measles virus.
Measles is highly contagious and can lead to severe complications, such as pneumonia. Vaccination remains the most effective preventive measure against the disease.
Unseasonal Flu Epidemic
It was also reported that Japan is currently grappling with an unseasonal flu outbreak, which has led to the closure of several schools across the country. The recategorization of COVID-19 and the relaxation of infection control measures are believed to have contributed to this phenomenon. Experts attribute the weakened immunity to a decline in flu vaccinations during the COVID-19 pandemic.
The number of reported cases has exceeded the prevalence standard in certain regions, including Miyazaki, Nagasaki, and Ehime. The situation has prompted the closure of schools and increased concerns about the spread of influenza, especially during school events like sports festivals.
/> It was reported that A total of 30 educational facilities in Tokyo also closed classes since May 22. An official from the Tokyo Metropolitan Government's Infectious Disease Information Center told
Medical News
reporters, "The number of infection cases especially Influenza infections is not going down. This is an unprecedented wave of infectious infections."
As Japan faces multiple challenges in its battle against infectious diseases. The increase in COVID-19 cases, concerns of a measles outbreak, and an unseasonal flu epidemic are testing the country's healthcare system and public health response. Adherence to preventive measures, and close monitoring of disease trends are essential to mitigate the impact of these challenges.
For the latest
Medical News
, keep on logging to Thailand Medical News.
Sources:
https://japannews.yomiuri.co.jp/society/general-news/20230611-115506/
https://www.nippon.com/en/news/yjj2023060900951/
https://www3.nhk.or.jp/nhkworld/en/news/20230608_37/
https://www.nippon.com/en/news/yjj2023061000323/