SARS-CoV-2 Infections Can Lead To The Development of Giant Cell Arteritis In Some!
It is becoming more apparent each passing day that exposure to the SARS-CoV-2 coronavirus can trigger a whole avalanche of medical conditions, health issues and diseases as the novel coronavirus is able to cause disruption and damage to hundreds of the human host cellular pathways, genes, key enzymes and proteases and also cause damage to various cells and tissues.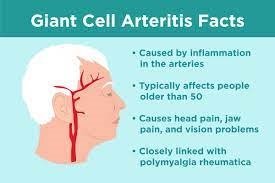 Adding the list of numerous medical and health conditions that SARS-CoV-2 can cause is a condition known as Giant Cell Arteritis.
Giant cell arteritis (GCA) is a disease of blood vessels, may occur together with polymyalgia rheumatica (pain and stiffness in the neck, shoulder, and hip).
GCA typically occurs only in older adults, those over age of 50, and can cause swelling and thickening of the arteries located on each side of the head called the temporal artery.
However, in the case of Post COVID infections, giant cell arteritis (GCA) has also been reported in younger adults.
The most common symptom of giant cell arteritis or GCA is a new headache, usually around the temples, but headache due to GCA can occur anywhere, including the front, top and back of the skull. Other symptoms include fatigue, loss of appetite, weight loss or a flu-like feeling. There may be pain in the jaw with chewing. Sometimes the only sign of GCA is unexplained fever. Less common symptoms include pain in the face, tongue, or throat.
If giant cell arteritis or GCA spreads to the blood supply of the eye, eyesight can be affected. Problems with vision can include temporary blurring, double vision, or blindness. Permanent loss of vision in GCA can occur suddenly, but proper treatment can prevent this complication. In fact, if a patient's vision is normal when they start treatment, the risk of later loss of sight is 1 in 100, or less. It is vital that patients who have active or inactive PMR (polymyalgia rheumatica) report any symptoms of new headache, changes in vision or jaw pain right away to their doctors.
Symptoms of giant cell arteritis promptly improve with corticosteroids.
To date, there is no simple diagnostic or blood test or noninvasive way to confirm the diagnosis of giant cell arteritis or GCA. The erythrocyte sedimentation rate (or sed rate) is a blood test that measures inflammation by checking to see how the rate at which red blood cells (erythrocytes) sediment (or fall) within an hour. This rate is high in most people with GCA. Because other diseases can cause high sedimentation rates, doctors cannot rely on this finding alone as proof of GCA.
An ultrasound of the temporal arteries on the side of head can be done. If positive this can be suggestive of active giant cell arteritis or GCA. A negative test, however, does not rule out GCA and biopsy would need to be done. Often, a biopsy of a small piece of the temporal artery can tell if inflamed.
A number of cases reports, studies and
COVID-19 News
reports are showing the growing occurrence of giant cell arteritis or GCA following SARS-CoV-2 infections.
https://www.ncbi.nlm.nih.gov/pmc/articles/PMC9914619/
sta-medicina-clinica-2-avance-resumen-sars-cov-2-infection-triggering-giant-cell-S0025775320308216">https://www.elsevier.es/es-revista-medicina-clinica-2-avance-resumen-sars-cov-2-infection-triggering-giant-cell-S0025775320308216
https://ard.bmj.com/content/82/1/e25
https://www.aao.org/education/editors-choice/could-sars-cov-2-infection-trigger-giant-cell-arte
https://pesquisa.bvsalud.org/global-literature-on-novel-coronavirus-2019-ncov/resource/pt/covidwho-1358684
https://www.jns-journal.com/article/S0022-510X(21)02519-3/fulltext
https://www.mdpi.com/2075-4418/13/3/484
Some case reports also show giant cell arteritis with vision loss occurring in patients as a result of SARS-CoV-2 infections.
https://journals.sagepub.com/doi/full/10.1177/11795476221088472
https://academic.oup.com/rheumap/article/4/2/rkaa067/6015244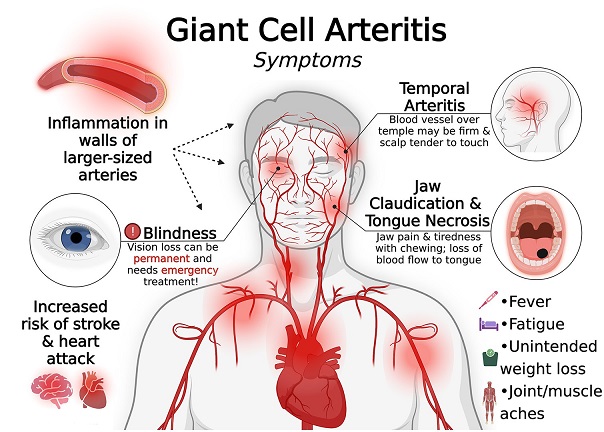 Though the exact mechanism as to how SARS-CoV-2 can trigger giant cell arteritis is still not known, it is believed that the trigger of various cytokine activation and also that of various immune pathways during COVID-19 infections along with the fact SARS-CoV-2 causes systemic vasculitis are all possible factors that contribute to the development of giant cell arteritis or GCA in some.
Healthcare professionals and including ophthalmologists should attention to this when treating patients with relevant symptoms.
For the latest
COVID-19 News
, keep on logging to Thailand Medical News.