Measles News: Outbreak Of Measles Declared In Various Cities In United Kingdom Including Leicester And Cardiff!
Measles News
: An alarming outbreak of measles has been declared in various cities across the United Kingdom, including Leicester and Cardiff, raising concerns among experts and public health officials. As this highly contagious virus continues to threaten communities, public health authorities are issuing warnings and urging parents to ensure their children are vaccinated against the disease. This
Measles News
report delves into the recent outbreaks, their potential consequences, and the importance of measles vaccination.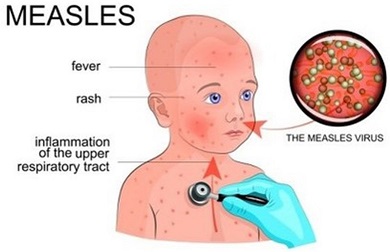 Measles Outbreak in Leicester
In Leicester, two confirmed cases of measles have raised alarm bells in the local community. These cases involve a university student and a school pupil, both of whom had not received the Measles, Mumps, and Rubella (MMR) vaccine.
https://www.independent.co.uk/news/health/measles-outbreak-uk-warning-leicester-b2443108.html
Rob Howard, the director of public health in Leicester, emphasized the importance of vaccination, stating, "Measles is a very infectious virus and spreads very easily. People who catch measles usually recover completely within a couple of weeks; however, it can be a very serious illness that can lead to permanent disability and occasionally can cause death."
The United Kingdom Health Security Agency (UKHSA) has acknowledged the small risk of a measles epidemic across the UK. Still, there are growing concerns over the rise in confirmed cases. Given the low vaccination rates in certain areas, the UKHSA had previously warned that an outbreak of measles in London could lead to a staggering 40,000 to 160,000 cases.
Measles Outbreak in Cardiff
Cardiff, another city in the United Kingdom, is grappling with its own measles outbreak, further amplifying concerns. Seven children in Cardiff were confirmed to have measles over a six-week period. Public Health Wales is actively investigating the outbreak and working in collaboration with Cardiff and Vale University Health Board and Cardiff Council to conduct contact tracing and offer appropriate advice to those at risk.
https://www.walesonline.co.uk/news/health/measles-outbreak-declared-in-cardiff-28024384
Measles Vaccination Rates and Statistics
The most recent statistics, published on November 3, revealed that there were five confirmed cases of measles, with three of them in London, in September. In the face of this growing threat, local authorities have been actively sharing their figures, aiming to encourage more people to get vaccinated.
https://www.gov.uk/government/publications/measles-epidemiology-2023/confirmed-cases-of-measles-in-england-by-month-age-and-region-2023
The MMR vaccine, which is highly effective, is offered to all children. It is considered 99 percent effective over two doses at the age of five. However, alarming disparities exist in vaccination rates, with some areas reporting rates as low as 56 percent. Across the UK, only 85.6 percent of children who turned five between January and March of the year received their second MMR vaccine dose.
Public Health Efforts
To combat the outbreak, the NHS in Leicestershire is collaborating with general practitioner (GP) practices to increase vaccination rates among children in the coming weeks. Symptoms of measles include a high temperature, sneezing, cough, and a distinctive rash. Anyone suspecting they or their child has measles is urged to seek an urgent appointment with their GP.
The MMR vaccine is usually administered to babies at 12 months of age and then again just after three years of age. However, it is never too late to catch up on missed doses. Parents of children who have not yet reached the age to receive their second dose need not take any immediate action. Measles symptoms include a red or brown rash following a fever, cough, runny nose, red eyes (conjunctivitis), and children with these symptoms should be kept away from school, nursery, or other childcare settings.
The Importance of Vaccination
Sion Lingard, Consultant in Health Protection for Public Health Wales, emphasized the contagious nature of measles, stating, "Measles is highly infectious, and the only way to prevent outbreaks is through vaccination." Lingard further urged parents to ensure their children receive the recommended two doses of the MMR vaccine, as it is the most effective and safe way to protect children against measles.
Complications due to measles infection are common, with one in ten children requiring hospitalization due to severe complications such as pneumonia and meningitis. Tragically, for every 1,000 cases of measles, there is at least one reported fatality due to the complications of the infection.
Measles Risk Assessment
In a recent measles risk assessment published by the UK Health Security Agency, it was noted that while the risk of a UK-wide measles epidemic is low, London faces the possibility of an outbreak ranging from 40,000 to 160,000 cases due to sub-optimal MMR vaccine uptake. NHS England and UKHSA data revealed that by 2022/23, only 92.5 percent of children had received the first dose of the MMR jab at five years old, the lowest rate since 2010/11. Furthermore, the percentage of five-year-olds receiving the second dose was 84.5 percent, also marking the lowest level since 2010/11.
Vaccination Concerns
This outbreak of measles underscores a broader concern about vaccination programs across England. These programs have failed to meet the uptake recommended by the World Health Organization (WHO) for the year 2022/23. The WHO recommends that at least 95 percent of children should receive vaccines against preventable diseases. NHS data revealed that no routine vaccine program met this threshold during the 12-month period.
Dr Gayatri Amirthalingam, consultant medical epidemiologist at UKHSA, has expressed serious concern about this downward trend, stating that "the best way to protect yourself and your family is to have the MMR vaccination. Anyone who hasn't already had two doses should contact their GP surgery for an appointment to get vaccinated."
Conclusion
The recent outbreaks of measles in various UK cities, including Leicester and Cardiff, serve as stark reminders of the importance of measles vaccination. The highly contagious nature of the virus and the potential for severe complications make vaccination a critical public health measure. Efforts to increase vaccination rates and protect the population from this preventable disease are urgently needed. Public health authorities, parents, and communities must work together to ensure that children receive the recommended two doses of the MMR vaccine, ultimately preventing further outbreaks and potential epidemics.
For the latest
Measles News
, keep on logging to Thailand Medical News.