2022 Is Bleak! The World Is Under Attack By The Omicron, New Delta Subvariants, New Omicron Sub-lineages And Recombinant Strains!
World COVID-19 News
: Already the first few days of 2022 starts with news headlines around the world highlighting stories about COVID surges and countries breaking new COVID-19 infection records, hospitals being overwhelmed, waning immunity of the vaccines and the need for booster shots and off course the stock market sections are showing the exponential share price increases of various big pharma and biotech companies and listed undertakers!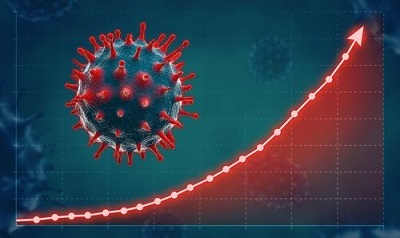 Incompetent medical authorities, charlatan medical experts and clueless but greedy politicians are also featured prominently in the front pages on garbage media that relies on sponsored contents claiming that the COVID-19 pandemic will end this year or that they have things under control etc.
Start the New Year by doing something good. Have A Heart And Do Not Ignore This Appeal For Help! Please help support this website and also our research and community initiatives by making a donation. Your help saves lives directly and indirectly. Thank You.
https://www.thailandmedical.news/p/sponsorship
To date, more than 290.6 million people around the world have been infected with the SARS-CoV-2 coronavirus. It is expected by end of 2022, at least 3 billion people around the world should have been infected with the Omicron variant which is highly transmissible. Despite being mild in initial symptoms for many, the potential burden from long term health issues or Long COVID is going to be phenomenal and the public healthcare infrastructures around the world have never been prepared to handle such caseloads. Excess deaths are also going to be exponential.
So far only 5.46 million humans have died from the COVID-19 pandemic according to official figures but it is expected that despite Omicron being mild, at least another 4.1 million people are expected to die globally in 2022 from COVID-19 according to conservative optimistic projections. However, should variants like the new B.1.640.2 or newer Omicron sub-lineages start emerging and gaining circulation dominance, then deaths rates will go up catastrophically. It should be noted that such a scenario is very much likely to occur!
Below are some of the latest COVID-19 figures and developments over the new the holidays. and the latest
World COVID-19 News

.
(Note that in most Western countries, the data on COVID-19 infections and deaths has not been properly updated yet as for most of the health officials in these countries, the priority is still on the holidays and partying….not on the seriousness of the pandemic!)
Australia
In Australia, NSW recorded 20,794 new COVID-19 cases and four deaths on Monday while Victoria reported 8,577 new cases and three deaths and Queensland saw 4,249 cases and one death. Tasmania saw a new daily record of 466 new infections on Monday, compared to 397 and 411 on the previous two days. The ACT recorded 514 new c ases of COVID-19,marking a fresh one day record for the territory.
It was reported that in NSW, the number of patients with COVID-19 in intensive care rose from 83 to 95. In Victoria, 56 people are in ICU with COVID-19 and 24 are on ventilators, while in Queensland, 10 people are in intensive care. Queensland Chief Health Officer John Gerrard said a man in his late 30s with "probable COVID-19" died at his home on the Gold Coast.
Prime Minister Scott Morrison has urged Australians to remain calm and to not be alarmed about the sharp rise in cases and hospitalization figures. The national number of COVID-19 hospitalizations reached 1,769 on Sunday, with 1,000 of those hospitalizations in NSW. The number of COVID-19 patients in intensive care is however lower at 148 nationally on Sunday. Fifty-one people were on ventilators.
Canada
Quebec reported 15,845 new COVID-19 infections on Sunday and 13 new COVID-19 deaths, as hospitalizations surpassed 1,200. Of the new cases, 12,476 people were double-vaccinated or received their second dose more than seven days prior (out of 6,488,443 Quebecers), 2,667 people were unvaccinated or received one dose of vaccine less than 14 days prior (out of 1,536,075 people), and 702 received one dose more than 14 days prior (out of 521,931 people).The positive cases came from analyzing 54,065 samples, making the positivity rate in Quebec 30.9 per cent.
Ontario
hospitals are feeling the brunt of soaring COVID-19 case counts as the virus rips through the province at record speed and infects high numbers of patients and health-care workers. The situation has become so serious that some hospital networks are reporting that hundreds of their staff members have tested positive for the virus, are symptomatic or are in isolation after an exposure. Public Health Ontario reported 16,714 new infections on Sunday and a record 18,445 cases on Saturday, noting both figures are considered underestimates. The number of active cases in the province has now crossed the 100,000 mark.
Nova Scotia is reporting record-shattering COVID-19 case counts and test positivity rates over the past two days.
Ottawa Public Health (OPH) is reporting 2,425 cases and two deaths on Sunday, representing two days' worth of data. Ottawa has 8,593 known active cases. There are currently 21 people with COVID-19 in hospital.
In the Atlantic region, Newfoundland and Labrador has set a single-day record for COVID-19 infections for a sixth straight day with 466 cases announced on Sunday. Meanwhile,
Nova Scotia logged 1,893
infections over the past two days, and Prince Edward Island announced
137 cases since its last update on Dec. 31.
United States
America reported 161,060 new COVID-19 infections of the 1st of January amidst limited testing due to shortage of test kits. On 31st December,446,567 new COVID-19 cases were logged and 585,013 new infections were logged for the 30th of December 2021.742 Deaths were recorded for the 31
st
f December 2021.
New York reports 62,526 cases and 83 deaths and 1518 new hospitalizations on Sunday.
Italy
Italy reported 61,046 new COVID-19 cases on Sunday following 141,262 the day before, the health ministry said, reflecting a steep drop in the number of tests, while the daily tally of COVID-related deaths rose to 133 from 111.
Italy has registered 137,646 deaths linked to the virus since its outbreak emerged in February 2020, and has reported 6.328 million cases to date.
Patients in hospital with COVID-19 – not including those in intensive care – stood at 11,756 on Sunday, up from 11,265 a day earlier.
United Kingdom
The United Kingdom reported 137,583 new cases of COVID-19 in England and Wales, compared with 162,572 cases in England on Saturday, according to government data. There were 73 deaths within 28 days of a positive test in England and Wales, a drop on the 154 reported in England on Saturday.
The government said data for the whole country would only be updated after the New Year holidays.
Start the New Year by doing something good. Have A Heart And Do Not Ignore This Appeal For Help! Please help support this website and also our research and community initiatives by making a donation. Your help saves lives directly and indirectly. Thank You.
https://www.thailandmedical.news/p/sponsorship
The latest figures mean that more than 1.1 million people had a confirmed positive COVID test result between 27 December 2021 and 2 January 2022 - a 43% increase compared with the previous seven days, the government said.
France
France reported 219,126 new infections on Saturday and became the sixth country in the world to surpass 10 million total recorded cases of Covid-19.
India
Infections in India rose sharply rising for a fifth consecutive day with 27,553 COVID cases in the last 24 hours. The country's largest cities, including Delhi and the financial capital Mumbai, have seen a recent spike in COVID-19 cases, including those of the Omicron variant, which has triggered a fresh wave of infections in other parts of the world.
Pakistan
Pakistan is facing a fifth wave of coronavirus amid surging infections across the country, a senior official said. Figures are still not yet available as local government agencies have yet to submit updated data.
Israel.
Israel's prime minister has warned the country will soon see tens of thousands of new coronavirus cases a day amid the spread of the Omicron virus.
Naftali Bennett said that despite rolling out more than 4.2 million coronavirus booster shots to the country's population of 9.3 million since July, "the storm is coming to us these very days."
Qatar
Qatar is now in the beginning of its third COVID-19 wave, head of vaccination at the Ministry of Public Health said, according to local media. Speaking to Qatar TV, Soha Al Bayat urged residents to get their booster shot while noting that most of the infections were seen in those "who did not receive vaccination including children and those who took the two doses more than 6 months ago".
Germany
On Sunday, Germany reported 12,515 new infections, with the seven-day incidence per 100,000 people rising to 222.7 from 220.3 the previous day. Another 46 people died, bringing the death toll in the pandemic to 112,155.
As Omicron spreads in Germany, daily infections have been rising again in recent days after falling steadily in December, and the number of beds occupied in intensive care wards has also ticked up.
Global Scenario
It is expected that in the next few weeks and months, there will be a "tsunami" of COVID-19 infections around the world, largely due to the Omicron variant.
At the same time despite so called experts claiming that Omicron will replaced by milder variants, we expect newer worrisome Omicron sub-lineages to also start emerging and increasing in circulation along with other newer variants.
A more better realistic situation will be a tsunami of co-infections and the rise or even more newer recombinant variants.
Hospitals and public healthcare are expected to be overstressed and there could be a possible scenario of collapse of these in many countries in later months of the year.
We also expect to see growing social unrest and street violence around the world in 2022 as a result of the way many governments are mismanaging the COVID-19 crisis.
It should also be noted that we expect that everything we have known about the SARS-CoV-2 virus will be rendered as absolute as even in the case of the Omicron, research of therapeutics that disrupt the binding to the ACE2 receptors will no longer be of relevance as it has been found that the new Omicron is shifting its focus of cell entry to newer mechanisms and receptors. Numerous new findings will be seen in coming weeks as to how different the pathogenesis of the Omicron variant, the B.1.640.2 variant and even the newer Delta subvariants are. The even newer variants will be in a class of their own. Unless therapeutic researchers are keeping abreast with the latest studies and findings, physicians and doctors will have very little to work with as newer surges come. We expect in coming months, the existing COVID-19 jabs and even second-generation jabs will be of no use eventually as newer variants emerge. In fact, if the original antigenic sin, immune printing, ADE and viral priming theories are all correct, these inoculations could maybe eventually backfire. For the time being however, all common people without proper knowledge and access of alternative prophylactics and therapeutics should get all the required jabs so to at least protect themselves and extend their lives for at least a while longer!
Start the New Year by doing something good. Have A Heart And Do Not Ignore This Appeal For Help! Please help support this website and also our research and community initiatives by making a donation. Your help saves lives directly and indirectly. Thank You.
https://www.thailandmedical.news/p/sponsorship
For the
latest
World COVID-19 News

,
keep on logging to Thailand Medical News.