NICE! Omicron Infections And Hospitalizations Increasing Exponentially! U.S. Reports Record 145,982 Hospitalizations While Crazy Joe Is Reopening Schools!
The first thing that everyone should learn is that the idealistic theory that all humans are equal or are the same is not true, some have evolved while other are still 'lower life forms'! Every human has a different genetic make-up and these genetic factors are also different according to race, ethnicity and even geo-location! Even dietary intakes and specific dietary habits in a particular community can cause epigenetic changes that influences the genetic make up of that community. Hence black Americans may have a slightly different make up compared to blacks from South Africa and each group might display different susceptibility to the Omicron variant and also experience different degrees of disease severity. Over fed on junk food and overweight obese black Americans may suffer different disease severity compared to starving slim blacks on HIV antiviral medications from the African continent! Obama, Kamala Harris, Tedros, Angelique Coetzee each will exhibit a different response upon getting infected by the SARS-CoV-2 due to their genetic make up as already numerous studies have shown that human host genes and gene mutations plays a role on the disease outcome upon SARS-CoV-2 infections. Hence it was really wrong for many to have publicly said that Omicron variant is mild justs based on what they saw or heard from superficial data from South Africa and mislead the ignorant especially the not properly evolved masses from other countries into becoming lax and assuming that its not really a worry to get infected with the SARS-CoV-2 variant, not realizing that it could affect people differently and worst…the long term health effects and excess death rates from Long COVID-19 could even be far more astronomical with the Omicron variant considering its unique pathogenesis. Its sad, we still have so many of these ignorant lower life forms assuming that an infection with the Omicron variant is comparable with a common flu infection and many of them questioning the need for masking, stringent measures and travel controls etc.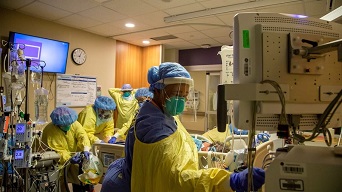 It is also worrisome that in many countries, including America, Britain and Thailand, many of the lower live forms assume that just because they are fully vaccinated, they are formidable to the Omicron or other variants and hence they are often lax in taking precautionary measures.
Hence, we are now seeing record SARS-CoV-2 infections rates coupled with a catastrophic increase in hospitalizations across the globe. Alarmingly, pediatric hospitalizations are up and its worrisome to even think about the long COVID issues that these young will have to go through in coming months and years. People are simply giving up and assuming that they will get the SARS-CoV-2 infection one way or another due to garbage being spewed by public health officials and so called 'experts'. In reality one should and can prevent oneself from getting infected from the SARS-Cov-2 virus and prevent being contaminated in any way by its spike proteins and this can be achieved by stringent measures and knowledge about prophylactics and therapeutics.
COVID-19 Updates

: The United States Reports Record Hospitalizations.
America has recorded a record number of hospitalizations due to COVID-19, according to the US Department of Health and Human Services as the daily infection rate soared to more than 1.35m.
It was reported that there were 145,982 people hospitalized with coronavirus on Monday, acc ording to HHS data. It was reported that the previous high was 132,051, set in January 2021.
There were 1.43 million new COVID infections on Monday, also a record high along with 1,689 COVID-19 deaths.
Measures vary and observers point out that many home tests are not officially logged.
The figures for Tuesday, 11
th
of January are not out yet.
United Kingdom Reports 120,821 New COVID Cases And 379 Deaths In Last 24 Hours.
The United Kingdom has announced 120,821 new COVID cases and 379 deaths for the latest 24-hour reporting period.
The number of new COVID-19 cases has steadily declined since 4 January, when 218,376 cases were reported.
Deaths, however, have increased. The most recent seven-day average for COVID-linked deaths on 10 January was 191.
The weekly average death toll has steadily risen since the seven-day average of 85 was reported on 28 December.
More than 2,400 new hospitalizations for COVID were reported yesterday bring the total number of people currently hospitalized for COVID-19 to 19,828.
It was also reported that Scottish First Minister Nicola Sturgeon confirmed that restrictions on outdoor events will be removed from Monday, but limits on indoor table service in hospitality and social distancing in public places will remain until at least 24 January. The 500 person cap at large outdoor events will be removed allowing football and rugby fans in the nation to fully return to matches.
France Announces Record 368,149 New COVID-19 Infections For Monday.
France reported on Tuesday its highest daily record of COVID-19 infections since the outbreak of the pandemic, with 368,149 new cases detected in the last 24 hours. It was also reported that there were 341 COVID-19 deaths in the last 24 hours.
According to data released by the French Public Health Agency, a total of 23,371 COVID-19 patients are currently hospitalized, with 3,969 of these in intensive care.
French Minister of Education Jean-Michel Blanquer said during an interview with French media that a total of 10,000 schools are closed. Meanwhile, about 50,000 COVID-19 cases have been detected in schools.
The country's Prime Minister Jean Castex announced on Monday a new obligation for children to do a self-test before attending school on the first day after being in close contact with a COVID-19 infected child.
He told media, "Our choice, for the schools and for the country, is to get vaccinated and tested instead of closing."
French government spokesperson Gabriel Attal announced Tuesday morning that the government wants to put pressure on the unvaccinated.
According to the French Health Ministry, more than 53 million people have been vaccinated against COVID-19 in France, which is almost 80 percent of the population.
As for the booster campaign, more than 29 million doses have been administered, official figures show.
It is also interesting to know that both the WHO and French health authorities are denying or downplaying about the spread of the more virulent B.1.640.2 or IHU variant that is spreading across the country.
https://www.thailandmedical.news/news/breaking-southern-france-reports-spread-of-new-sars-cov-2-variant-b-1-640-2-with-46-mutations-and-37-deletions-originating-from-cameroon
https://www.thailandmedical.news/news/breaking-updates-on-new-b-1-640-2-variant-spreading-in-southern-france-number-of-cases-growing-and-variant-now-detected-in-united-kingdom-as-well
COVID-19 Cases In Sweden Rising
Sweden
has announced 70,641 new cases since Friday, which is believed to be a record rise. It also announced 54 new deaths from COVID.
On Monday, Sweden set out stricter pandemic measures in response to a rising number of COVID cases and pressure on hospitals.
The Swedish prime minister, Magdalena Andersson, said: "The situation has deteriorated, without doubt. The level of infections in Sweden is at a historically high level."
The rise in cases means Sweden's new cases have doubled in five days.
Italy Reports Record 220,532 New Cases For Tuesday
Italy has reported record 220,532 new cases, more than double the figure announced on Monday. It also announced another 294 COVID-related death.
The country has registered 139,559 deaths linked to the virus since its outbreak emerged in February 2020, and has reported 7.77 million cases to date.
Patients in hospital with COVID not including those in intensive care stood at 17,067 up from 16,340 a day earlier.
There were 185 admissions to intensive care units, against 114 on Monday. The total number of intensive care patients increased to 1,677 from a previous 1,606.
Turkey Also Reporting Record COVID-19 Cases.
Turkey has become the latest country to announce a record number of cases, with 74,266 new infections. There were 137 deaths related to coronavirus in the same period, the data showed. In late December, daily cases stood at around 20,000.
Turkish health minister, Fahrettin Koca told media, "As cases due to the Omicron variant become dominant, Omicron will be a source of danger for those in risk groups and it may lead to death among the elderly and the chronically ill."
India Reports 168,063 New COVID-19 Cases For Tuesday
Since the start of this year, India has been recording a surge in new daily cases, particularly in capital city Delhi and financial capital Mumbai, despite varying levels of restrictions imposed in different states.
Over the past few days, Delhi and Mumbai have registered an average of 20,000 cases each day. At the start of December, new cases in the cities hovered in the dozens.
India reported 168,063 new COVID-19 cases on Tuesday, bringing its total to 35.8 million since the start of the pandemic. Just over 46% of India's 1.3 billion people are fully vaccinated, according to Johns' Hopkins University.
Argentina Registers Daily Record For New COVID-19 Cases
Argentina has hit a record number of COVID-19 infections in 24 hours. The government reported 134,439 new cases on Tuesday – 34,000 more than the previous record set on Friday.
More than 117,000 people have died of coronavirus complications in the country since the beginning of the pandemic.
For the latest
COVID-19 Updates
, keep on logging to Thailand Medical News.