H5N1 News: Second Death From H5N1 Avian Flu Within A Week In Cambodia Sparks Concerns; About 7 More Suspected Cases Under Investigations
H5N1 News
: Cambodia is facing a growing public health crisis as it grapples with a sudden resurgence of H5N1 avian flu, with a second death recorded within a week, and 7 more suspected cases under investigation. This alarming development has raised concerns about the possibility of human-to-human transmission and the need for urgent measures to contain the outbreak.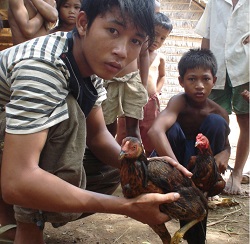 A 2-year-old girl from the southeastern province of Prey Veng became the latest victim of H5N1 avian influenza, as confirmed by laboratory tests. Her tragic death follows that of a 50-year-old man from neighboring Svay Rieng province, who also succumbed to the virus.
https://www.thailandmedical.news/news/breaking-h5n1-news-cambodian-man-dies-from-h5n1-avian-flu-infection-in-the-last-24-hours
These recent fatalities mark the second and third cases of H5N1-related deaths in Cambodia this year. In February, an 11-year-old girl became the country's first bird flu fatality since 2014, and her father, who was also infected, managed to survive.
The situation in Cambodia is becoming increasingly worrisome, especially considering the country's relatively low incidence of H5N1 in recent years.
According to data from the World Health Organization (WHO), Cambodia had recorded 58 cases of human infection with bird flu since 2003. However, the sudden resurgence of the virus has set off alarm bells among health authorities and the global scientific community.
The WHO has been closely monitoring the spread of H5N1 avian influenza, emphasizing that the virus has been endemic in poultry populations across many countries since 2003. Bird flu outbreaks have led to millions of poultry infections and several hundred human cases, with most of these cases originating in Asian countries. The Centers for Disease Control and Prevention (CDC) in the United States also warned last month that bird flu outbreaks were on the rise worldwide, with over 21,000 incidents reported between 2013 and 2022.
One of the major concerns is the potential for H5N1 to mutate into a form that is more easily transmissible among humans, potentially triggering another devastating pandemic. As such, health authorities are now on high alert and working diligently to contain the virus's spread.
Chhuon Srey Mao, the mother of the 2-year-old girl who succumbed to H5N1, shared her heartbreaking story with local
H5N1 News
outlets. She revealed that her daughter fell ill on October 1, showing symptoms like coughing, a high temperature, and vomiting. Local medical treatment was provided for five days, but as her condition deteriorated, the girl was transferred to a children's hospital in the capital, Phnom Penh, where she ultimately lost her battle with the virus.
Srey Mao disclosed that several chickens in her village, including some of her own, had died from the virus, but she had not used them for food. The virus can be transmitted to humans through both domestic and wild birds, including ducks. Although she was unsure how her daughter contrac ted the virus, Srey Mao suspected that it may have occurred while the child was playing in the yard where the infected chickens had been.
While the surviving members of her family remain in good health, there is growing concern for their well-being. Health officials have visited her village to conduct virus-killing sprays in an effort to contain the virus's spread, and villagers have been urged to promptly report any signs of illness.
It was also reported that there are currently 7 suspected cases of H5N1 in various parts of Cambodia that are currently being investigated with cases manifesting symptoms and also disease severity.
In response to the resurgence of H5N1 and its potential to spill over into human populations, the Lancet has launched a major scientific commission to better understand the dynamics of zoonotic spillover events, which refer to the transmission of pathogens from animals to humans.
This initiative aims to prevent future pandemics by studying the various factors that contribute to such events.
The Lancet's commission consists of 28 experts from around the world and seeks to go beyond the biological aspects of disease transmission. It will investigate the behaviors, environments, and policies that drive the transmission of viruses from wildlife to humans. While risk factors such as deforestation, fur farms, and wet markets are known, finding effective strategies to address them has proven challenging.
Professor Dirk Pfeiffer, a veterinary epidemiologist at the City University of Hong Kong and a member of the commission, stressed the importance of understanding and addressing the human behavior aspect of disease transmission. He noted that the complexities of economic and cultural drivers make it challenging to control spillover events. However, the commission's goal is to develop realistic strategies that tackle the underlying causes and reduce the frequency of these outbreaks, as well as detect them early.
The Lancet Commission will explore various proposed strategies, including mitigating deforestation, enhancing biosecurity at wet markets, and improving healthcare access for rural communities living in close proximity to wildlife. Over the next three years, the commission plans to develop a comprehensive set of approaches to reduce spillover events, considering both disease prevention and cost-effectiveness.
Dr Raina Plowright, co-chair of the commission, emphasized the need for a comprehensive approach to spillover prevention. She called for increased attention to this critical issue, stating, "Spillover prevention is a topic that is poorly understood and largely unaddressed by major institutions working in public health. Our Commission will improve our understanding of disease threats. We need to shine a bright spotlight on this problem and then provide a strategy to solve it."
As Cambodia grapples with the resurgence of H5N1 avian influenza, the Lancet Commission's work takes on greater urgency, providing hope for a better understanding of zoonotic spillover events and the development of effective prevention strategies. The global community is closely watching as efforts are made to contain the current outbreak and prevent future pandemics.
For the latest
H5N1 News
, keep on logging to Thailand medical News.