Pharma News: Shortage Of Nitroglycerin Spray, A Heart Medication In Canada Is Expected to Extend To The America and Europe Due To Raw Materials Crisis
Pharma News
: Shortage Of Nitroglycerin Spray, A Heart Medication In Canada Is Expected to Extend To The America and Europe Due To Raw Materials Crisis.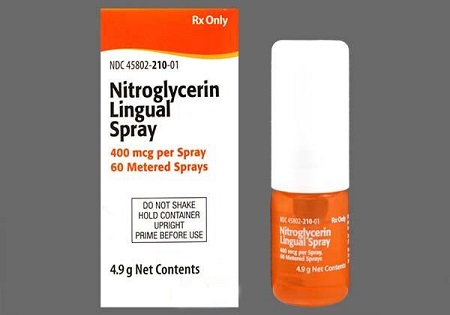 Pharma News
: A shortage of a critical heart medication, nitroglycerin spray, has sparked concerns among patients and healthcare providers in Canada, particularly in Alberta.
The fast-acting nitroglycerin spray is used by spraying on or under the tongue to treat episodes of angina (chest pain) in people who have coronary artery disease (narrowing of the blood vessels that supply blood to the heart). The spray may also be used just before activities that may cause episodes of angina in order to prevent the angina from occurring. Nitroglycerin is in a class of medications called vasodilators. It works by relaxing the blood vessels to improve blood flow so the heart does not need to work as hard and therefore does not need as much oxygen.
Health Canada has issued a public advisory, stating that nitroglycerin spray supplies will be limited in hospitals and community pharmacies during spring. The shortage is classified as Tier 3, indicating a high potential to impact the country's drug supply and healthcare system.
Causes of the Shortage
According to the Health Canada advisory, three manufacturers: Mylan, Sandoz, and Sanofi are reporting shortages due to increased demand and supply issues with raw materials.
Executives in the various pharmaceutical companies are reporting to
Pharma News
outlets that there is currently an ongoing crisis involving the sourcing of raw materials for the manufacture of the Nitroglycerin Spray and also other key drugs as suppliers of raw materials from China, India and South America are claiming that there is critical shortage or are refusing to sell.
However, the three main manufacturers claim that the limited availability of the heart medication is expected to persist throughout spring, with some improvement anticipated by summer.
The shortage of nitroglycerin spray supplies are also expected to extend to the United States, Europe and also Australia.
Effects On Patients In Canada
Canadian patients are experiencing difficulties in refilling their nitroglycerin prescriptions, leading to increased anxiety and caution. Healthcare providers are advising patients without nitroglycerin spray to call emergency services immediately if they experience chest pain.
Mitigating the Shortage
Health Canada is working with provincial and territorial governments, manufacturers, and stakeholders to conserve existing supplies, expedite shipments to hospitals and pharmacies, and access foreign-authorized supplies or alternatives where possible. Some nitroglycerin spray products have received extensions to their expiry dates to help conserve supplies.
The Heart and Stroke Foundation of Canada is urging patients to meet with their healthcare providers to develop a plan and continue taking their medications regularly. Patients are encouraged to check their supply, expiry dates, and consult with their physici ans or pharmacists to verify if their expiry dates can be extended. It is essential that patients understand their options and have an adequate supply without overstocking, ensuring that everyone who needs the medication has access to it.
The Canadian Pharmacists Association is advising its members to limit dispensing nitroglycerin spray as much as possible to conserve the supply. The three impacted manufacturers anticipate resolving the shortages by the end of July.
Alternative Options
Health Canada is also evaluating the available supply of nitroglycerin tablets, which may serve as a potential alternative for some individuals. However, it is crucial for patients to consult with their healthcare providers before making any changes to their treatment plans.
However, this is only a short-term solution as the supply of nitroglycerin tablets is also in short supply due to the same reasons.
Ongoing Concerns and Future Strategies
Many Canadian physicians are complaining that there have been several key drug shortages over the past few years affecting heart patients, including radioisotopes and blood pressure medications. They are calling for a federal strategy to ensure adequate drug supplies and prevent future shortages.
COVID-19 Induced Angina
It is interesting that the shortage of nitroglycerin spray and tablets are occurring at a time when it is being discovered that even 'mild' reinfections and previous initial exposure to the SARS-CoV-2 can cause damage to the heart tissues and vessels supplying it and that angina is becoming a more prevalent condition in Long COVID. With billions already exposed to the virus globally, the number of people with angina is expected to be massive.
https://academic.oup.com/ehjcr/article/5/3/ytab105/6184571
https://www.revespcardiol.org/en-long-covid-19-microvascular-disease-related-angina-articulo-S1885585721003224
https://www.hopkinsmedicine.org/health/conditions-and-diseases/coronavirus/heart-problems-after-covid19
https://www.ncbi.nlm.nih.gov/pmc/articles/PMC7499718/
https://onlinelibrary.wiley.com/doi/10.1002/hsr2.554
https://www.nature.com/articles/s41579-022-00846-2
Conclusion
The nitroglycerin spray shortage in Canada is causing significant concern among patients and healthcare providers. Health Canada, along with other organizations, is working to mitigate the issue by conserving supplies, expediting shipments, and exploring alternatives. Patients are advised to consult with their healthcare providers and remain vigilant about their medication supply and heart attack symptoms. As Canada faces ongoing drug shortages, a long-term strategy for maintaining adequate drug supplies is essential to prevent future crises.
For the latest
Pharma News
, keep on logging to Thailand Medical News.