COVID-19 Incidence Rate Rises By 24.6% In The Last Week In France. Local Pharmacies Running Out Of COVID-19 Test Kits!
COVID-19 News
: As summer continues to embrace France, the nation is grappling with a noticeable resurgence of COVID-19 cases. Over a mere three-day span, pharmacies in the Alpes-Maritimes region have rapidly depleted their stocks of COVID-19 self-test kits. This trend echoes across multiple pharmacies across France, indicating a notable increase in both test demand and positive cases. Raphael Gigliotti, a member of the Federation of Pharmacist Unions, acknowledges the mounting numbers.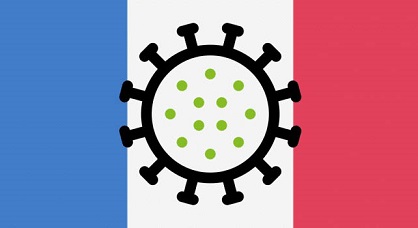 Moreover, the incidence rate of COVID-19 has surged by 24.6% in the past week. In the period spanning from July 31st to August 6th, the virus's incidence rate stood at 7.7 cases per 100,000 inhabitants, signifying a considerable spike compared to the preceding week. Santé publique France, the French Public Health Agency, confirmed this data, painting a picture of a slight yet concerning rebound amidst a challenging context.
https://www.francetvinfo.fr/sante/maladie/coronavirus/covid-19-les-contaminations-repartent-a-la-hausse-en-france_6010721.html
Cyril Colombani, the President of the Union of Pharmacist Unions in the Alpes-Maritimes region, articulates his worry for the upcoming winter, envisioning the complexities of dealing with a dual epidemic of COVID-19 and the flu.
This increase comes in the wake of the emergence of a new variant referred to as "Eris," which has led to a surge in COVID-19 cases and subsequent visits to medical facilities since August 1st.
The French health authorities reported to various
COVID-19 News
outlets, a substantial rise in emergency room visits linked to suspected COVID-19 cases, with a 31% average increase recorded during the initial week of the month. Furthermore, SOS Medecins, a French medical service, observed an 84% uptick in medical consultations for suspected COVID-19 cases, particularly noticeable in children under the age of two.
https://global.chinadaily.com.cn/a/202308/16/WS64dc1c24a31035260b81c64e.html
The French health ministry attributes the incidence rise to specific regions, primarily in the southwest, notably driven by the Nouvelle-Aquitaine region, which is a popular holiday destination. Scientists attribute this surge to the emergence of variants EG.5 and EG.5.1, collectively known as "Eris." Eris is a subvariant of the Omicron lineage, originally emerging in November 2021. The World Health Organization (WHO) has noted that while this variant may increase case incidence due to its growth advantage and immune escape properties, there's currently no evidence of increased disease severity.
Vaccinations have undoubtedly reduced the threat of COVID-19, but the emergence of new variants continues to be a challenge. EG.5.1, a strain of the Eris variant, now accounts for about 35% of sequenced viruses in France, as per Gisaid, an international COVID-19 data sharing database.
Dr Antoine Flahault, an epidemiologist and director of the Institute o f Global Health at the University of Geneva's Faculty of Medicine, suggests that a new wave of COVID-19 is on the horizon with the more transmissible Eris variant taking center stage.
However, the estimate of the variant's prevalence should be approached with caution, as Dr Mircea Sofonea, an associate professor at the University of Montpellier, highlights potential sampling bias in current testing methods. As of August 8th, the WHO reported EG.5's presence in over 50 countries. In the United States and the United Kingdom, Eris subvariants have gained prominence, contributing to an increase in cases and hospitalizations.
As the nation grapples with this concerning resurgence, health officials and medical professionals remain vigilant, striving to understand and manage the dynamics of these emerging variants. The evolving situation emphasizes the continued importance of vaccination and public health measures in mitigating the impact of COVID-19 and its variants.
For the latest
COVID-19 News
, keep on logging to Thailand Medical News.