COVID-19 News: SARS-CoV-2 Infections Rising Across All Prefectures In Japan With Health Authorities Reporting A 1.26-Fold Increase From Previous Week
COVID-19 News
: Japanese health authorities reported today that the average number of new COVID-19 cases reported in the country in the week through Sunday per medical institution stood at 9.14, up 1.26-fold from the previous week's 7.24.
https://www.nippon.com/en/news/yjj2023071400908/new-covid-19-cases-in-japan-up-1-26-fold-from-previous-week.html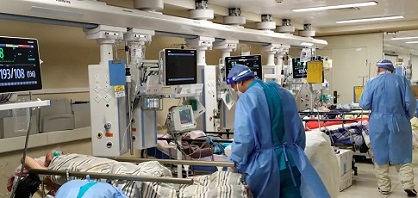 Accordingly, a total of 45,108 new SARS-Cov-2 infection cases were counted at around 5,000 regularly monitored hospitals across Japan.
It should be noted that these are only figures based on individuals who turn up at hospitals due to moderate or severe symptoms and who manage to get tested. The actual number of daily new COVID-19 infections are far much higher.
The Japanese authorities are also deliberately not releasing the actual COVID-19 death rates and excess deaths rates on a timely basis despite the fact that many hospitals and healthcare are concerned about the high death rates they are witnessing on daily basis.
It was also reported that although the average number of such cases per hospital fell in the southern prefecture of Okinawa and the northeastern prefecture of Aomori, the averages rose in the remaining 45 prefectures.
The Okinawa prefecture still had the highest average, at 41.67, followed by the southwestern prefectures of Kagoshima, at 17.18, Miyazaki, at 16.00, and Saga, at 15.33.
The number of newly hospitalized COVID-19 patients in the reporting week across Japan increased by 602 to 6,096.
The prefectures of Wakayama, Naga and Kagoshima are now emerging as aeras with increasing COVID-19 caseloads.
https://twitter.com/nukaboko/status/1679769053785911297/photo/1
The increasing caseloads are putting a pressure on the healthcare infrastructure across the country and various
COVID-19 News
reports in English in Japan are indicating that hospitals are in stressed state.
Interestingly while the COVID-19 caseloads are surging in the country, a large proportion of Japanese are not masking in public events and public places and some are even oblivious that a COVID-10 wave is going on in the country! Most Japanese mainstream media are not reporting on the actual state of affairs with regards to COVID-19!
A recent major Sumo tournament held in Nagoya on Tuesday showed majority of the spectators not masking!
https://www.japantimes.co.jp/sports/2023/07/12/sumo/nagoya-basho-early-reaction/?utm_medium=Social&utm_source=Twitter#Echobox=1689155726
It was also reported that herpangina virus infections i.e. the virus responsible for typical summer colds and respiratory syncytial (RS) virus infections are increasing among children, further addi ng stress to the healthcare system.
https://japannews.yomiuri.co.jp/editorial/yomiuri-editorial/20230711-121957/
It has been reported that one anomaly seen in the current surge is that most infected are manifesting high fevers that last for days (5 to 8days) despite the usage of antipyretic drugs.
The main SARS-CoV-2 sub-lineages current circulating in Japan according to data found on the CoV-Spectrum platform are XBB.1.16, FL.4, XBB.1.5, XBB.1.16.1, XBB.1.9.1, EG.5.1, EG.1, XBB.1.5 and XBB.2.3.2.
https://cov-spectrum.org/explore/Japan/AllSamples/from%3D2023-06-01%26to%3D2023-07-07/variants?nextcladePangoLineage=xbb*&
Some local Japanese researchers are concerned about the EG.5.1 sub-lineages which they claim could and maybe be responsible a new anomaly being seen among many cases of sudden COVID-19 deaths in which the individuals typically look healthy and manifest no symptoms except fever before suddenly deteriorating very fast and dying typically from sepsis or organ failures within hours! Studies are underway to ascertain if there are any validity to these claims.
https://cov-spectrum.org/explore/Japan/AllSamples/from%3D2023-06-01%26to%3D2023-07-07/variants?nextcladePangoLineage=EG.5.1&
For the latest
COVID-19 News
, keep on logging to Thailand Medical News.