COVID-19 News: COVID-19 Infections, Hospitalizations And Deaths Rising In Russia! New Worrisome SARS-CoV-2 Sub-Lineage Also Discovered In Russia!
COVID-19 News
: The COVID-19 situation in Russia is fast escalating with various hospitals and clinics reporting a rise in admissions and patients in the last three weeks.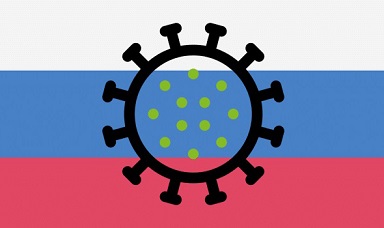 The Russian health authority reported a 48% surge in COVID-19 cases within the past week, as announced by the country's infection surveillance agency on Tuesday.
https://www.aa.com.tr/en/latest-on-coronavirus-outbreak/covid-19-cases-in-russia-rise-48-in-one-week/2996251
Russia's dedicated COVID-19 task force, responsible for combating and monitoring the virus's spread, observed increases in COVID-19 infections across 70 different regions, with a notable 20.6% rise in hospitalized cases in 42 of those regions.
This increase in cases is attributed to the onset of the autumn season, according to the special task force.
Since the start of the pandemic in early 2020, Russia has documented more than 23 million COVID-19 cases, resulting in approximately 400,000 deaths linked to the virus.
According to official data from Russian authorities, there were 1,973 new COVID-19 hospitalizations just for the week spanning from the 11
th
of September to the 17
th
of September 2023. The same week saw 11,516 new COVID-19 cases and 14 COVID-19 deaths.
https://xn--80aesfpebagmfblc0a.xn--p1ai/information/
Many local Russian physicians are however reporting that the actual COVID-19 figures are much higher that what is being reported officially as even in just Moscow alone, almost 27 hospitals are now refusing new COVID-19 admissions due to all beds being used up.
Local Russian
COVID-19 News
outlets are also reporting of COVID-19 testing issues as there are not many venues that sick individuals are able to go to for COVID-19 tests.
It has also been reported that there is an acute shortage of rapid COVID-19 test kits at various drugstores and pharmacies in the country.
What is also worrisome is that a new SARS-CoV-2 sub-line ages has been discovered circulating in Russia that could be possibly driving COVID-19 disease severity.
This new sub-lineage is actually derived from the XBB.1.9.1 variant and has the mutations ORF1a:L3116F (nsp4_L353F), ORF1b:T577A (nsp12_T586A), S:T19L and S:T478R.
https://github.com/cov-lineages/pango-designation/issues/2292
The earliest sequence of this new sub-lineages was actually uploaded in April 2023 (
EPI_ISL_17818160
, Yamalo-Nenets, Russia) but due to low SARS-CoV-2 genomic surveillance in Russia, it could have been silently spreading across the country and growing in circulation dominance.
The spike mutation T478R found on it is known to be a factor behind COVID-19 disease severity!
uot;https://www.mdpi.com/2036-7449/15/5/53">https://www.mdpi.com/2036-7449/15/5/53
https://www.ncbi.nlm.nih.gov/pmc/articles/PMC8242375/
There are also emerging reports of other concerning SARS-CoV-2 sub-lineages discovered in Russia and we will be covering on these shortly after we have managed to procure sufficient valid data.
In a related development, news reports are also emerging that many elderly care homes in Russia are also witnessing high COVID-19 infection rates with many elderly inmates dying from unexplained causes.
For the latest on the COVID-19 situation in Russia and the latest
COVID-19 News
, keep on logging to Thailand Medical News.