This Is Getting Hilarious! Did The Omicron or B.1.1.529 Variant Originate From UK And Not The African Continent?
Speculations are going around that the highly vaccinated United Kingdom might be the source of the Omicron or B.1.1.529 variant and we need the help of investigative researchers and journalists to verify this.
Initially South African health authorities and health experts said that based on online genomic data, the Omicron strain might have originated from Botswana.
However, the Botswana government issued a statement on the 26
th
Of November clarifying the situation.
https://twitter.com/BWGovernment/status/1464184386912501764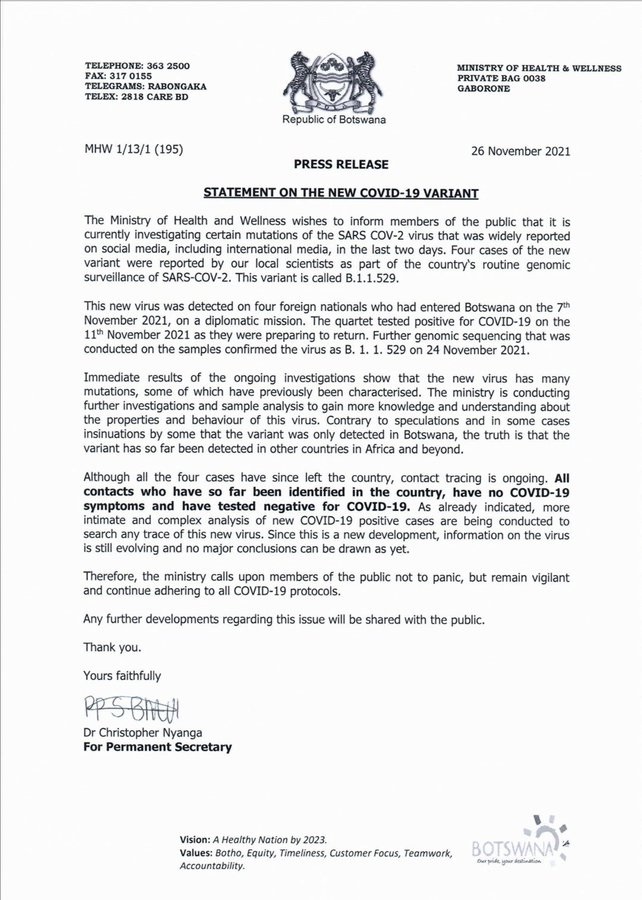 According to them, the new variant was detected from 4 fully vaccinated diplomats travelling into the country for an event.
The government officials stopped short of indicating which countries the diplomats were from but upon further checking, we discovered that many diplomats attended an African Wildlife Consultative Forum held in Kasane from the 8th of November till the 12th of November. The event was a hybrid event that was held virtually and also onsite.
https://www.awcfinfo.org/forums
Checking with the organizers, one spokesman from the organizers who wanted to remain anonymous said that 4 diplomats attending the forum apparently had some health issues and had to leave the forum a day earlier. It was revealed that 3 were from the United Kingdom and one from Nigeria.
Now if these were the four diplomats that were tested positive for the Omicron variant are really the same ones who attended the forum, then it clearly shows that besides Nigeria, the variant could have also originated from the highly vaccinated country ie United Kingdom.
We will let other investigative journalists and fact-checkers to verify this finding.
PS: The WHO and UK Officials refused to comment when we tried to reach out to them about this!
Please help to sustain this site and also all our research and community initiatives by making a donation. Your help means a lot and helps saves lives directly and indirectly.
https://www.thailandmedical.news/p/sponsorship