In The Last 24 hours, 3,769 Americans Died From COVID-19! 0micron Fatalities Higher Than Delta Wave. All U.S. Infection, Hospitalization Rates Cannot Be Trusted!
U.S. Medical News
: In the last 24 hours, more than 3,769 Americans died from the COVID-19 Disease! To date a total of more than 882,000 Americans have died from SARS-CoV-2 infections.
https://www.google.com/search?q=united+states+covid+cases&oq=united+st&aqs=chrome.1.69i57j35i39l2j46i67j0i67l2j0i67i131i433j0i67l2j0i512.5306j0j15&sourceid=chrome&ie=UTF-8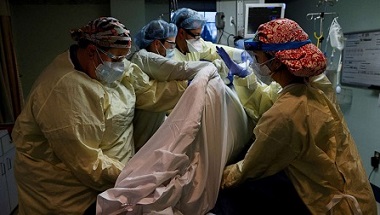 Under the Biden administration alone, more than 508,000 Americans died from COVID-19! In reality the death figures could be much higher as the Biden administration has been making concerted efforts to either hide the true fatality figures or have made reporting protocols more complicated and such that the figures will appear lower. The same also goes for all COVID-19 infection rates and also hospitalization data.
To date, according to so called official figures, more than 74 million Americans have been infected with the SARS-CoV-2 figures and local health authorities are claiming that the infection rates are coming down the last few days with 538,000 new COVID-19 infections reported in the last 24 hours.
Currently more than 148,000 Americans are hospitalized due to COVID-19 and another 26,200 plus are in critical care units! This is causing a massive strain on the public healthcare system.
Again, Thailand Medical News would like to stress that all the real figures are far much more higher as the Biden administration is one of the worst and deceptive administrations in the history of America. (You cannot expect any reliable and credible figures from an administration lead by a senile geriatric crook who cannot even remember what he is talking about and worst individuals like his Indian lapdog who serves as the surgeon general is calling for big tech to censor and control the COVID-19 narratives!)
According to the U.S. CDC adverse reporting from COVID-10 jabs or VAERS. So far only about 11,657 Americans died from the COVID-19 jabs.
https://www.cdc.gov/coronavirus/2019-ncov/vaccines/safety/adverse-events.html
However, many doctors and researchers are claiming that the actual figures in America alone could be as high as 14-fold!
Americans should not be too concerned with just the daily of total COVID-19 death rates or infection rates but instead they should be focusing on the excess death rates especially in the last 16 months.
There should sharing of data publicly so that people can actually also see the increase in various other illnesses and diseases that are directly or indirectly the result of exposure to the toxic spike proteins of the SARS-CoV-2 either through infections or via inoculations. Disease and medical conditions ranging from neurodegenerative diseases, strokes, heart and kidney issues, gastrointestinal and liver issues, sepsis, the rise of secondary opportunistic infections, endocrine dysfunctions, autoimmune conditions and worse cancer are all sky rocketing but no one is talking about these and in reality it's the spike proteins that are causing it as these proteins are capable of disrupting and dysregulating hun dreds of cellular processes and pathways and also affect numerous host genes!
Meanwhile, according to the latest
U.S. Medical News
, the highly contagious Omicron coronavirus variant is still sweeping across the United States and driving the daily American death toll higher than during last fall's delta wave, with deaths likely to keep rising for days or even weeks.
It is now being seen that the seven-day rolling average for daily new COVID-19 deaths in the U.S. has been climbing since mid-November, reaching 2,267 on Thursday and surpassing a September peak of 2,100 when delta was the dominant variant.
The omicron is estimated to account for nearly all the virus circulating in the nation. And even though it causes less severe disease for most people, the fact that it is more transmissible means more people are falling ill and dying.
Dr Andrew Noymer, a public health professor at the University of California, Irvine told media, "Omicron will push us over a million deaths. That will cause a lot of soul searching. There will be a lot of discussion about what we could have done differently, how many of the deaths were preventable."
At present, the average daily death toll is at the same level as last February, when the country was slowly coming off its all-time high of 3,300 a day.
Fortunately, more Americans are taking precautionary measures against the virus than before the omicron surge, according to a media poll this week. But many people, fatigued by crisis, are returning to some level of normality with hopes that vaccinations or prior infections will protect them.
The symptoms of Omicron infections are often milder, and some infected individuals show none, researchers agree. But like the flu, it can be deadly, especially for people who are older, have other health problems or who are unvaccinated.
Centers for Disease Control and Prevention Director Dr Rochelle Walensky said this week during a White House briefing< "Importantly, 'milder' does not mean mild!"
At present with more than 882,000 deaths, the United States has the largest COVID-19 toll of any nation.
According to predictions by the COVID-19 Forecast Hub, during the coming week, almost every U.S. state will see a faster increase in deaths, although deaths have peaked in a few states, including New Jersey, Pennsylvania, Iowa, Maryland, Alaska and Georgia.
https://covid19forecasthub.org/
Dr Nicholas Reich, a professor of biostatistics at University of Massachusetts, Amherst who aggregates coronavirus projections for the hub in collaboration with the CDC added, "In a pre-pandemic world, during some flu seasons, we see 10,000 or 15,000 deaths. We see that in the course of a week sometimes with COVID. The toll and the sadness and suffering is staggering and very humbling."
Current infection figures in America are not reliable as there is an acute shortage of testing kits and many testing facilities are either turning away people or are closed.
The White House said Friday that about 60 million households ordered 240 million home-test kits under a new government program to expand testing opportunities. The government also said it has shipped tens of millions of masks to convenient locations around the country, including deliveries Friday to community centers in Delaware, Maryland and Virginia.
Strangely the leading organization for state and local public health officials has called on governments to stop conducting widespread contact tracing, saying it's no longer necessary. The Association of State and Territorial Health Officials urged governments to focus contact tracing efforts on high-risk, vulnerable populations such as people in homeless shelters and nursing homes.
Meanwhile it is being reported that the latest COVID variant ie BA.2 which is 1.5 times more contagious than omicron is already circulating in almost half of U.S. states.
It was reported by a global data base that tracks COVID variants that nearly half of U.S. states have confirmed the presence of BA.2 with at least 127 known cases nationwide as of Friday. The Centers for Disease Control and Prevention, in a statement Friday, said although BA.2 has increased in proportion to the original omicron strain in some countries, it is currently circulating at a low level in the U.S.
The BA.2 variant overtook the original omicron as the dominant variant in Denmark over the course of a few weeks, said Troels Lillebaek, the chairman of the Scandinavian nation's committee that conducts surveillance of COVID variants.
The BA.1 and BA.2 have many differences in their mutations in the most important areas. In fact, the difference between BA.1 and BA.2 is greater than the difference between the original "wild strain" and the Alpha variant, which was the first major mutation to take root across the world.
The BA.2 variant has twenty more mutations that the Omicron BA.1, of which five unique mutations are found on a key part of the spike protein the virus uses to attach to human cells and invade them. Mutations on this part of the spike, known as the receptor binding domain, are often associated with higher transmissibility.
The UKHSA or U.K. Health Security Agency on Friday said BA.2 has a "substantial" growth advantage over the original omicron. The sister variant spread faster than the original omicron in all regions of England where there were enough cases to conduct an analysis, according to the agency.
The WHO or World Health Organization has not labeled BA.2 a variant of concern. However, WHO officials have repeatedly warned that new variants will arise as omicron spreads across the world at an unprecedented rate. Maria Van Kerkhove, the WHO's COVID-19 technical lead, warned on Tuesday that the next COVID variant be more transmissible and maybe more lethal.
Van Kerkhove said, "The next variant of concern will be more fit, and what we mean by that is it will be more transmissible because it will have to overtake what is currently circulating. The big question is whether or not future variants will be more or less severe."
Currently preliminary data is showing that the BA.2 is able to re-infect people who caught the original omicron!
While America is still undergoing a current wave and with threats from the BA.2 around the corner, we still have numerous idiots talking about the pandemic turning to become an endemic and using terms like the new normal etc. What is the new normal?....More than half of the American population developing more serious long term medical and health complications and issues?
For the latest
U.S. Medical News
, keep on logging to Thailand Medical News.