Neil Diamond: Embracing Parkinson's Disease, A Beautiful Noise, and Gratitude for an Extraordinary Life
For the Gen Z who might not know….Neil Leslie Diamond is an American singer-songwriter. He has sold more than 130 million records worldwide, making him one of the best-selling musicians of all time.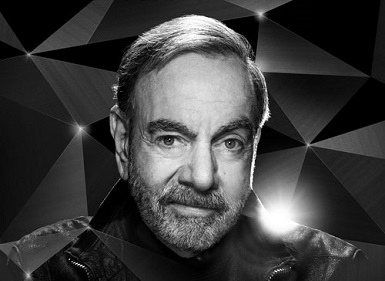 The legendary singer-songwriter
Neil Diamond
has opened up about his journey with Parkinson's disease and how it has influenced his life and career. Diagnosed in 2018, Diamond initially struggled to accept the neurological disorder, admitting that he was "in denial" for the first two years. It is only in recent weeks that the 82-year-old musician has come to terms with his condition, noting that a "calm" has entered his life as he embraces his limitations and appreciates the great days he still experiences.
Since his diagnosis, Diamond has retired from regular touring, but he remains grateful for his life and career, stating, "I just have to take life as it comes to me, enjoy it, be thankful that I've had it, especially having the life that I've had." The celebrated artist behind hits like "Sweet Caroline" and "Cracklin' Rosie" has found solace and healing through the Broadway musical, A Beautiful Noise, a warts-and-all portrayal of his life, based on his therapy sessions and his experiences adjusting to life with Parkinson's disease.
The musical features the journey of the young Neil Diamond, played by Will Swenson, whose ambition led to the demise of two marriages, and the older Diamond, portrayed by Mark Jacoby, who still wrestles with self-doubt. Diamond described the show as part of his psychotherapy and admitted that it was painful to watch some scenes that exposed his vulnerability. He shared, "I was a little embarrassed, I was flattered, and I was scared."
Despite the challenges Parkinson's has presented, Neil Diamond continues to find joy in music. "I still can sing," he said. "I feel good. It's like, all the systems in my mind and my body are working as one when I'm singing. And it's a great feeling." The singer-songwriter credits his acceptance of the disease for helping him become more at ease with himself and others, acknowledging that the beat of life goes on, even after he is gone.
While Parkinson's disease has no cure and presents daily challenges, Diamond's story is one of resilience, gratitude, and embracing the beauty of life. As he celebrated the opening night of A Beautiful Noise on Broadway, he led the audience in a chorus of "Sweet Caroline," surrounded by love and appreciation for his extraordinary life and career. For Neil Diamond, his life and experiences are not only worthy of a Broadway musical but also a testament to the power of acceptance and gratitude in the face of adversity.
Neil Diamond's openness about his Parkinson's disease diagnosis and his journey towards acceptance serves as an inspiration for many who are facing similar challenges. His story emphasizes the importance of finding support, seeking therapy, and engaging in activities that bring joy and fulfillment.
Diamond's experience with Parkinson's has also highlighted the value of patience and perseverance. In the years following his diagnosis, he gradually learned to accept his condition, which has enabled him to better cope with its impact on his life. By recognizing his limitations and focusing on the aspects of life that still bring him happiness, Diamond has demonstrated a remarkable resilience in the face of adversity.
Moreover, his involvement in A Beautiful Noise showcases how art can serve as a powerful form of self-expression and healing. The musical has provided Diamond with an opportunity to process and share his experiences, allowing him to connect with his audience on a deeper level. This creative outlet has not only helped Diamond come to terms with his diagnosis, but it also offers a unique perspective on his life and career, inspiring others to find strength and courage in their own struggles.
As Diamond continues to navigate life with Parkinson's disease, his story serves as a reminder that even in the face of challenges, life can still be meaningful and rewarding. By embracing his condition and focusing on what brings him joy, he encourages others to do the same, emphasizing the importance of gratitude and self-acceptance.
Neil Diamond's journey with Parkinson's disease is a testament to the resilience of the human spirit. His openness about his diagnosis, his involvement in A Beautiful Noise, and his continued passion for music have all contributed to a powerful narrative of hope, perseverance, and gratitude. Through sharing his story, Diamond has inspired countless individuals facing similar challenges and has demonstrated that, even in the face of adversity, life can still be beautiful and meaningful.
For the latest about celebrities battling various diseases, keep on logging to Thailand
Medical News
.