Thailand Medical Authorities Report That COVID-19 Infections Are Rising! Official Figures Only Show A Mere 1,811 COVID-19 Infections And 10 Deaths Last Week!
Thailand Medical
: According to data released by the Department of Disease Control which is part of the Thailand's Ministry of Public Health, there were just a mere 1,811 COVID-19 infections and only 10 deaths last week ie the period between 23rd April to 29th of April!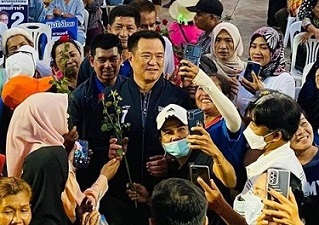 Thailand's Public Health Minister On His Campaign
Rounds For Coming Elections Without A Mask.
However according to a report in a published in local media, a leading
Thailand Medical
expert, Dr Thira Woratanarat, from the Faculty of Medicine of Chulalongkorn University, said that the actual number of infections between 23rd and 29th of April may however, actually be between 12,936 and 17,967, when allowing for the many cases which go unreported and individuasl not seeking any treatment at hospitals.
https://www.thaipbsworld.com/covid-19-infections-on-the-rise-with-1811-cases-and-10-deaths-last-week/
Dr Woratanarat suggested that individuals should take preventive measures including wearing face masks whenever they are in public venues and warned that every infection could result in illness or even death and the risk of developing Long COVID.
Thailand has been witnessing a surge of new COVID-19 cases ever since after the Songkran holidays in April where there were no prior warnings resulting in both locals and tourist indulging in activities in crowded settings without any COVID-19 preventive measures including masking etc.
To make matters worse there was also another long weekend holiday in the beginning of May 2023 and another coming up soon that will also likely contribute to more infections and spread of the viruses.
Already there has been reports of locals dying in their homes in Bangkok due to COVID-19.
https://www.thailandmedical.news/news/thailand-medical-news-still-more-reports-of-thais-dying-in-their-homes-in-bangkok-due-to-covid-19-as-cases-surge-many-thais-still-oblivious-of-dangers
https://www.thailandmedical.news/news/thailand-medical-more-cases-of-people-dying-in-their-homes-due-to-covid-19-emerging-in-bangkok-while-authorities-say-not-to-panic-about-xbb-1-16
While
Thailand Medical
authorities are only reporting somewhat low COVID-19 statistics, literally all its neighbors from Vietnam, Malaysia To Singapore etc are all witnessing increases in daily COVID-19 infections in the last two weeks.
iod">https://www.thailandmedical.news/news/covid-19-news-vietnam-reports-a-rise-to-3000-new-covid-19-cases-within-a-24-hour-period
https://www.thailandmedical.news/news/covid-19-patient-admissions-surge-as-malaysians-prepare-for-the-muslim-hari-raya-holiday-celebrations
According to official figures from
Thailand Medical
authorities, only 8,382 people have been infected and treated at hospitals for COVID-19 since the start of 2023. Of these, 288 have died, 157 suffered lung infections and 79 were put on ventilators. Strangely, reports from some local physicians and private hospitals in the country reflect a slightly different scenario!
According to the CoV Spectrum platform, there are currently more than 32 different XBB sub-lineages circulating in the country including XBB.1.16, its spawn XBB.1.16.1, the XBB.1.9.1, and XBB.1.9.2 sub-lineages, the XBB.2.3 sub-lineages and its spawn XBB.2.3.3.
https://cov-spectrum.org/explore/Thailand/AllSamples/Past6M/variants?nextcladePangoLineage=xbb*&
Fortunately, none of the more worrisome Deltacron recombinant variants such as the XBC1.6 or the newer XBC.1.6.3 have been found in Thailand. These are currently causing havoc in parts of Australia.
https://www.thailandmedical.news/news/breaking-covid-19-news-worrisome-deltacron-sublineage-xbc-1-6-3-debuts,-driving-new-covid-19-onslaught-in-queensland,-australia
Considering that Thailand is a travel and tourism hub with little or no COVID19 border restrictions and proper border health screenings, it would only be a matter of time before these Deltacrons variants find their way into the country.
Thailand Medical News strongly recommends that all especially those in the vulnerable groups ie the aged, the obese, those with existing comorbidities, the immunocompromised and those with certain genetic makeups take extra preventive and safety precautions including masking, practicing social distancing and whatever else possible.
For the latest on the COVID-19 situation in Thailand, keep on logging to
Thailand Medical
News.