Dengue News: Dengue Surge In Nagaland Causes Over 2,900 Infections While Elsewhere In India, Healthcare Professionals Are Dying From Dengue!
Dengue News
: Dengue fever, a mosquito-borne viral disease, has gripped Nagaland, a northeastern state in India, with a surge in cases not witnessed in nearly two decades. Meanwhile, in other parts of India, healthcare professionals are facing the wrath of dengue. This alarming situation calls for a closer look at the state of dengue in Nagaland and the larger concerns regarding this mosquito-borne disease in India.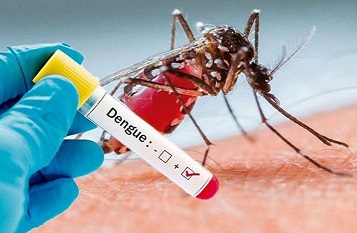 Dengue in Nagaland: A 20-Year High
Nagaland, a landlocked state in northeastern India, is known for its natural beauty and unique culture. However, in 2023, it is grappling with a severe dengue outbreak. The state, which shares borders with Arunachal Pradesh, Assam, Manipur, and Myanmar, has reported 2,909 dengue cases since June. This figure is the highest in nearly two decades, a stark contrast to the 374 cases reported in 2018, which was previously the highest in recent years.
The Director of the National Health Mission, Nagaland, Dr E Motsuthung Patton, has been at the forefront of addressing the situation. He pointed out that the surge in dengue cases was a cause for concern, but it was essential not to panic. The health department is actively monitoring the situation and conducting awareness drives through workshops and house-to-house campaigns to prevent further spread of the disease. Dimapur, the largest city in Nagaland, has reported 1,398 cases, making it the hardest-hit area.
The outbreak in Nagaland is not isolated, as other states across India are also experiencing an increase in dengue cases. This situation is attributed to a variety of factors, including rapid urbanization, favorable environmental conditions, climate change, and recent floods in low-lying areas, which have created breeding grounds for dengue mosquitoes. Despite the challenges, health officials in Nagaland are actively engaged in source reduction campaigns, case investigations, and awareness programs.
Concerns in the Medical Community in India
While Nagaland is facing a dengue crisis, the rest of India is not immune to the virus's impact. The most alarming aspect is the toll it's taking on healthcare professionals, who are on the front lines of battling the disease. In Hyderabad, according to local
Dengue News
reports, a young doctor, Dr M. Gopi, a third-year postgraduate student at Malla Reddy Health City, is currently fighting for his life against dengue encephalitis. Dengue encephalitis is an extremely severe and rare form of dengue where the virus infects the brain.
Dr Gopi's condition is critical, and he hails from a financially weak background, making it difficult for his family to cover the substantial medical expenses. His case highlights the grim reality of dengue encephalitis, where chances of survival are minimal due to the virus's impact on the brain.
In Kolkata, another doctor, a first-year postgraduate student of orthopaedics, succumbed to dengue, marking the second doctor's death due to the virus during the ongoing outbreak. The city of Kolkata has reported over 4,000 dengue cases, surpassing the count from the previous year. Experts predict that sporadic deaths may continue for an other two weeks.
While the cooler weather in Delhi has seen a reduction in dengue cases, hospitals are still admitting patients. However, a number of healthcare professionals in Delhi have also been infected with the dengue virus including a number of doctors and also nurses. There have been seven reported deaths in Delhi since August including a male doctor, despite the drop in temperature. Doctors warn against taking the situation lightly and anticipate a further decrease in cases as winter approaches.
The Bigger Picture: Combating Dengue in India
Dengue fever is a major public health concern in India. It is transmitted by the Aedes mosquito, and the virus has four distinct serotypes. The presence of multiple serotypes makes individuals susceptible to multiple infections, increasing the risk of severe dengue, also known as dengue hemorrhagic fever or dengue shock syndrome.
The surge in dengue cases across India highlights the need for effective vector control and public awareness campaigns. It is crucial to eliminate breeding sites for Aedes mosquitoes, such as stagnant water in containers, tires, and other receptacles. Preventative measures like using mosquito nets, wearing long-sleeved clothing, and applying mosquito repellents are essential to reduce the risk of dengue transmission.
Medical professionals play a pivotal role in diagnosing and treating dengue patients, making them vulnerable to infection. The cases of healthcare workers falling victim to dengue emphasize the importance of adequate protection and precautions in healthcare settings.
Conclusion
Dengue fever has cast a shadow over Nagaland, with the state experiencing the highest number of cases in nearly two decades. Health officials are actively working to control the outbreak through awareness campaigns and source reduction measures. Meanwhile, other parts of India, like Hyderabad and Kolkata, have witnessed dengue-related deaths, including healthcare professionals, emphasizing the urgent need for effective measures to combat the virus.
The dengue outbreak serves as a stark reminder of the ongoing battle against vector-borne diseases in India. Public awareness, community involvement, and robust healthcare infrastructure are key components in tackling the challenges posed by dengue. With the situation still unfolding in Nagaland and healthcare workers battling dengue in other parts of the country, it is evident that the fight against this disease is far from over. It underscores the importance of continued vigilance and proactive measures to prevent and control dengue outbreaks in the future.
For the latest
Dengue News
, keep on logging to Thailand Medical News.