Data From Singapore Ministry Of Health Shows That COVID-19 Infections And Hospitalizations Has Risen Slightly. Country Approves New Vaccine
COVID-19 News
: Online data from the Singapore Ministry Of Health shows that COVID-19 infections and COVID-19 hospitalizations has risen slightly for the epidemiological week 36.
https://www.moh.gov.sg/covid-19/statistics
However, there are no signs that the current circulating SARS-CoV-2 strains in Singapore are causing any increase in disease severity nor are hospitals affected in any way.
In fact, any visitor to the island state will see that everything is back to normal and there are no signs or reminders of the past COVID-19 surges etc and literally no one seems to be masking in Singapore anymore.
While many countries are starting to see a high rise in COVID-19 infections and some countries are bringing back masking again, Singapore is one of the few places where people need not be frightened with images of an ongoing healthcare crisis elsewhere.
Singapore is among the top countries with a very high COVID-19 vaccination rate and through strict media controls and laws, have managed to keep the COVID-19 situation under control.
According to various
COVID-19 News
reports, the country's Health Sciences Authority (HSA) has also approved the new updated COVID-19 vaccine by Pfizer to deal with the more immune evasive SARS-CoV-2 variants and sub-lineages that have recently emerged in various geolocations across the globe.
This new monovalent COVID-19 vaccines contains the spike proteins of the XBB.1.5 variant and are claimed to be aimed at the new EG.5 variants and also the new worrisome BA.2.86 variant.
It was reported that the new vaccine stocks would arrive in Singapore by end-October.
Meanwhile many other countries in South East Asia are starting to see a rise of COVID-19 infections and COVID-19 hospitalizations as well but it is hard to procure the actual COVID-19 statistics as many countries are no longer openly reporting such data.
One good news however is that based on data from the last World health Organization (WHO) weekly reports, it has been seen that COVID-19 deaths in South East Asia has been drastically down in the last 28 days.
https://www.who.int/publications/m/item/weekly-epidemiological-update-on-covid-19---1-september-2023
file:///C:/Users/User/Downloads/20230901_weekly_epi_update_158.pdf
However, some are skeptical as they are not sure if this is due to countries not actually reporting true COVID-19 death rates or due to changes in the protocols of reporting and also the classification of COVID-19 deaths.
An interesting point to note that needs further validation and verification is that according to data shared on a site monitoring excess death rates, it seems that Singapore has a slightly high crude mortality rate. We are sure however that there much be some valid reasons for this observation.
https://www.mortality.watch/explo rer/?c=SGP&t=cmr&ct=monthly&cs=bar&pi=0&p=1&v=2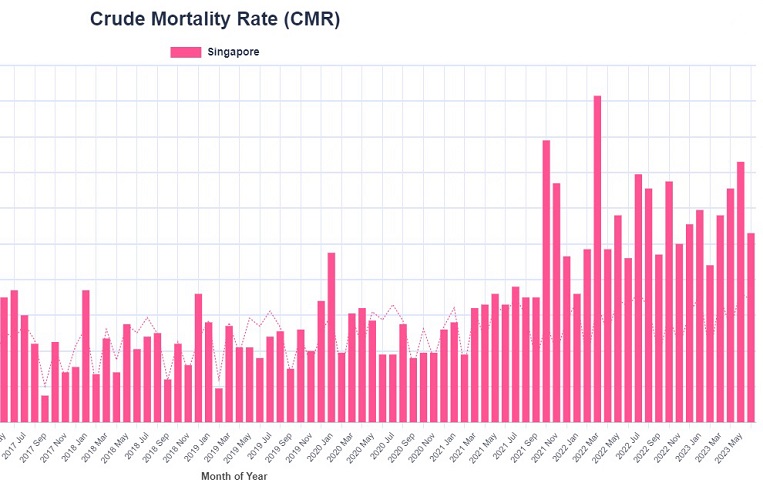 For the latest
COVID-19 News
updates, keep on logging to Thailand Medical News.