UK Researchers Find That T Cell Perturbations Persist For Several Months After Mild COVID-19 And Contributes To Long COVID. Antihistamines Help
COVID-19 News
: The COVID-19 pandemic has affected millions of people worldwide, leaving some individuals with a lingering and debilitating condition known as long COVID. Despite originating from a mild SARS-CoV-2 infection, long COVID manifests as a multitude of persistent symptoms whose etiology remains unclear. However, recent reports suggest that histamine receptor antagonists (HRAs), typically used for allergies, may hold promise in alleviating long COVID symptoms. Furthermore, the involvement of T cells, which are regulated by histamine, has been hypothesized in this unique histamine-dependent mechanism.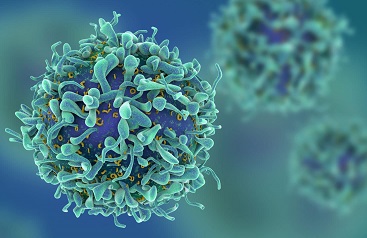 To shed light on this phenomenon, a collaborative study was conducted by The Physicians Clinic, London-UK, King's College London School of Medicine-UK, University College London Hospitals NHS Foundation Trust-UK, and Health Services Laboratories-UK.
Understanding Long COVID and T Cell Alterations
The study focused on 65 individuals who had recovered from mild COVID-19. Of these participants, 49 developed long COVID, while 16 experienced an uneventful recovery. The study team conducted surveys between 87 and 408 days after the onset of acute symptoms while T cell subsets were enumerated in a standard diagnostic assay. The aim was to explore the relationship between T cell alterations, long COVID symptoms, and the potential therapeutic response to HRAs.
The findings revealed distinct T cell perturbations in patients with long COVID. These individuals exhibited reduced numbers of CD4+ and CD8+ effector memory (EM) cells, as well as increased expression of programmed cell death protein 1 (PD-1) on central memory (CM) cells.
In contrast, the asymptomatic participants only showed reduced CD8+ EM cells and increased CD28 expression on CM cells.
Remarkably, 72% of patients with long COVID who received HRAs reported clinical improvement, providing anecdotal evidence of the effectiveness of antihistamines.
Significance and Implications
The implications of this study are significant, as they contribute to our understanding of long COVID and offer potential avenues for future research and clinical practice. The key takeaways include:
-Encouraging randomized trials of antihistamines: The observed symptomatic improvement in response to HRAs warrants further investigation through rigorous clinical trials. These trials could provide valuable insights into the efficacy of antihistamines in managing long COVID symptoms.
-T cell immunophenotyping as a diagnostic tool: The persistence of T cell perturbations for several months after mild COVID-19 suggests that T cell flow cytometry could be developed into a rapid and high-throughput diagnostic test for long COVID. This could aid in the identification and treatment of affected individuals.
-Insights into Post-Viral Syndromes: Prospective isolation and molecular analysis of T cells from patients with long COVID could provide valuable insights into the pathogenesis of not only long COVID but also other post-viral syndromes, enabling the development of more effective treatments.
Conclusions
Long COVID poses a significant burden on healthcare systems, as patients often experience prolonged symptoms without clear laborato ry markers for diagnosis.
The study's findings emphasize the need for objective diagnostic criteria and treatment strategies for long COVID. By unraveling the specific T cell alterations associated with long COVID, this research paves the way for improved understanding, diagnosis, and potential interventions.
The study team told
COVID-19 News
reporters from TMN, "According to our current understanding, this is the first recorded instance of a rapid and routine laboratory test that can detect lingering abnormalities in the T cell composition many months after experiencing a mild case of COVID-19. We have identified a prolonged phase of the T cell response, which may be connected to the immune response observed during the acute phase of infection. Regardless of symptoms, we have observed a decrease in CD8+ EM cells, which likely reflects the recovery from COVID-19 itself rather than the development of long COVID. Interestingly, dominant CD8+ responses during acute COVID-19 seem to be associated with milder disease, indicating a potential protective role in suppressing inflammation.
In addition to the general T cell changes observed in long COVID, such as reduced CD4+ EM cells, we have noticed an increase in PD-1 expression on both CD4+ and CD8+ CM cells. PD-1 is a co-inhibitor that plays a role in T cell memory and is linked to T cell exhaustion in chronic viral infections. We have also observed an increase in CD28, which is a co-stimulatory molecule necessary for signal transduction and T cell activation. This increase was predominantly observed in individuals who had recovered from COVID-19 without complications and may indicate a 'healthy' immune response to SARS-CoV-2. The detection of T cell abnormalities at such a late stage after infection suggests that SARS-CoV-2 may persist longer than initially believed. Additionally, there have been preliminary observations of SARS-CoV-2 RNA reverse transcription and genomic integration in human cells. Based on our findings, we encourage further extensive clinical studies to investigate the potential benefits of high-resolution analysis and a more profound understanding of the immunological factors that contribute to T cell dysregulation in long COVID. Moreover, the development of T cell flow cytometry as a rapid and straightforward diagnostic test for long COVID could be explored."
The study findings were published in the peer reviewed Journal of Investigative Medicine (SAGE Journals).
https://journals.sagepub.com/doi/full/10.1136/jim-2021-002051
For the latest
COVID-19 News
, keep on logging to Thailand Medical News.