BREAKING! Long COVID News: Cambridge Study Shows Persistent T-Cell Dependent Interferon Gamma Release In Individuals Who Develop Long COVID
Long COVID News
: A new study by researchers from University of Cambridge - UK, Cambridge University Hospitals NHS Foundation Trust - UK, Cambridge National Institute for Health Research (NIHR) - UK, Cambridge Institute for Medical Research - UK and Addenbrooke's Hospital – UK has found that most individuals with Long COVID tend to have persistent T-cell dependent Interferon Gamma (IFN-γ) release.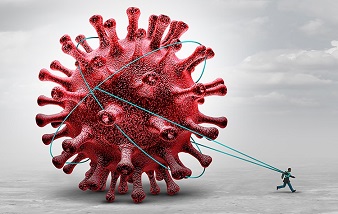 Long COVID is becoming an increasing burden on the public healthcare infrastructure in many countries and also is becoming a contributing factor to excess deaths.
Already a huge proportion of individuals infected with SARS-CoV-2 exhibit persistent distressing symptoms, or the emergence of new symptoms. These are difficult to delineate into specific endotypes and are broadly grouped as post-COVID syndrome or Long COVID. There is a lack of consensus for diagnosing Long COVID and causes of Long COVID remain unclear, with resultant lack of approved pharmacological therapeutic interventions.
Long COVID has a plethora of relapsing and remitting symptoms and multi-systemic organ involvement with prevalence rates ranging from 0.27%-33%.
A recent preprint study showed up to 67.5 percent of Post-COVID patients in UK manifested Long COVID conditions.
https://jamanetwork.com/journals/jamanetworkopen/fullarticle/2798446
Considering that in reality almost 3 billion of the total global human population has already been exposed to the SARS-CoV-2 virus and more are getting infected with the more transmissible emerging variants, it is easy to see that Long COVID is going to be a major catastrophic health issue in coming years.
We at Thailand Medical News strongly believes in the hypothesis that almost 94% of the population that has been exposed to the SARS-CoV-2 virus will ultimately develop Long COVID issues and that many are not even aware of the how the virus or its viral peptides are slowly damaging the body till conditions appear….for some this might be a slow process that can span months or years. And we also strongly believe that majority will only have between 5 to 8 years left before they succumb unless they keep on getting reinfected, which in such cases, their lifespans are even more shortened.
https://www.thailandmedical.news/news/breaking-hypothesis-that-majority-exposed-to-sars-cov-2-will-have-shortened-lifespans-validated-by-study-showing-nsp2-impairs-human-4ehp-gigyf2-comple
https://www.thailandmedical.news/news/u-s-study-shows-that-sars-cov-2-reinfections-increases-risk-of-hospitalization,-mortality-and-sequelae-irrespective-of-vaccination-status
For the remaining 6 percent, due to a genetic makeup, they will be protected from long term damage of the SARS-CoV-2 and have better survival rates and quality of health along with those among the 94% who take the necessary supplements a nd phytochemicals to stop the damage to their various cellular pathways and genes regulation also repair the damage done to these and also to tissues and organs.
In terms of Long COVID, understanding the mechanisms which cause this debilitating disease and identifying biomarkers for diagnostic, therapeutic and monitoring purposes is urgently required.
The study team detected persistently high levels of IFN-γ peripheral blood mononuclear cells (PBMCs) of Long COVID patients using highly sensitive FluoroSpot assays.
Importantly, this IFN-γ release was seen in the absence of ex vivo peptide stimulation and remains persistently elevated in Long Covid patients, unlike the resolution seen in patients recovering from acute SARS-CoV-2 infection.
It was found that the IFN-γ release was CD8+ T cell mediated and dependent on MHC-I antigen presentation by CD14+ cells.
The study findings highlight a key mechanism underlying Long COVID, enabling the search for biomarkers and therapeutics in patients with Long COVID.
The study findings were published on a preprint server and are currently being peer reviewed.
https://www.researchsquare.com/article/rs-2034285/v2
The study team to better understand the disease process and immune parameters are among the first to perform immunophenotyping combined with intracellular cytokine staining of donor PBMCs.
Their study findings showed that SARS-CoV-2 infection induces a large increase in CD8+ T-cell-mediated IFN-γ release, not requiring any ex-vivo peptide stimulation.
Worryingly, this state persists for several months post-acute infection in all patients. Patients with Long COVID fail to return to baseline IFN-γ levels, though some patients show improvement post vaccination.
The researchers identified antigen detection by CD8+ T cells as the cause of the IFN-γ production suggesting that this is caused by antigen presentation by CD14+ monocytes.
The study findings identify IFN-γ release as a biomarker for long COVID and highlight an immunological mechanism underlying this debilitating disease, paving the way for the development of novel therapies.
Corresponding author Dr Nyaradzai Sithole from University of Cambridge, told our reporters covering the
Long COVID News
beats, "Our research shows that infection with SARS-CoV-2 triggers increased spontaneous IFN-γ secretion, which resolves in most patients by 6 months post-infection. This suggests that Long COVID lasting over 6 months could be differently classified to that lasting 12 weeks based on this IFN-γ signature. Indeed, our study findings suggest that most patients have not resolved their IFN-γ secretion at 3 months post infection, which agrees with studies finding that many patients report ongoing symptoms 12 weeks after infection."
The study team also observed increases in IL-1β, IL-6, GM-CSF and G-CSF secretion from patients with Long COVID, raising the possibility that other pro-inflammatory cytokines maybe perturbed as well, as has been observed by others at 8 months post infection.
https://pubmed.ncbi.nlm.nih.gov/35027728/
However, IFN-γ secretion showed the strongest change.
It should be noted that dysregulated interferon signaling is a hallmark of SARS-CoV-2 infection and plays a key role in disease severity and progression [17] [18].
https://pubmed.ncbi.nlm.nih.gov/32457522/
https://pubmed.ncbi.nlm.nih.gov/34237774/
The study team says that it is possible that viral antigens carried by antigen presenting CD14+ cells stimulate CD8+ T cells, leading to IFN-γ secretion in the absence of ex-vivo peptide stimulation.
The fact that many SARS-CoV-2 infected patients show this IFN-γ secretion phenomenon more than 3 months after infection is in line with observations by others that SARS-CoV-2 antigens persist long after infection, even up to 15 months post infection.
https://pubmed.ncbi.nlm.nih.gov/34273064/
https://pubmed.ncbi.nlm.nih.gov/35082777/
https://pubmed.ncbi.nlm.nih.gov/32484958/
The study team hopes that their research findings will provide a basis for Long COVID treatments and diagnostics in the future.
For the latest
Long COVID News
, keep on logging to Thailand Medical News.