COVID-19 News: China's Catastrophic COVID-19 Crisis Is Causing Concern To Many Other Countries, With Many Willing To Help Including India.
COVID-19 News
: The COVID-19 crisis is fast turning into a catastrophic nightmare that will come to haunt the rest of the countries globally, not only from an economic perspective but also from threats of new SARS-CoV-2 variants that are possibly arising even as one reads this article.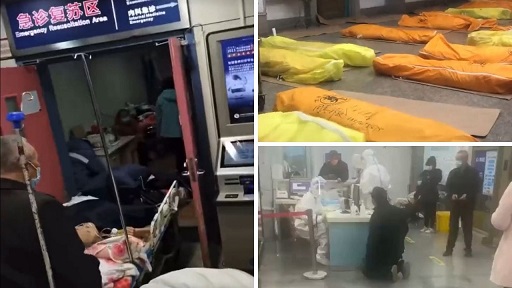 In the last 24 hours, international news agencies with reporters in China along with concerned Chinese citizens loading footages of what is happening around the country, are showing just how bad the COVID-19 crisis is unfolding in China.
Various
COVID-19 News
coverages are showing how bad the public healthcare infrastructure is currently affected in China. Hospitals are literally overflowing and people are dying by the minute not mention the acute shortage of medical supplies and even drugs for cold.
https://www.france24.com/en/live-news/20221223-hospitals-overflow-in-china-s-covid-wave
https://hongkongfp.com/2022/12/23/hospitals-in-china-overwhelmed-as-covid-19-wave-sweeps-across-country/
https://www.youtube.com/watch?v=lgzgBdHPEWQ
https://www.youtube.com/watch?v=umMUgDu7nXk
https://www.youtube.com/watch?v=yMltc1NAP_A
https://www.youtube.com/watch?v=2bqnXCPBh3o
https://twitter.com/whyyoutouzhele/status/1607068524379516928

https://twitter.com/whyyoutouzhele/status/1607068524379516928
Contrary to what some are under the impression that the crisis is only in the major cities and provinces, doctors and healthcare professionals are reporting there are no hospital beds let alone ICU beds available in the whole country of about 1.412 billion people. Even in the rural outskirts, people with COVID-19 and many exhibiting disease severity are crowding the entrances to public polyclinics and health centers.
Some crematoriums in major cities like Beijing, Shanghai and Chongqing are having more than 50 bodies coming every hour waiting to be cremated!
https://mobile.twitter.com/wangxiangweihk/status/1605855544924704768
https://www.youtube.com/watch?v=QU5u5GQzWJ4
https://www.youtube.com/watch?v=tuRXMr97NHs
https://www.youtube.com/w atch?v=YwNEhwuqmtw
https://www.youtube.com/watch?v=tTMQcmp3CME
The Chinese government under President Xi is not only concealing and refusing to release real COVID-19 statistics but are also censoring any coverages even on social media of deaths of any individuals due to COVID-19.
https://www.hindustantimes.com/india-news/china-swiftly-censors-report-to-hide-spread-of-covid-cases-101671821018786.html
The WHO is also concerned as China is refusing to submit COVID-19 hospitalization data and other vital statistics with regards to the ongoing health crisis in the country.
https://www.usnews.com/news/world/articles/2022-12-22/china-hospital-data-absent-from-whos-latest-covid-reports-raising-concern
Bloomberg news covered that up to 37 million people were infected with COVID-19 in just one day in China and that up to 248 million people have already been infected with the SARS-CoV-2 virus since the first 20 days of December.
https://www.aljazeera.com/news/2022/12/23/china-could-be-experiencing-37-million-daily-covid-19-infections
In terms of daily deaths due to COVID-19, some local Chinese experts speaking on conditions of anonymity are claiming that up to 16,000 people are dying daily due to COVID-19 or complications due to COVID-19 in the past 10 days! It is projected that those rates will simply keep on increasing for the next 11 weeks.
Some are conservatively estimating that between 1 million to 2 million Chinese are expected to die within the next few months due to COVID-19.
https://apnews.com/article/health-china-covid-0437741cbb7db5e090bcf904ff38779b
However, what is most concerning is that there is literally very little genomic surveillance being done in the country and whatever genomic data that the local Chinese authorities have are not being shared openly on various public-sharing genomic platforms.
Thailand
Medical News
managed to procure from experts at the Chinese Academy of Sciences at Beijing and also at the Pasteur Institute at Shanghai data on the current circulating SARS-CoV-2 variants in China.
Accordingly, out of about 194 different variants, sub-lineages and recombinant variants circulating in the country, the BA.5.2.1, BF.7, BF.5, BQ.1, BR.2.1, XBB, DJ.1 XBB1.4, XAY.2, BN.1 and BA.2.75 leads the race but the experts mentioned that they are spotting certain new concerning mutations on some of the emerging sub-lineages and will be providing us with proper updates shortly.
It is however not known which of all these variants is responsible for driving the disease severity and hospitalizations in China at the moment.
With the lack of proper genomic surveillance, it will be difficult to see how the virus in evolving in such a large population and to also quickly identify new variants that are more pathogenic or virulent.
The Chinese government seems to more concerned about its pride and is refusing help that is being extended to it from various countries.
Even India, concerned about the acute shortage of basic cold meds in China has volunteered to help out.
https://www.ndtv.com/india-news/india-ready-to-export-fever-drugs-to-china-amid-covid-outbreak-report-3629699
To date, the Chinese government has not only not made any plea for humanitarian help nor has it recognized and made public the catastrophic mess the country in in as a result of the COVID-19 crisis.
For the latest
COVID-19 News
, keep on logging to Thailand Medical News.