Brazil Researchers Warn Of Persisting Thromboinflammation in Long-COVID Individuals
Long-COVID
, also known as post-acute COVID-19 syndrome (PACS), has increasingly become a major health concern as it affects multiple systems in the body and can persist for over four weeks after the initial infection.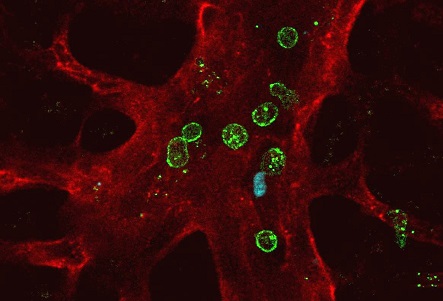 Even those who were not hospitalized for the virus are at an elevated risk of developing thromboinflammatory-associated health issues such as ischemic stroke, heart failure, pulmonary embolism, and deep vein thrombosis.
Researchers from Fundação Oswaldo Cruz (FIOCRUZ)-Brazil, Universidade Federal do Rio de Janeiro, UFRJ-Brazil and Universidade Federal de Juiz de Fora (UFJF)-Brazil explored the mechanisms and potential consequences of persisting thromboinflammation in COVID-19 survivors, as well as the possible triggers of this prothrombotic state. Their findings lead to the warning of persisting thromboinflammation in
Long-COVID
individuals.
Cardiovascular Concerns in Long COVID
One of the most significant concerns with Long COVID is the increased risk of cardiovascular disorders. Studies have shown that even those who were not hospitalized during their acute COVID-19 infection have a higher risk of developing cardiovascular issues. Additionally, survivors of hospitalization have an excessive burden of deep vein thrombosis and pulmonary embolism, pointing to the ongoing thromboinflammatory state.
Lung and Systemic Inflammation Persistence
The inflammatory response triggered by the SARS-CoV-2 virus disrupts homeostasis in the lungs and leads to increased lung metabolic activity and systemic inflammation in COVID-19 survivors. This inflammation can persist for months and have potential consequences on multiple organs and systems.
Platelets and Hypercoagulability in PACS
Platelets, which are critical for blood clotting, have been found to be persistently activated in Long COVID patients. These platelets display increased surface expression of degranulation markers and have an increased capacity to adhere to fibrinogen-coated surfaces. The sustained activation of platelets in Long COVID may contribute to the ongoing hypercoagulable state.
Extracellular Vesicles and Thromboinflammation Persistence
Extracellular vesicles (EVs) carrying tissue factor (TF) have been shown to correlate with disease severity and thromboembolic events in severe COVID-19 patients. Platelets appear to be one of the main sources of these TF-bearing EVs. Recent studies have found that similar profiles of circulating EVs persist in individuals with Long COVID, suggesting a potential mechanism for ongoing hypercoagulability.
Hypothesized Triggers for Thromboinflammation Persistence
The stimuli for persisting thromboinflammation in Long COVID patients are not yet well understood. Potential triggers include unresolved inflammation, the generation of cross-reactive autoantibodies, and viral persistence in specific tissue reservoirs.
Additionally, endogenous viral elements (EVEs) such as human endogenous retrovirus-K (HERV-K) have been shown to be reactivated in severe COVID-19 pa tients, potentially contributing to the sustained inflammatory environment. Further research is needed to understand the role of these potential triggers in Long COVID-related inflammation pathophysiology.
Conclusion
Understanding the mechanisms, triggers, and health consequences of persisting thromboinflammation in COVID-19 survivors is crucial for the development of effective treatments and management strategies for Long COVID patients. As more studies are conducted, healthcare providers will be better equipped to address the long-term effects of COVID-19 and improve the quality of life for survivors.
The review was published in the peer reviewed journal: Current Research in Immunology.
https://www.sciencedirect.com/science/article/pii/S2590255523000045
For the latest on
Long COVID
, keep on logging to Thailand Medical News.