Stanford Study Published In Leading Journal Shows That mRNA Jab Generated Spike Proteins Circulate In Blood And Persist For Months In Lymph Nodes!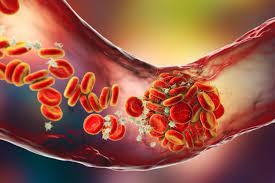 A new study published in one of the world's leading scientific journals: Cell by researchers from the department of pathology at Stanford University, California-USA has alarmingly found that mRNA jab generated spike proteins circulate in blood and persist for months in lymph nodes!
https://www.cell.com/cell/fulltext/S0092-8674(22)00076-9
https://www.sciencedirect.com/science/article/pii/S0092867422000769
The study found that jab-generated spike protein circulates in the blood and mRNA from the Pfizer and Moderna shots can be found in lymph nodes for at least 60 days after injection!
The study also sounded out that jabbed individuals infected with variants of Sars-CoV-2 produce antibodies biased toward the original and now extinct variant - rather than the one that has actually infected them, this is along the lines of the concept of 'original antigenic sin' hypothesis.
The study proposed however that additional booster doses may be able to compensate for relatively decreased binding to new viral variant antigens, potentially decreasing the public health impact of antibody response imprinting.
The study found that mRNA from the jabs in the germinal centers of lymph nodes for 60 days after the shots (as long as they checked).
It should be noted that the germinal centers play a crucial role in the immune system, where B-cells which help produce long-term immunity, mature and learn to make antibodies to infection more efficiently.
The study team also reported finding mRNA from the jabs outside the germinal centers, though rarely.
The mRNA shots cause the body to make huge amounts of spike protein. Jab advocates have generally argued that those proteins remain bound to the cells where they were produced.
However, the study team also said they had found spike protein in the blood following mRNA shots at levels as high as those produced by coronavirus infection itself!
The study findings have numerous implications and has actually opened the pandora's box and we will be covering on these soon.
The study findings are however disturbing as we have been told that including that the body quickly destroys the genetic material in the jabs and that it does not get into the blood!
This was claimed in fact checks by Reuters!
https://www.reuters.com/article/factcheck-vaccine-safe-idUSL2N2NX1J6
https://www.reuters.com/article/factcheck-vaccines-mrna-idUSL1N2L9187
https://www.reuters.com/article/uk-factcheck-genetic-idUSKBN29I30V
But then all fact checks and health articles by Reuters are no longer reliable as there is a conflict of interest!
For those not aware, James C. Smith, the CEO of Reuters, the global news and information p rovider is also a key board member of Pfizer. Hence any fact-checks or articles by Reuters on vaccines, COVID-19 and in fact on any health matters should be simply thrown into the garbage as it represents a conflict of interest.
https://www.pfizer.com/people/leadership/board-of-directors/james_smith
In fact the writers or journalist of Reuters who are covering the health and medical beats should be ashamed of themselves and its really pathetic of them to be covering fact check articles on these jabs or COVID-19 when their CEO sits on the board of Pfizer.
Thailand Medical News has also compiled a list of articles and fact checks by some of their writers including digging into their own qualifications and also the scientific data to show the manipulated news that they are disseminating and we will be launching a new series of articles every fortnight highlighting all the fraud perpetuated by certain individuals and entities from the mainstream media, wire agencies and also the various social media platforms and also search engines along with certain American politicians on a new site called
www.toxic.news
that will be up by the first week of March 2022. Some revelations include how certain individuals from these media and tech companies have stakes in various big pharma companies using off shore companies, capital firms and in some cases using proxies. We have also uncovered researchers and also certain social media medical influencers who have been paid high amounts of money unofficially in order to assist in the agenda of those paying them.
Reuters is not the only news wire agency to be having ties with the big Pharma, we have also found out that one French news wire agency that is also involved with fact checking and also a large American media conglomerate that has a news network starting with C, also has ties with the big pharma companies.
Contrary to what most people think, in countries like America, Britain and France, there is no real true media freedom as many of these media and their corrupted journalists are actually on the payroll of big pharma and other conglomerates.
The same goes for most of the medical and health media in America, Britain and Australia, there is not a single one of them that is not being funded by monies from the pharmaceutical industry directly or indirectly, hence everything is also skewed to favor the agenda of these pharmaceutical companies and sadly many stupid people believe and think those news sites are credible.
In fact, some of these well-known
American medical sites
that are frequented by the medical professions actually have a substantial percentage of their news coverage supplied by Reuters!
For all the coming exposes and findings, check out
www.toxic.news
in March 2022.